Dear Allee,
Love the site, glad I found it, not sure how but hey, AWESOME!
As an artist, I often look at what I guess some people would see as junk and think – I can customize that or that's boring, I can modify that.  So in the last year I've been doing just that and have found something I enjoy besides my painting, and that's modifying shoes to be one of a kind.  But when I found this site and saw a pair of shoes on it…which I think were mass produced product (not sure), I wondered if my self proclaimed, awesome, shoe mods were considered Kitsch and if it was, is that a good thing?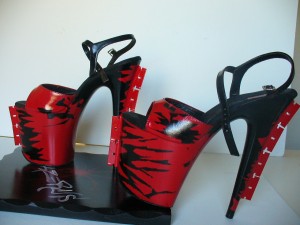 I don't want to flood the post with more pictures, but more can be found on my website, you tube and these are for sale on Ebay.  Regardless of where these are posted…are these Kitsch and is that a good thing?