I don't know where to begin so let's start at the end….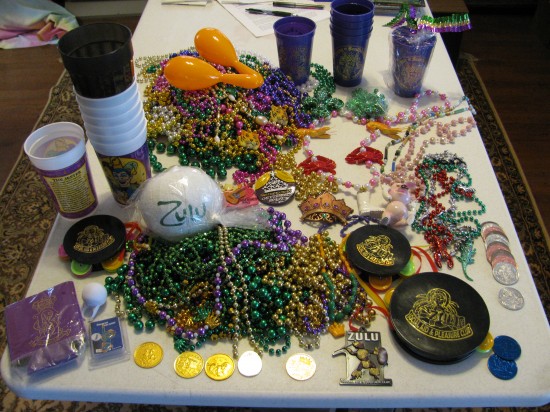 Here we have a rather large pile of collected Mardi Gras throws from the five parades i saw and/or participated in this year. Those parades were the Krewe Of Artemis, Krewe Of Southdowns(which i'm in) and Krewe Of Posiedon in Baton Rouge as well as Zulu and Rex in New Orleans. No, i didn't make the Spanish Town parade this year as we were not in it and at noon Saturday, parade time, it was pouring down rain, only to clear up an hour later. Ya got Rex cups(left center), Southdowns cups(upper right including a wrapped up Queens throw cup package consisting of a cup, pearl beads, doubloons), doubloons, beads and more beads, Zulu tambourines, a Zulu coconut, shaker/rattles and a Rex coozie(lower left).  The front portion of throws including Rex cups, coconut, pile of beads, doubloons, and tambourines are all my split share of the booty from Mardi Gras Day…more on that in another post, stay tuned….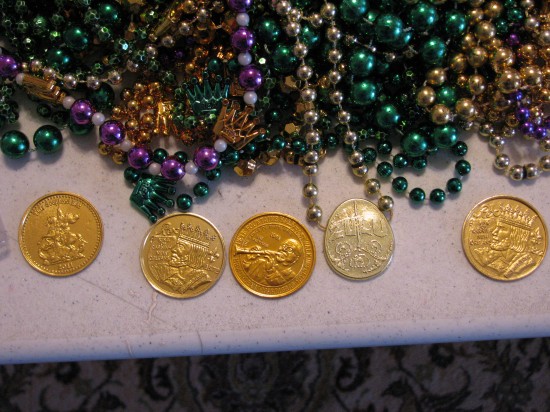 I like doubloons so here we have 3 doubloons from the Rex parade, one from Pete Fountain's Half Fast Marching Club(given to me by someone who saw them) and then a dangle from a Zulu bead. The crowns on beads are from the Rex parade. Rex is King Of Carnival and rules for the day by proclamation of the mayor.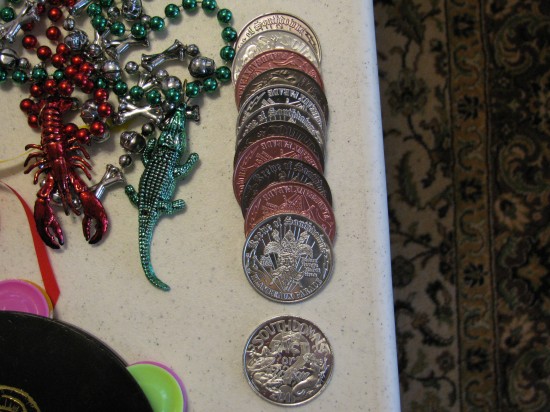 These are our Krewe Of Southdowns doubloons(rose, gray and silver) from this year. This years parade them was "Fact Or Fiction". Also seen are alligator and crawfish beads, which with the doubloons, are my primary throw. This year it was mostly hand out doubloons because when you help lead walk the Kings Float, things get kinda hectic. I still have many beads, we'll throw them next year.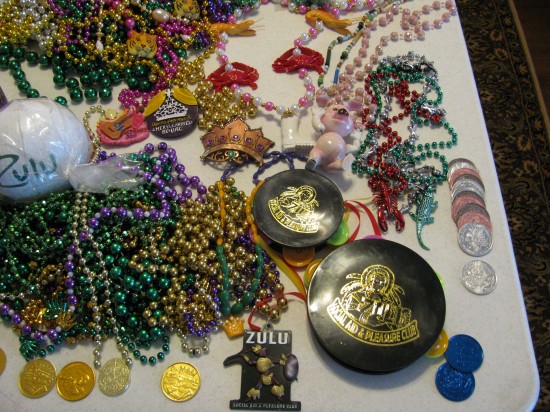 A whole lotta stuff on closer inspection here. A Zulu Social Aid and Pleasure Club bead, a couple tambourines, a Zulu coconut, a Queen's bead throw from Artemis along with attached tiger heads on the back pile of beads, a Queens tiara bead from the Queen of Southdowns, a pig bead from the Krewe Of Pigs(Southdowns sub-krewe), a shrimp/crab/shrimp boot bead from my other Kings Float walker, a couple blue Posiedon doubloons and more purple green and gold than you can focus on……and there will be more of these Mardi Gras shenanigans to follow. All of this stuff was caught, traded for, grovelled for(coconut) and carried/worn over the course of Carnival.