We've seen Zulu parade down Jackson Avenue and some Indians. Now it's over by 2nd and Dryades by the H&R Bar to see more Indians, the Wild Magnolias. Here's a shot of one of them in full suit.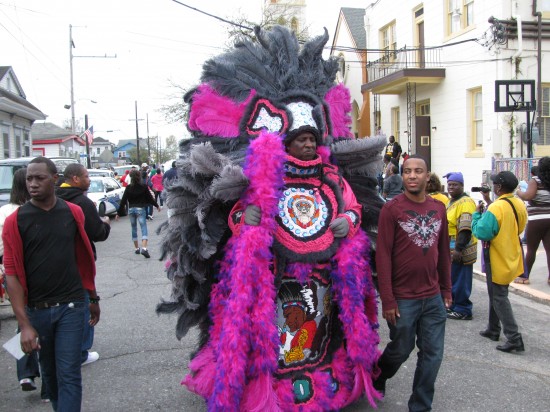 These suits are handmade, real folk art and take most of the year to make. The suits are worn on Mardi Gras Day,  St. Joseph's Night which will be Saturday March 19, 2011 and Super Sunday, the following day when all the Indians come out. Then they're taken apart with some of the elements used another year in some cases. The Wild Magnolias are one of the better known tribes and have recorded a number of albums which are all good. Here's another Indian from a different tribe who was in the same area.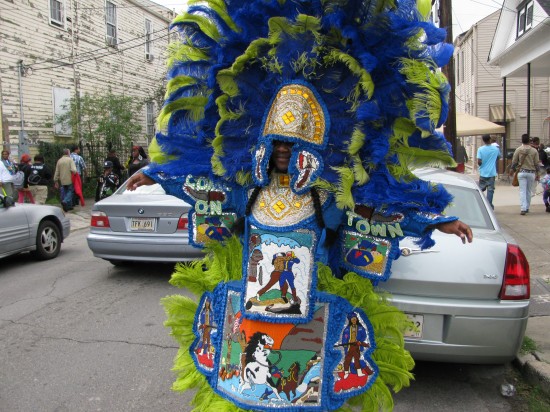 These pictured Indians are from Uptown tribes and their suits are distinguished by the use of many different panels. The Downtown tribes suits are more 3D with objects inserted into the suits, kinda hard to describe until you see one. We didn't see any Downtown Indians this day. After the Indian sightings, it's over a couple of blocks to St. Charles Avenue to find our friends between 3rd and 4th Streets and to see the King Of Carnival, Rex. Walking up the steet i spy Rex's Royal Bandwagon at a dead stop. Right in front of the Bandwagon was Rex himself stopped at a house which may have been a designated stop while Zulu cleared Jackson Avenue a few blocks away. I walked right up to the float and got this shot.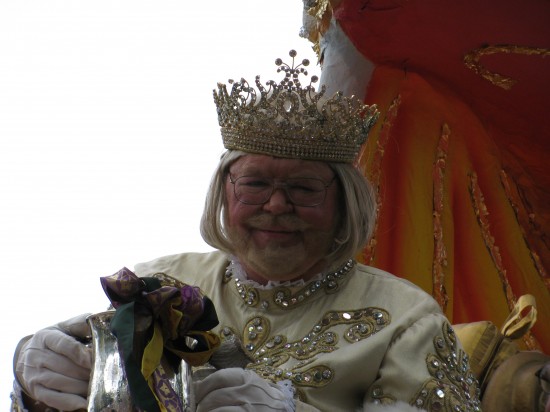 Rex, King of Carnival 2011. Right in front of him were his riding lieutenants on horseback. They're good for getting doubloons off of so i grovelled. Here's a picture of one of the riders.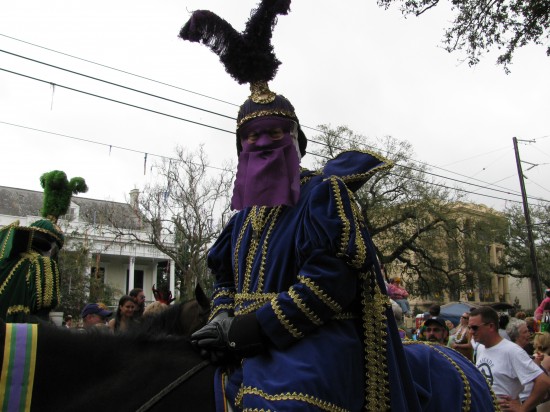 Shortly after taking pics of Rex and one of the lieutenants, the parade starts to roll and  the band on the bandwagon strikes up "If Ever I Cease To Love", the official song of Mardi Gras. Here it is rolling past us in a video, hopefully giving you some idea of what it's like to be in this wild atmosphere when a float passes by…http://www.youtube.com/user/BatonRougeBill?feature=mhum#p/u/10/jLxPjSEiGJQ
Then it's on down the street to see the rest of Rex with the families crowded in on St. Charles.  Food is also a consideration on Mardi Gras Day. I usually just live on excitement though some of us must be fed. In this picture, Fabian, who is a baker, shows off the King Cake he made the night before. It's an original recipe from 1936 and is a brioche(sweet bread)King Cake and it was quite tasty.  I'd never had one like this, most King Cakes are of the cinnamon roll variety so this was a real treat.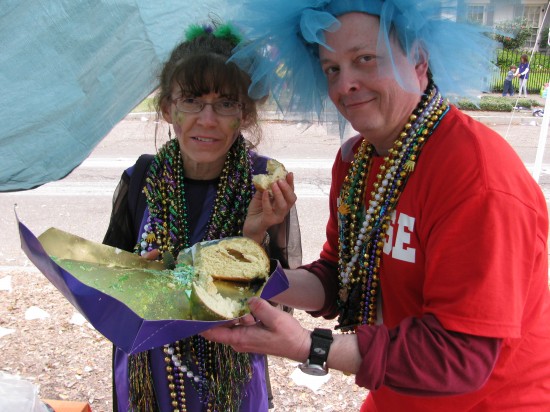 After seeing all of Rex and a few of the innumerable truck floats that follow, it's back to the Central Business District and the car for a short break. Then it's time to head Downtown to Canal Street for the end of the Rex parade. Across the barricades after the parade, down Chartres Street toward Jackson Square and on over to the river for the congregation there. The Society of St. Ann parades from Canal down to the river by that route and we were a bit late for that because of the parade. One does not cross the barricades during a parade. The action was still going on when we got there. A young woman in the crowd asked us as we walked up why everyone comes there at that time…to which Melanie replied "to lay your burden down" which is the reason. It can be an almost spiritual experience being in a crowd of a couple hundred costumes folks all singing along with the brass band. As you can see from this video, it was a bit windy that day…http://www.youtube.com/user/BatonRougeBill?feature=mhum#p/u/12/vNvAhVId5vc
And i'm sure y'all want to see some costumes…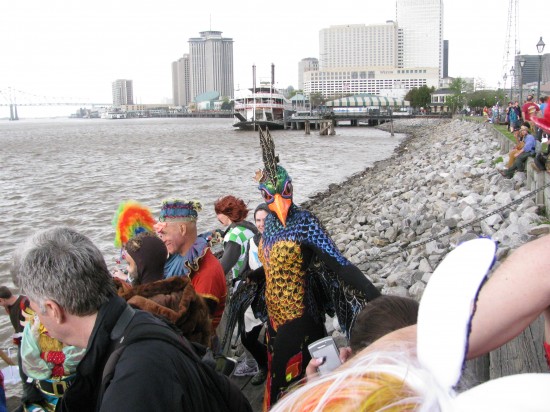 This guy's bird costume was great. I'd never seen one like that before.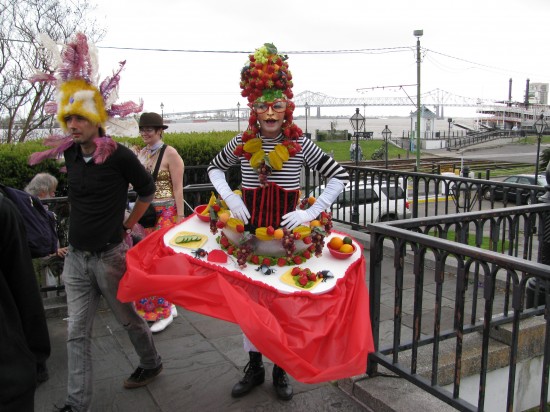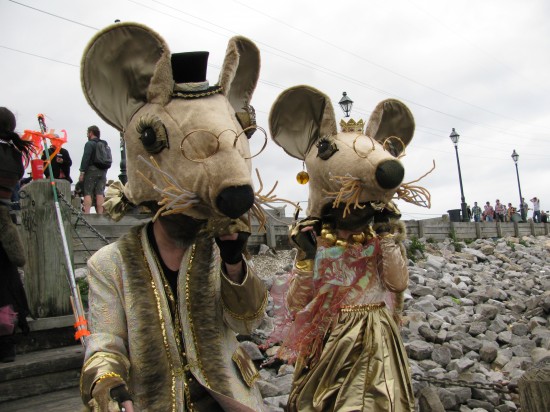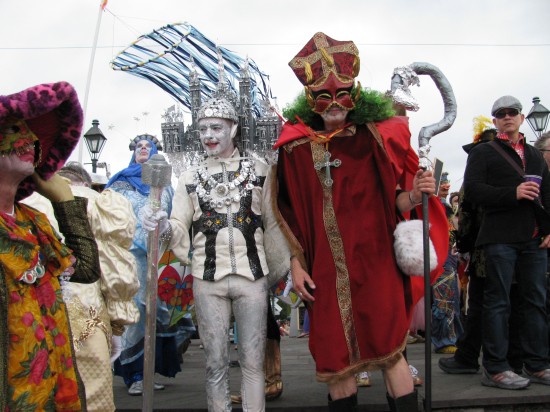 ….and that's just a few of the costumes seen and photographed this day. The Baton Rouge gang of folks then heads off to the Lower Pontalba Apartments in the next installment…………