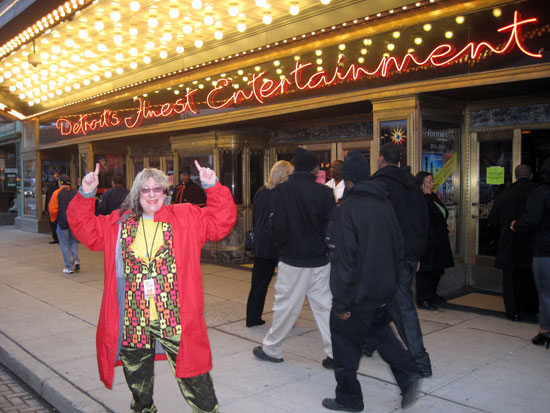 We – Mark Blackwell, my ready steady videographer and "Allee Marches On Detroit!" planning partner – landed back in LA at 1 AM Sunday night after taking two planes from Detroit, the second of which was over an hour late getting out of Chicago. My body feels like it's broken into 12,000 pieces – at least it's down by a thousand from yesterday – because of the pace we raced at over the prior 168 hours of giving speeches, conducting marching bands and Broadway musicals, visiting family, school friends and meeting a whole load of soulful folks on the street who take great pride in the city they live in. But it's one of those great broken feelings where you know you had a once-in-a-lifetime experience and are so grateful for fate tossing that your way, no matter how much you feel like a convoy of Mack trucks have run over you, every single ounce of oomph exerted is worth the present inertia. I feel like I have to stew in a hot bath for a week and then be pickled in a jar of lavender oil for a couple of days to feel like everything in my body is glued back together again. But the Dee-troit spirit running through me is so high I could walk on air without legs. Which is good given that my knees performed way beyond the call of duty given their relatively recent medical fate.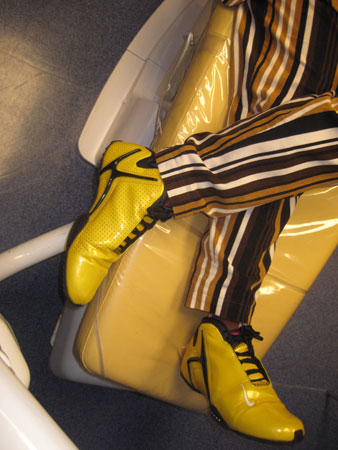 Everyone knows I have a love affair with my hometown.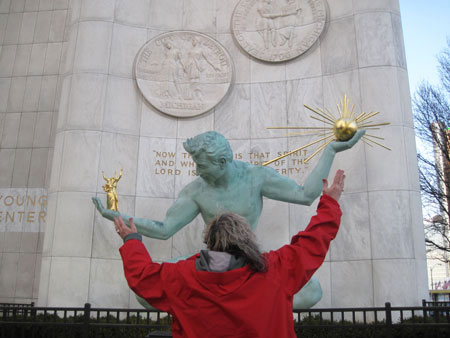 Not only do I still see it as the Soul capital of the world, I see it as the potential model city of the 21st century. The whole world is feeling the ever-closing grip of a failing economy. I think Detroit, already on its knees because of greedy politicians and the stubbornness of the automobile industry to see the future more than a decade ago, has the potential to rise from the ashes in glorious fashion should the powers that be decide to peer out of artistic eyeballs as opposed to ones that only focus on bottom lines. That was the subject of the speech I gave last Wednesday at the Rust Belt to Arts Belt conference held in Detroit, something I'll publish in this blog in a few days. But for now, back to my never-ending support of the underdog, or in this case, the overcow.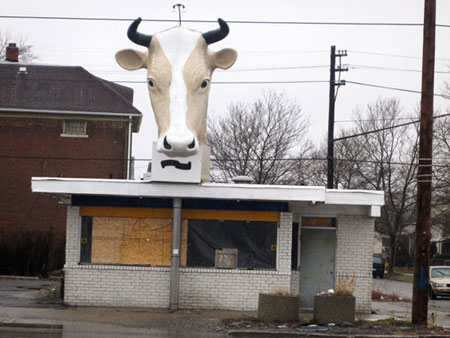 That exceptional roof ornament is but one of many astounding vestiges of Detroit past I saw tooling around the city this past week. Given my proclivity for photographing anything I see that's interesting, I came back with thousands of photos. I meant to post something every day I was there but my schedule was too overwhelming and I didn't want to break the holy spirit that melted down on me every day to the point that I would come back to my hotel room feeling like a boom box had been inserted inside me and the bass was threatening to blow my skin off.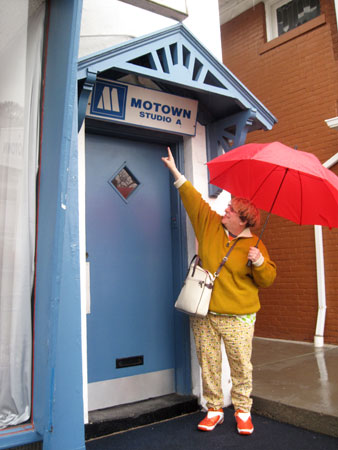 So starting tomorrow I'm just gonna start on last Monday, the 4th, my first day in Detroit, and take you through day by day… actually, not even. I gave myself one day, yesterday, to decompress without reminding myself that if I'm to get anything done after a week that exhausting/exhilarating I have to start integrating my every day work life back into my days or it will all become too overwhelming. So I'm just going to take you through chunk by chunk over the next couple of weeks and eventually we'll make our way through Detroit…