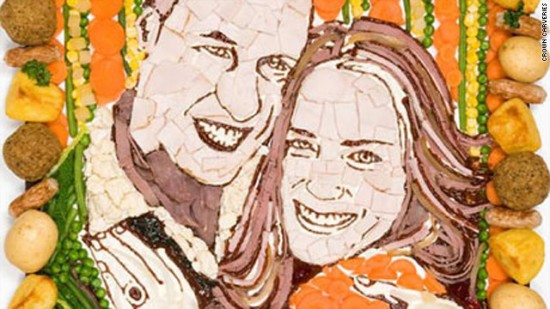 http://unveiled.blogs.cnn.com/2011/03/28/royale-portrait-with-cheese/
In the latest round of royal wedding-related kitsch, here's a memento you can really sink your teeth into.
Food artist Prudence Staite has created likenesses of William and Kate in the form of an entirely edible portrait.
According to The Press Association, the British pub chain Crown Carveries commissioned Staite to create the "Kate and Will Roast Dinner Portrait" entirely out of ingredients found in a roast dinner: skin crafted out of sliced turkey, hair made out of beef and gammon, a dress made of carrots, and a gravy blob engagement ring.
Imagine what Staite could have created if she hadn't been limited to the makings of a roast dinner! Perhaps blue raspberry Jell-O for Kate's sapphire ring?