Was a lovely day in the neighborhood, Karen Finlay's neighborhood that is…! For those of you that don't know, Karen runs the most fabulous retro Tupperware parties.  Today she had one at her place here in Oakland, California. It should be noted that it was last year at this time that I met Karen…when she had a Tupperware party at my home! (Allee will be happy to see her "new" Bambu ware proudly displayed in the background on that page. I digress…) Back to the Tupperware!
Look what cuteness greeted us on the way in… anthropomorphic  Easter bunnies.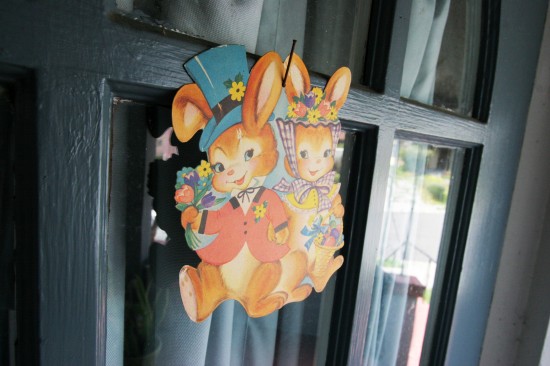 There was so much kitschy goodness inside of her home, I thought I would die. Instead, I opted to forgo small talk with the other lovely attendees and went crazy shooting the place. First stop: Bowling kitsch! Yay!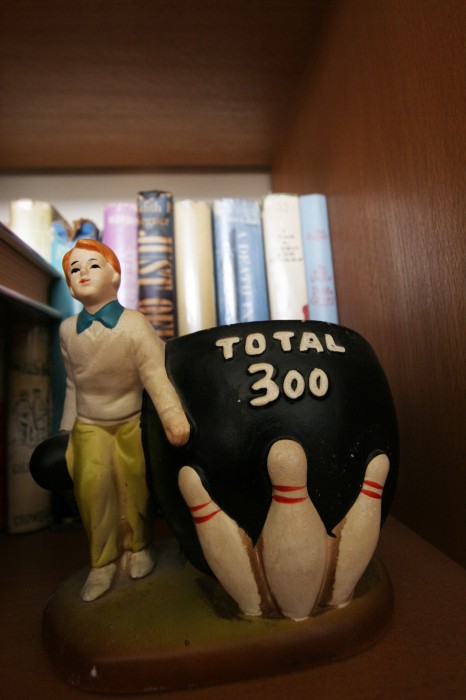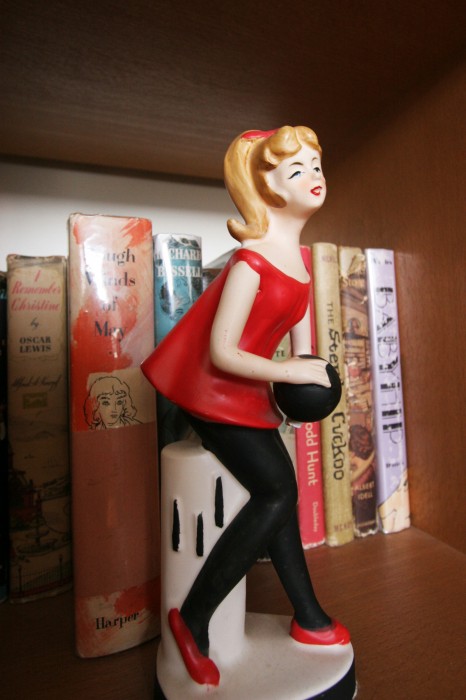 And what home can be without big eyed cats and sleeping Mexicans?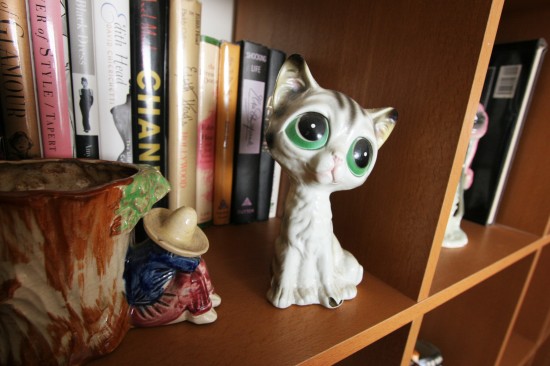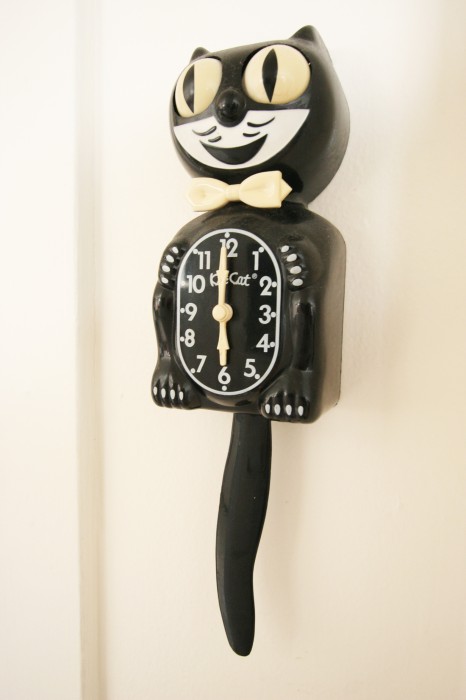 Or a giant child-size creepy harp-playing elf?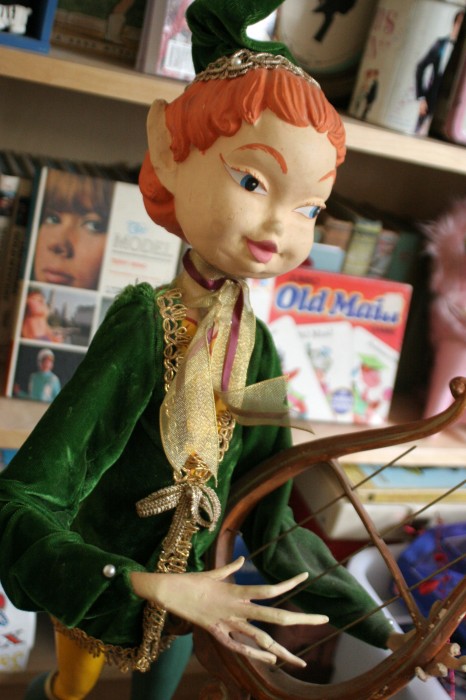 That cute little card in the middle is Karen's super adorable Tupperware business card.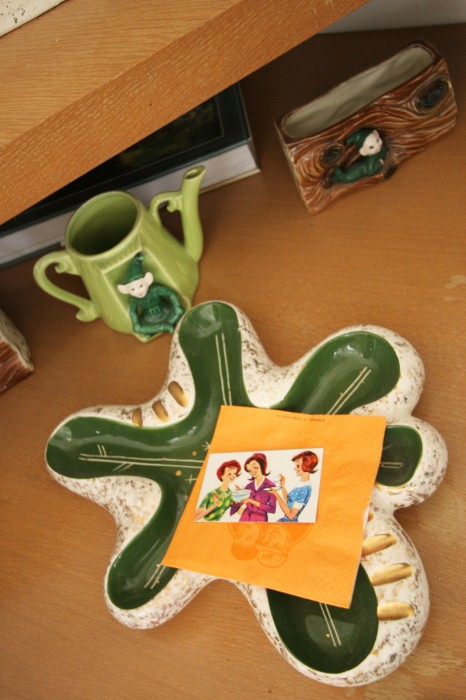 Then there was the bar. This is a little barware set in the shape of a drumset.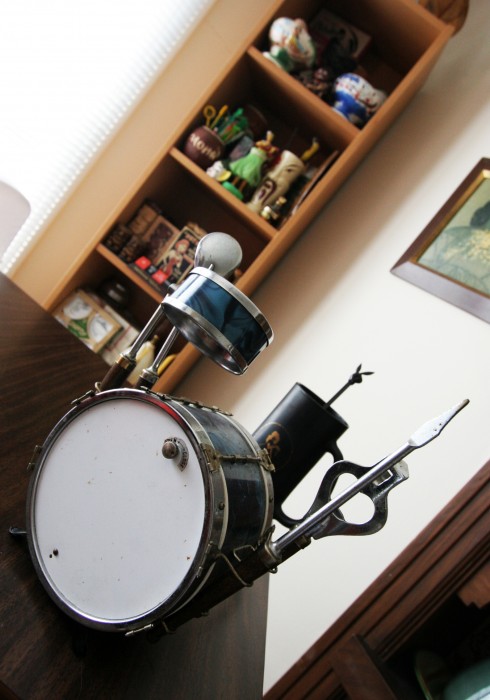 I mean…c'mon…how fabulous is this Burgermeister flip-do beer drinking vintage bar light?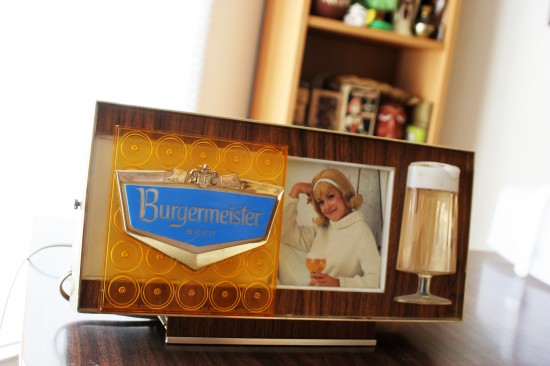 A "flask with class" indeed!  And Dice D'Amour, you know he will be tamed tonight if that Hot-Nip Hussy has anything to say about it.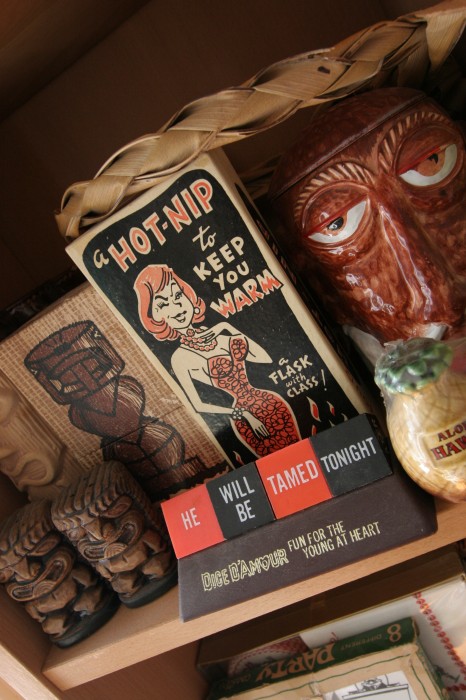 Now, we're off to the kitchen and what California isn't complete without a Hearst Castle souvenir?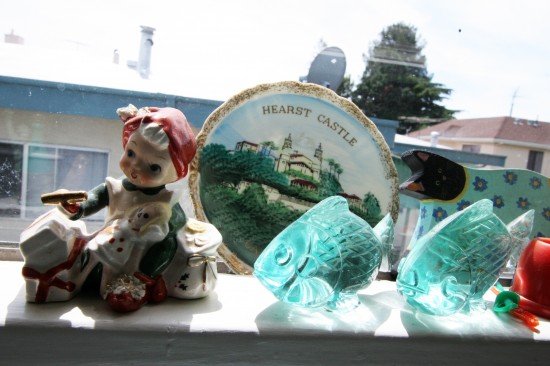 Garlic Gus…where have you been all my life?!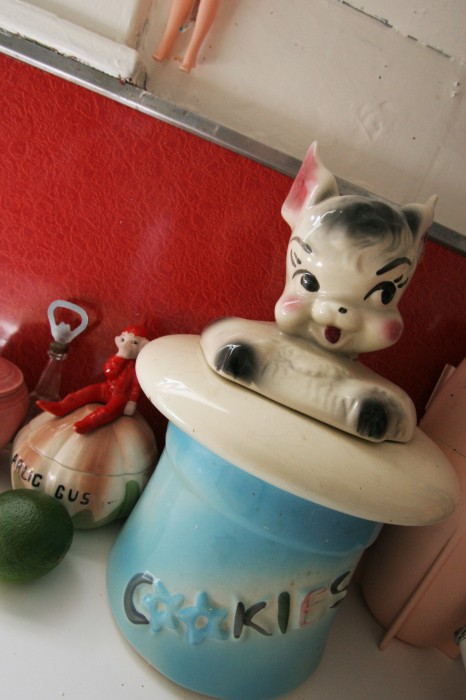 Look Allee! Bambu shakers! Myself, I am lusting after the cutie corn shaker set.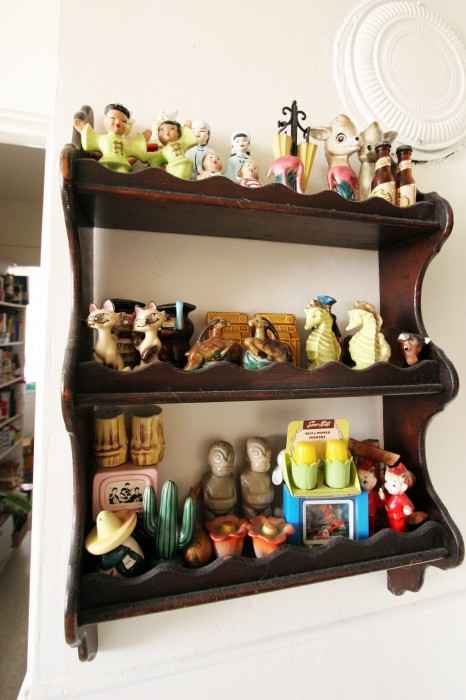 Oh! There's a party going on! Here we have Kooky Kitsch's Jessica and Carried Away with Vintage Gourmet's Carrie probably discussing the finer points of Tupperware's famous 'burp'.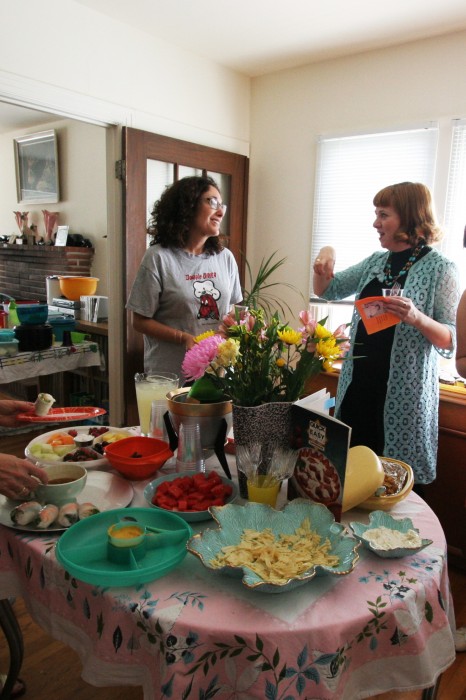 Cheddar-Topped Apples, oh YES!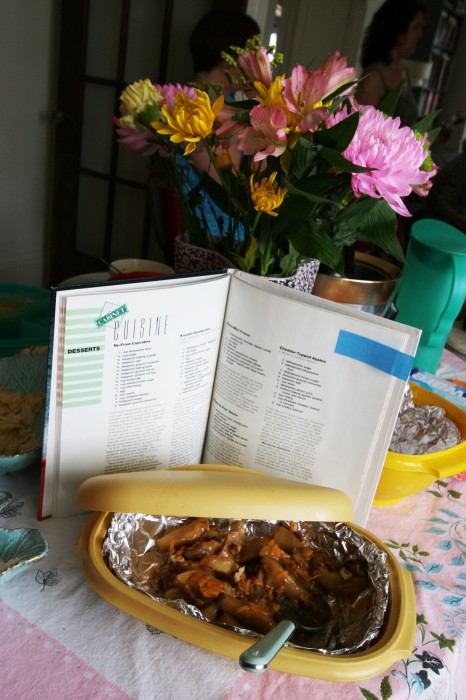 Ok, back to the tour. Here we have, yes, the bathroom! Look at this stuff. Makes me want to weep little mermaid tears in joy.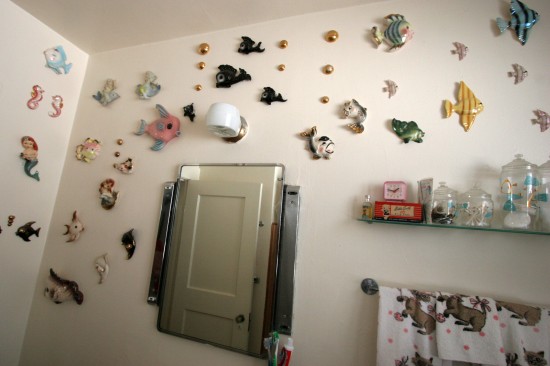 Perhaps you prefer a little pulp fiction? "Jailbait" is singing out to me. Ok, not really.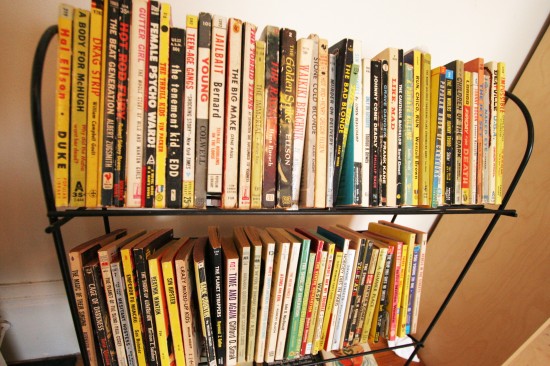 Wait! There's cupcakes?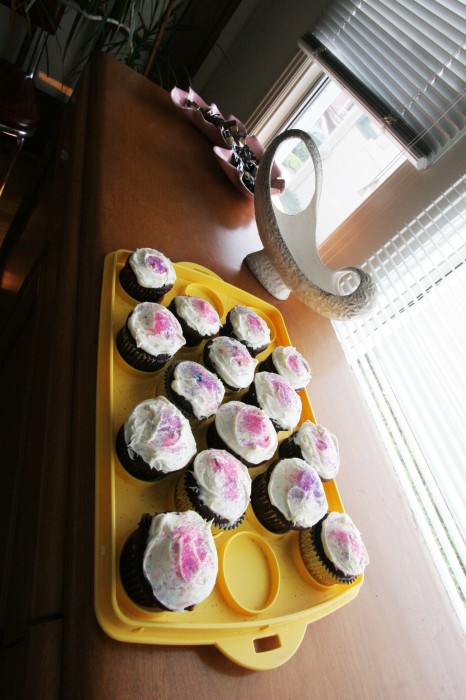 Of course my six year old daughter, Scarlett and her friend, Lucy, found them. I swear kids can smell sugar a mile away.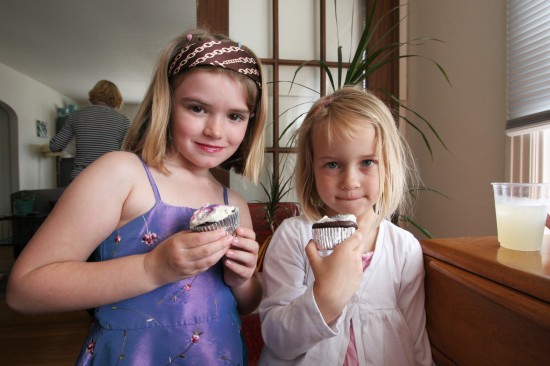 It's almost time to start the show! Champagne and lemonade drinkers, Irene and Carrie, eagerly await for Karen to begin showing her Tupper…wares.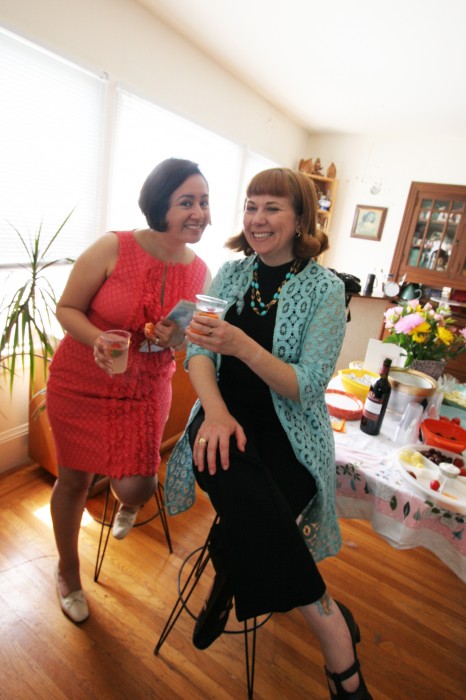 We all get a copy of the Tupperware catalog and as we find out, it's a little less than retro and more styled in the fashion of New Jersey housewives.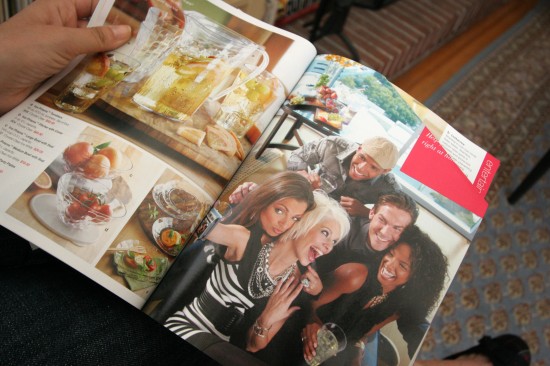 And here she is…our Hostess with the absolute Mostess, Karen Finlay! She's showing off her "Forget Me Nots". I can't make this stuff up.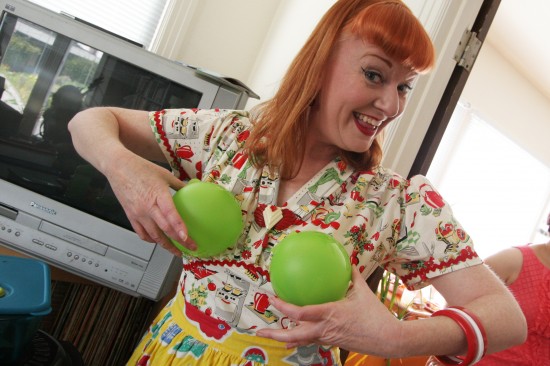 Just look at all of these beautifully colorful pieces of Plastique. Right here and now, I'll just say how much I adore that can opener right there. I got one last year and I use it all the time. It unseals the lid rather than cutting it.  You need one and you don't even know it.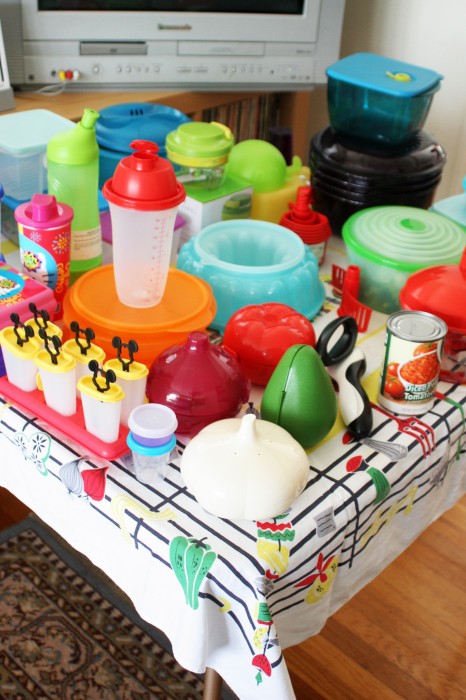 Now that we are in the living room, I have spotted something not quite leather…a Naugha!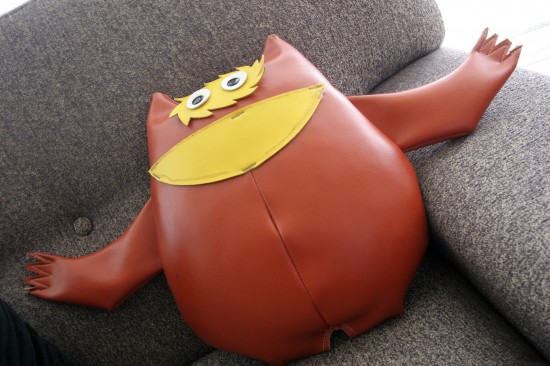 Now I know this lamp has been on AWMOK.com before but I would be remiss not to include it here again.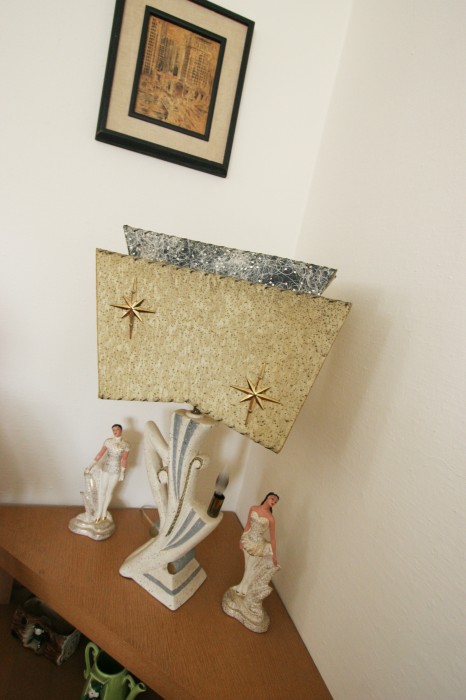 As if just being in her lovely home wasn't enough, our hostess had door prizes as well. Jessica scored some wonderful things, including a "Made in Chian" (that's not a typo on my part) apron.
Scarlett also won an apron and she couldn't wait to wear it.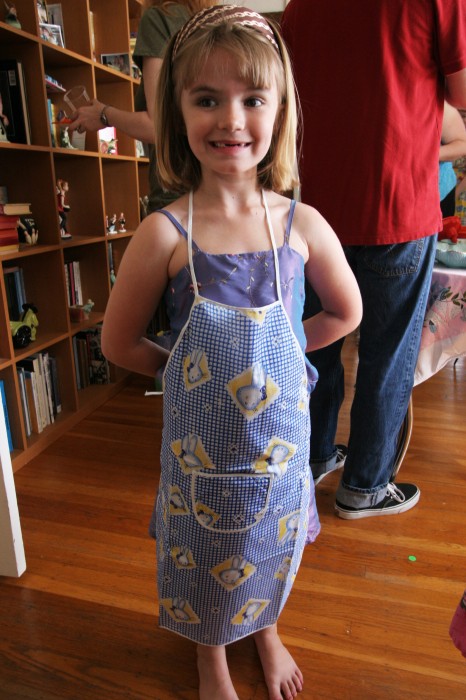 This little honey found a prize of her own…
A ladybug!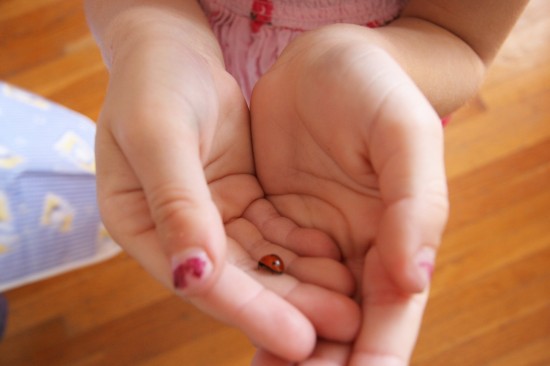 And that's it, the end of our time at Karen's Tupperware party. I am SURE you will agree it was magically kitschy. If you ever have a chance to go to one of her parties, GO!