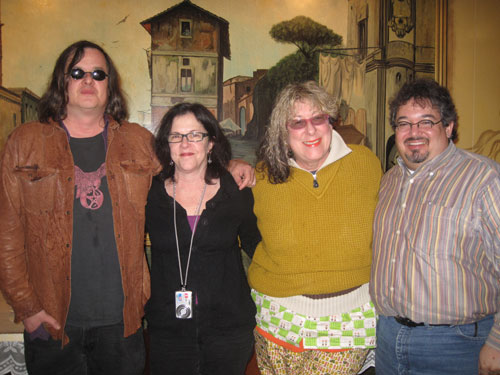 Wednesday, April 6, had tremendous potential. (L-R) Mark Blackwell and Laura Grover, both of whom worked on putting the whole Detroit extravaganza together with me, and I were being driven around the city by Michael Poris, one of the architects leading the charge to rebuild Detroit. The Majestic Theater is one of his projects.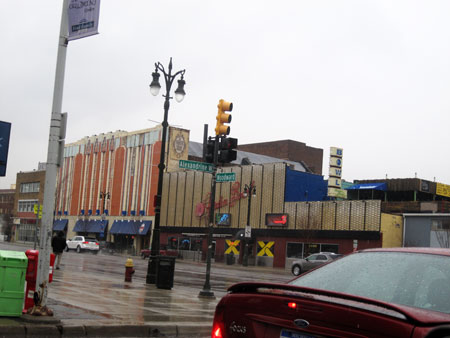 Here's a detail of The Majestic's majesty: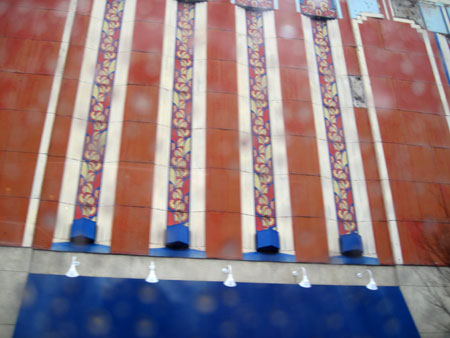 Unfortunately, the skies weeped steadily throughout the day, making decent photos next to impossible unless one was out to amplify the decay of the city, in which case the incessant downpour added just enough teardrops to slam that sentiment home. Most of my shots look like this: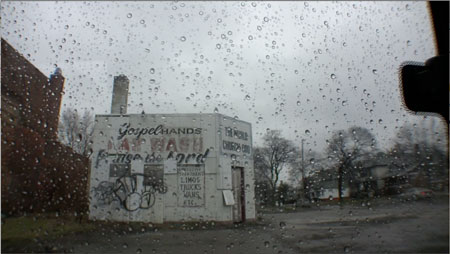 Which is a shame, as to miss the details of a combo Church and car wash is a waste of excellent kitsch: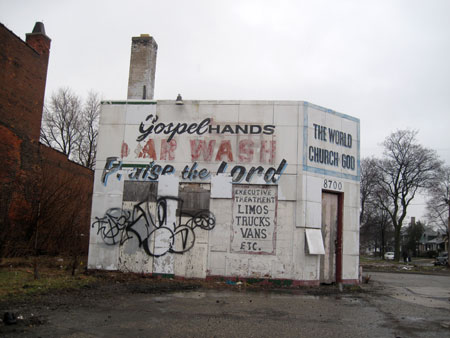 Just about the only clear shots I got was when I got out of the car,…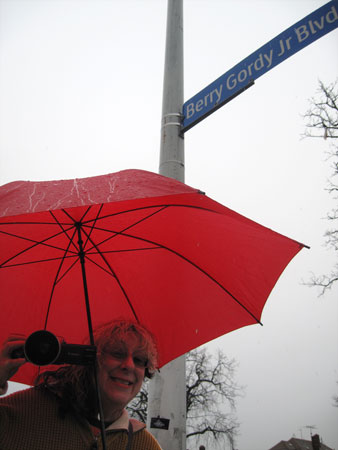 …or some of my car-mates did,…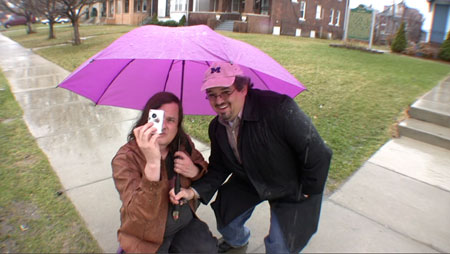 …or when the rain wasn't spitting into the car, with the window rolled down. Thankfully it stopped for a few minutes when I snapped these murals at the Eastern Market: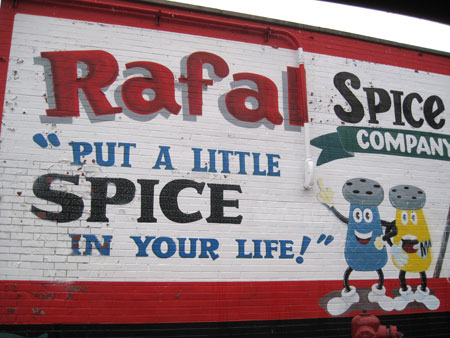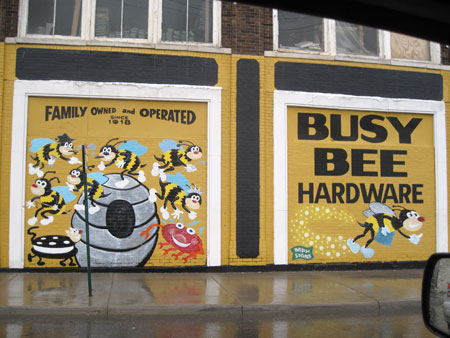 Sometimes the gloominess of the skies enhanced the experience of what we were looking at.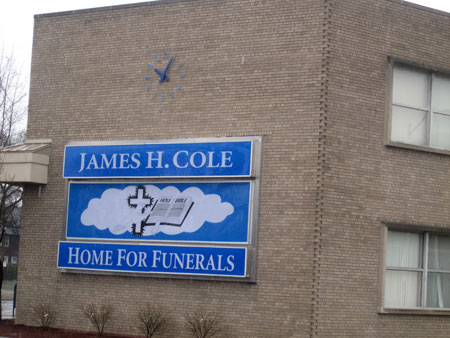 Perfect for a place that's a Home For Funerals as opposed to merely a Funeral Home. Then again, it's right next door to the happiest place on earth, Motown.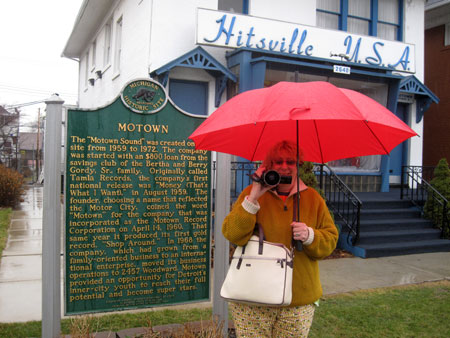 Growing up, I spent many a Saturday afternoon planted on this front lawn, trying to catch a bass note or background vocal seeping through the walls.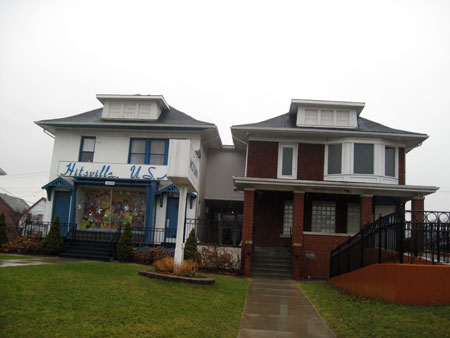 I make a pilgrimage to the front lawn every time I go home. In the early 1980s I even got into the actual recording studio when The Detroit Free Press did a story on me growing up in Detroit and how, as a songwriter, I was influenced by Motown.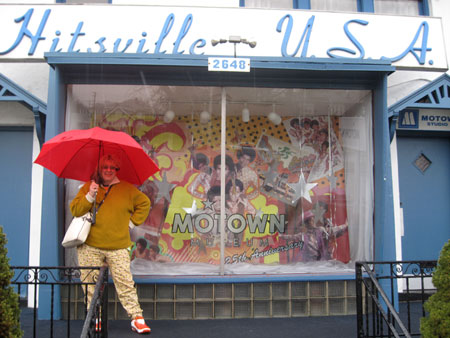 But, alas, fate was not as kind this time. Had I stashed the three video cameras and four still cams away I could have marched through the studio again. But I had no interest, especially on this trip, in having any significant moment of my life pass by without being digitally preserved. So the closest I got was the hallway as no filming was allowed.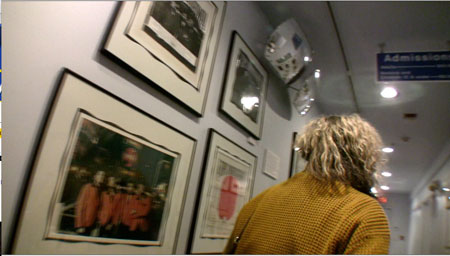 The woman at the desk was really nice. She knew who I was as soon as I walked in as she had seen me on the news the morning before. But rules are rules. Even though I've collaborated with some of Motown's greatest songwriters, like Lamont Dozier…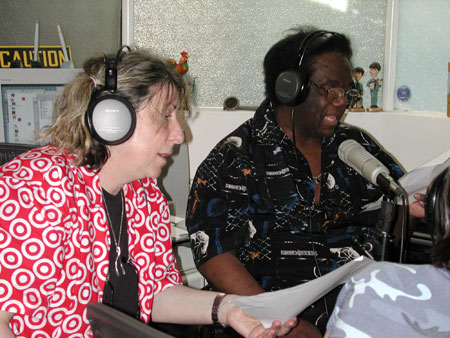 … and Ashford & Simpson, seen here with me and Maurice White, founder and lead singer of Earth Wind & Fire, and LaChanze, the Tony-winning actress who played Celie in the musical I co-wrote, The Color Purple.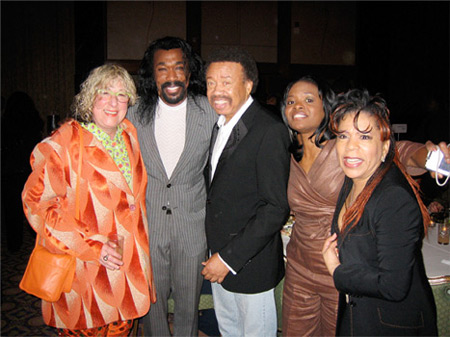 So we piled back in the car and were off to enjoy more of Detroit.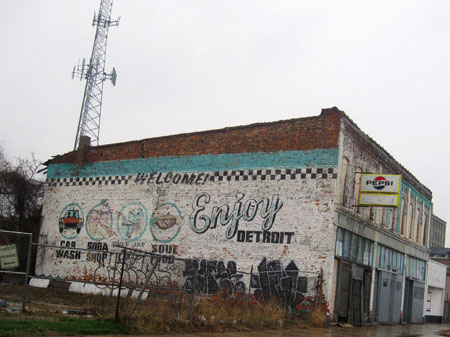 I would have enjoyed it more if the BBQ joint in front of that mural were still open: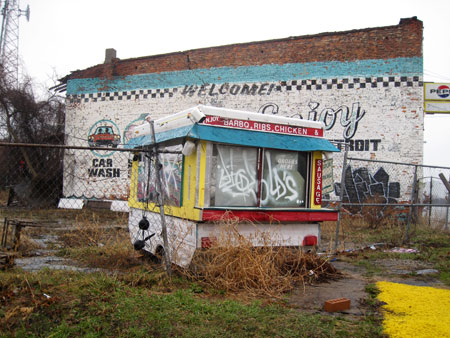 Michael had been over to my place in LA about nine months earlier so I wasn't worried about him showing us the usual tour suspects – The Detroit Institute Of Art, The Detroit Historical Society, The Spirit of Detroit, etc. All completely beautiful and historic but I wanted to see the spirit of the city as evidenced through how people express themselves via their homes, lawns and businesses. I've long believed that one's immediate environment is a canvas for self expression. And places like this would be off the beaten track of any normal tour guide: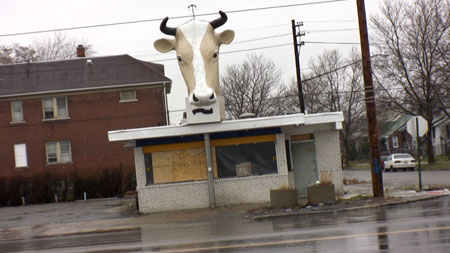 Talk about expressing yourself via your home…: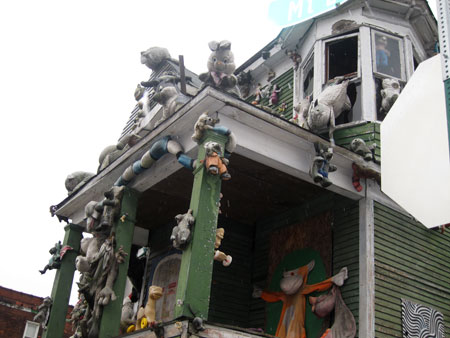 This is The Heidleberg Project, named for the street that artist Tyree Guyton took over 25 years ago and decorated houses, lawns and empty lots on two blocks of.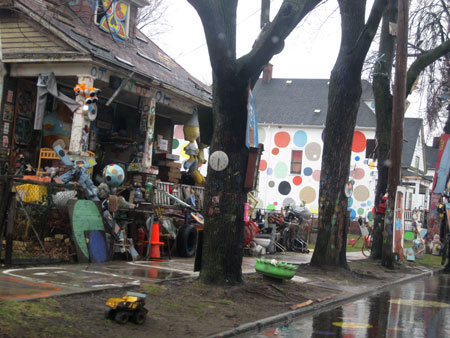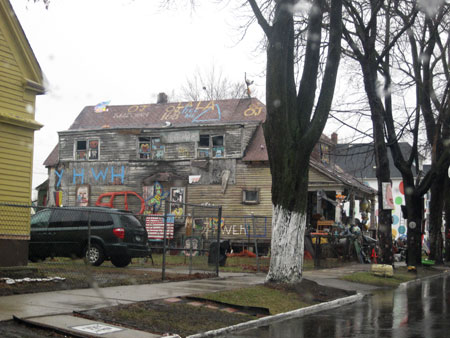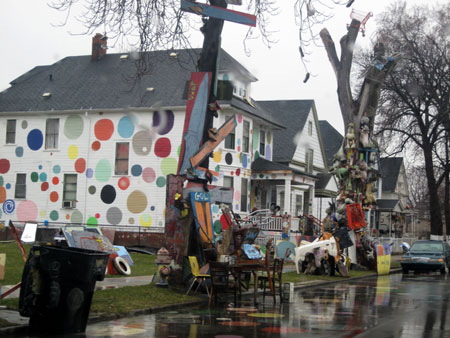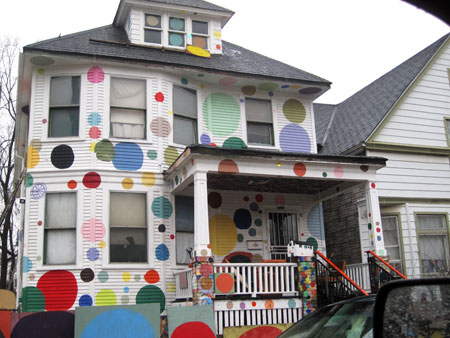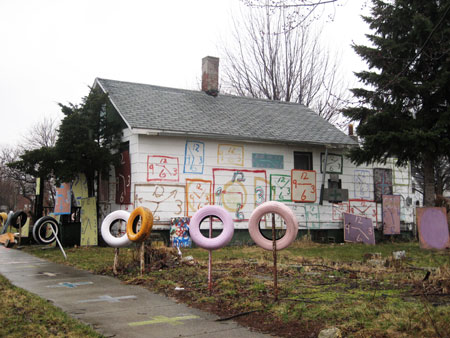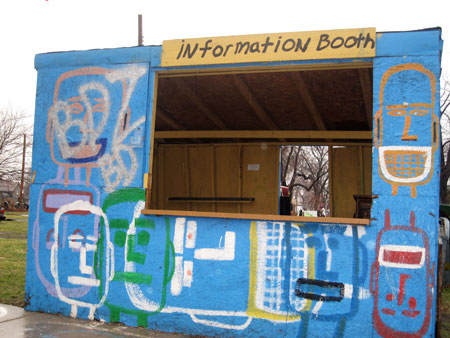 One of the great promises of Detroit is that artists can live cheaply and express themselves in novel ways not possible in other cities. Like Ice House Detroit, a 2010 project where two photographers took over an abandoned house, hosed it down til it was an ice cave and then photographed it melting, symbolizing the building up and subsequent melting away of the once great Detroit.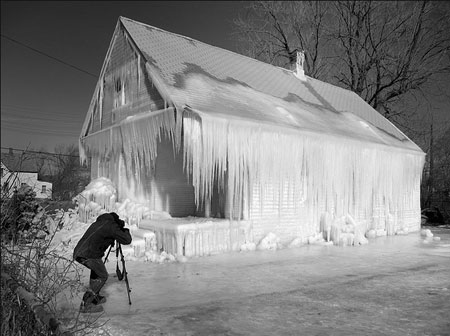 Detroit is full of such self expression: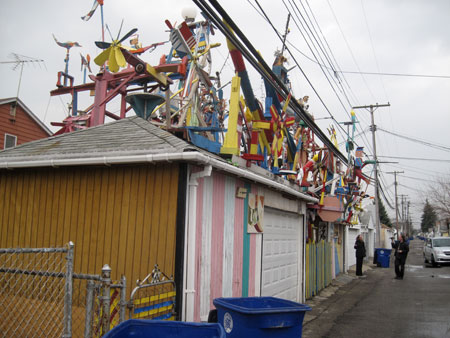 Artists see the future first – their way is to dream and paint that picture for everyone else. Reinvention and constantly shifting one's perspective to stay inspired is as vital for places as it is for people. There's a great effort in Detroit to redesign the city the artists' way. In fact, one of my reasons for being there this particular week was to be the closing keynote speaker on that very subject at the Rust Belt To Arts Belt conference happening the next day.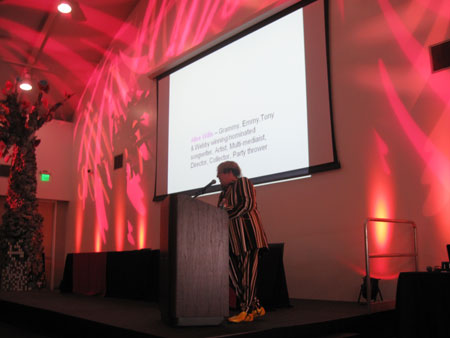 But back to the streets… Rain-soaked as this photo is, I hope you can see the use of industrial materials on the facade of this otherwise traditional brick building. Up close it looks like a bunch of sawed-in-half hot water heaters. I love stuff like this.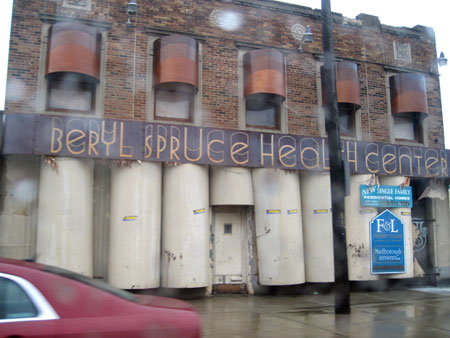 There are so many beautiful abandoned buildings, waiting for artists to see their beauty and reinvent their once greatness.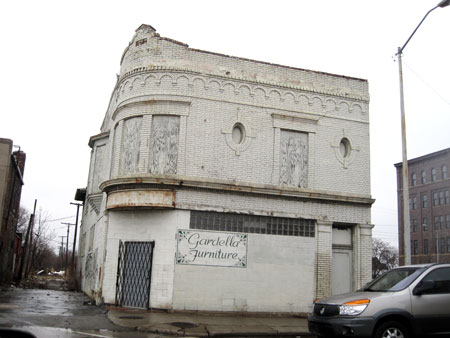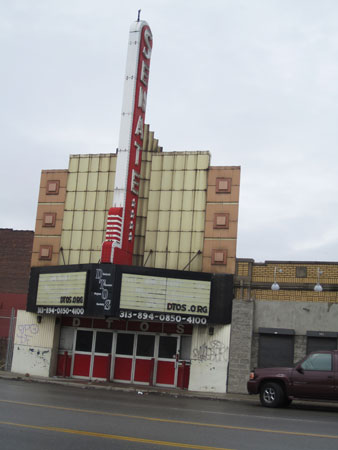 And it's not like artists can't afford to live in Detroit.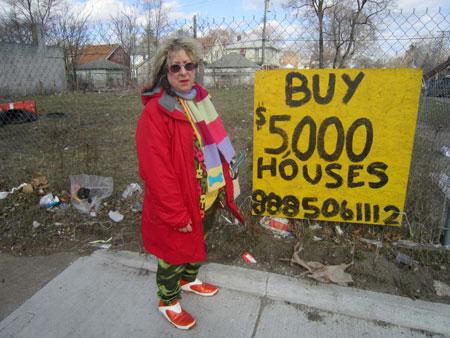 Thankfully, someone bought the old Michigan Central train station. From what I understand, there are plans to renovate.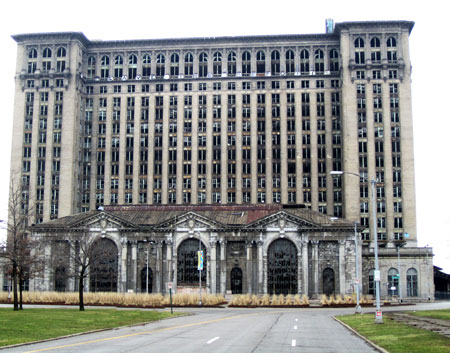 Forgotten by time, vandalized by squatters and ravers, its internal beauty still shines through.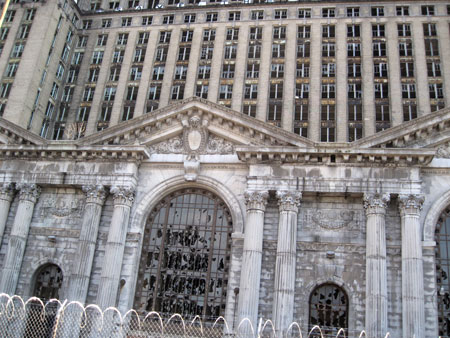 It was getting late so we headed back as I had to go over my speech about the rejuvenation of Detroit I was giving the next day. I was pretty sure I had it down but wanted to make sure there were no crucial mistakes or  misspellings to trip me up. Sometimes even the most straight-ahead missives go awry. Like at this McDonalds, just a couple blocks from Vince's, where we had dinner and which I'll blog about tomorrow. I know they mean a 20 piece chicken McNugget dinner for $4.99 but if I'm to believe the sign it's 20 P's of cchcken uggets for four hundred ninety nine dollars.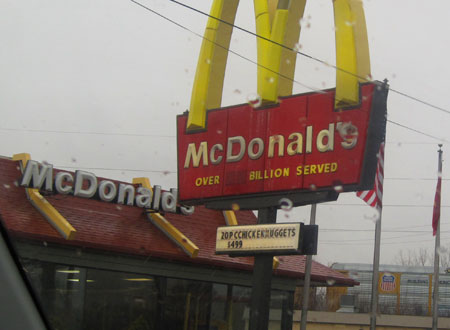 Which makes it just slightly cheaper than some of the houses in Detroit. Calling all artists!!