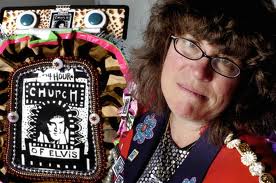 I was acquaintances and neighbors with the Church proprietress, Stephanie, or "Stevie," as I called her, though I don't recall why I called her that.
Once the proprietor of the now closed U.F.O. museum and I were fake married by her for an English television show.
Stevie performs weddings, dresses the happy couple foolishly, and makes them carry around strings of tin cans and large signs while she follows them, loudly announcing their union to all of down town.
She also excels at making motorized dioramas of various sorts, and at collecting great kitschy stuff to artfully display.
The Church had many incarnations and changed locations a number of times. It even went away for a while, but now it has risen again! And it is good.
http://www.24hourchurchofelvis.com/test2churchofelvis7.html