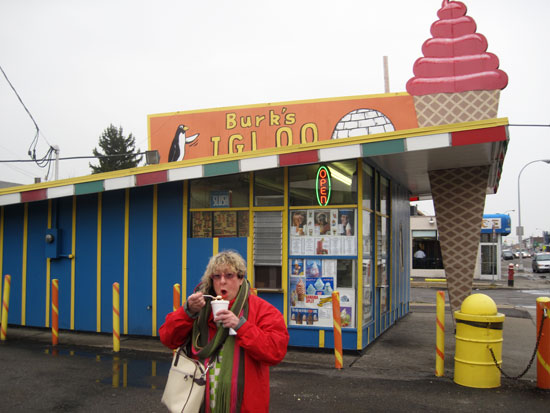 Burk's Igloo in Hamtramck, the once Polish center of Detroit, not only has KILLER ice cream but is famous now for being in the opening titles of HBO's Hung.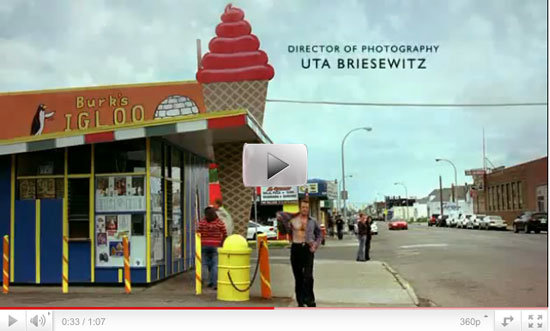 The menu is excellent: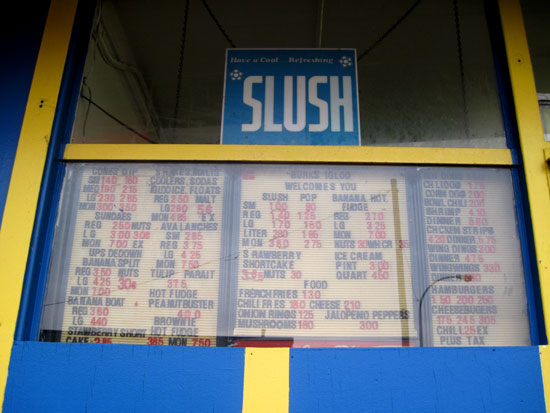 So is the signage: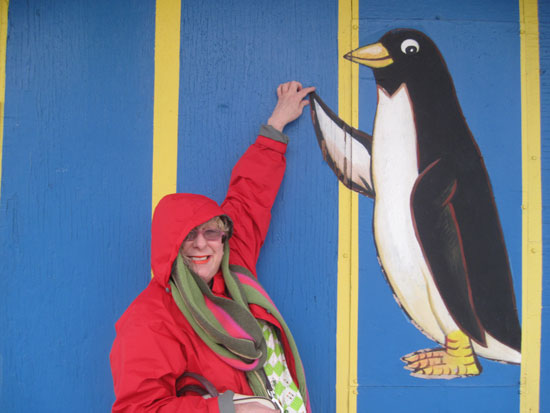 Here I am enjoying an excellent Igloo caramel swirl sundae with historic architecture preservationist Rebecca Binno Savage, who took me on a tour of the neighborhood.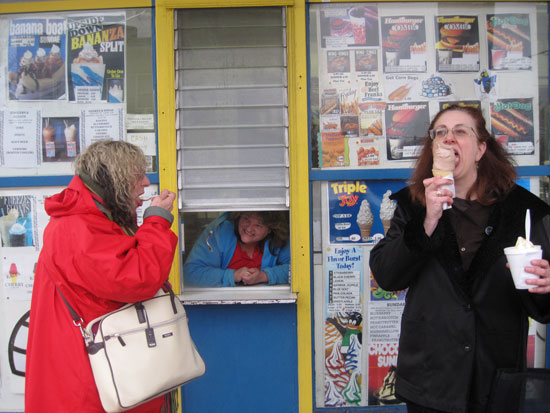 I almost got this: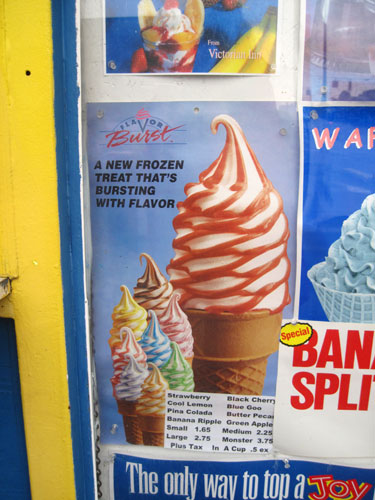 That kind of symmetry is hard to achieve. But the ice cream lady steered me the right way.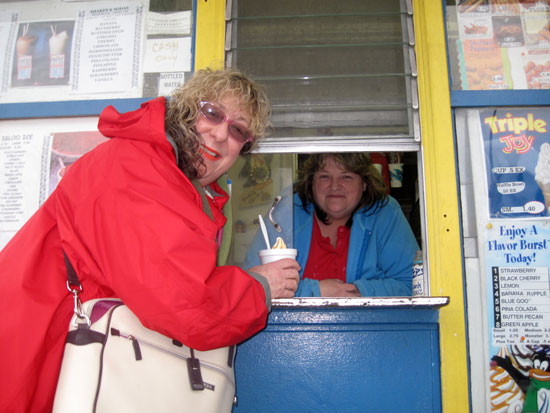 I would suggest everyone steer to 10300 Conant St, Hamtramck, 48212 for the ultimate stomach and eyeball experience.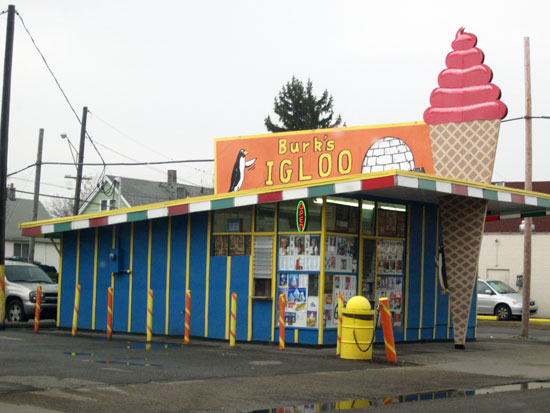 Now onto Lafayette…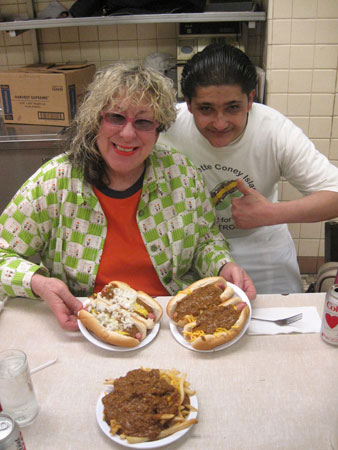 If you're from Detroit or you love hot dogs and have visited Detroit, you undoubtably know of the war going on between who has the best Coneys, the institutional Lafayette Coney Dogs or American Coney Island next door.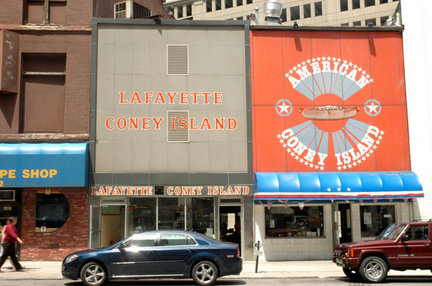 I must preface all of this by saying that I've never even walked into American because it looks like one of those Johnny Rocket type retro places that recall the 1950's in entirely the wrong way with a sparkling red, white and black soda fountain decor that has none of the soul of what it was really like in a diner dive back in the day. I know it's been there even longer than Lafayette but I've always walked into 118 and not 114. I suppose American's been redecorated but that's blasphemy in and of itself when it comes to authentic junk food places. Lafayette, on the other hand, hasn't changed an inch. And for that alone, the place deserves my hot dog loyalty.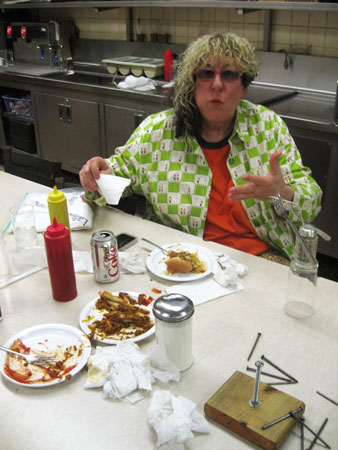 I'm always going to go for the authentic looking place. It's got soul that no amount of investment in brand spanking new shiny chrome and wrong shades of vinyl can ever produce. It's also got lightning fast service performed by at least one waiter who's not only been there most of his life but who delivers a spectacular array of magic tricks along with the dogs.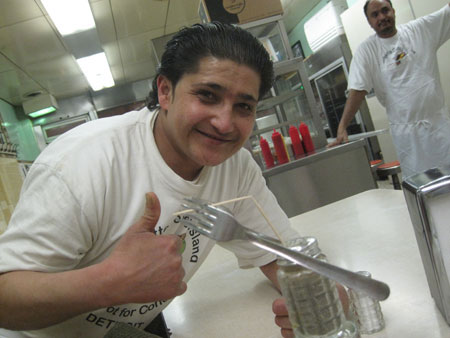 I hope you can see that the fork is hanging mysteriously in the air. It's actually balanced on a toothpick that's placed into a hole in a pepper shaker that's stacked on top of a glass, with another fork also swinging on it.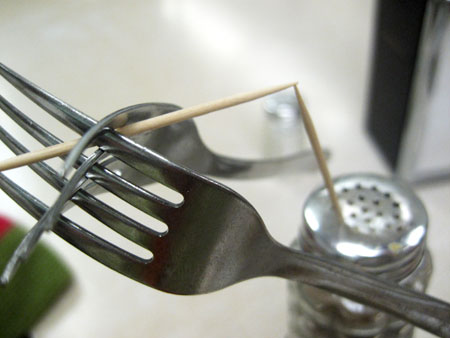 This defies the laws of physics. So does this: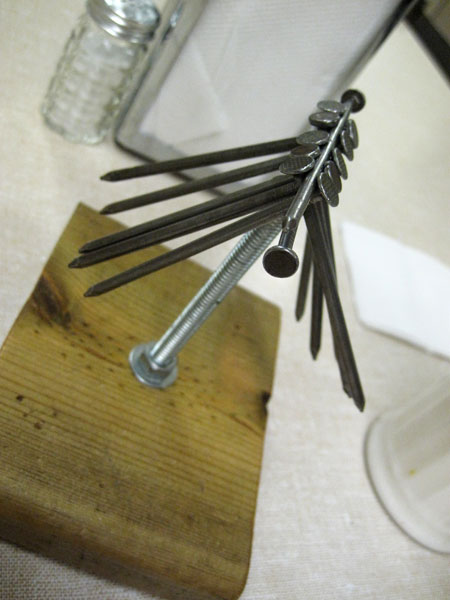 The challenge was to hang twelve nails off of the long screw poking out of the wood base.  I don't care how long I stare at that photo or the fact that I saw Ali Faisel, the waiter, do it in front of my face.  I still can't figure it out.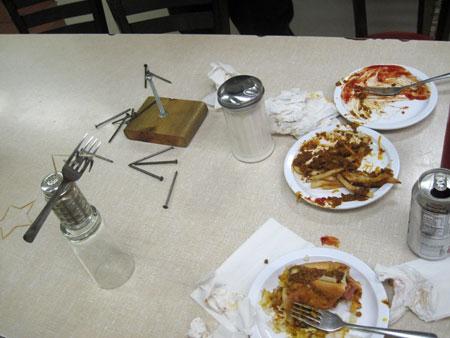 There's one more trick on the table, right next to the toothpick fork structure.  Ten toothpicks, just laid out on the table, that come together as a star with the help of a little water: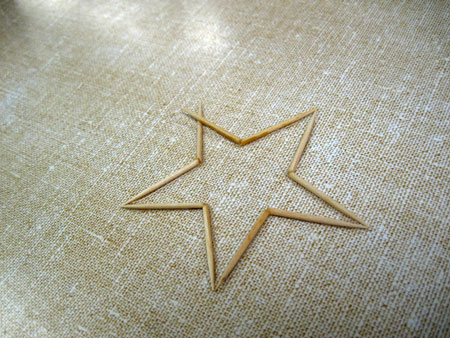 Notice the vintage formica tabletop.  That's what I love about Lafayette, that everything is seasoned with 70 years of chili, dogs and fries with no thought of changing anything that works. It's because the dogs have that perfect snap,…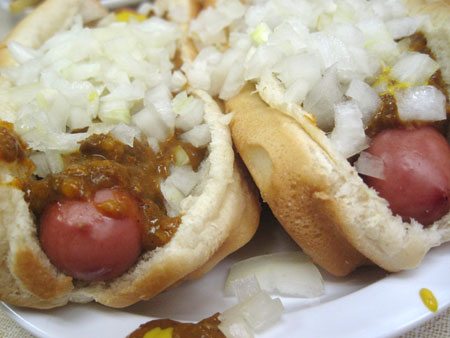 …the chili recipe doesn't change,…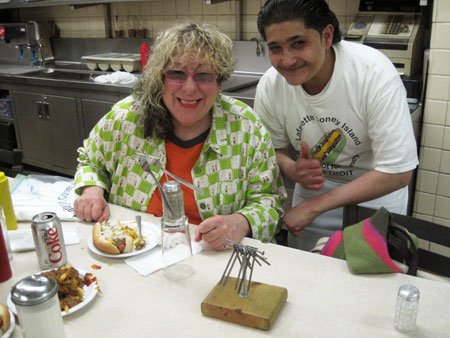 That's why I've always stuck with Lafayette.  But I understand it's not fair to proclaim Lafayette the winner without ever having downed an American dog. So the next time I go to Detroit I'm going to wear sunglasses so the sparkly sheen of the new chrome doesn't offend my eyes and sneak into American for a chomp down. God forbid anyone from Lafayette sees me I'll never be able to show my face in there again. And, God knows, I'd never want that to happen.