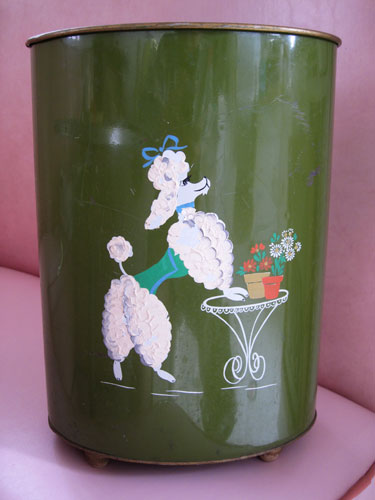 This past weekend LA was in bloom with garage sales. I've tried resisting these for years, especially since opening The Allee Willis Museum Of Kitsch at AWMOK.com, as not only do I have the thousands of items in my own kitsch collection to store but these days I'm the happy recipient of at least a few boxes a month that arrive stashed full of other peoples' kitsch. But I was tooling down Fountain Ave. and there she was staring at me, the classic bathroom or teenagers room accessory icon of the 1950s, lovely Fifi.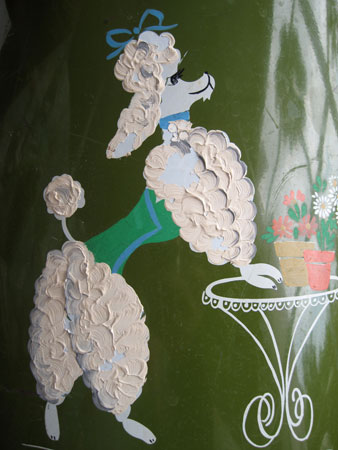 I love her fur.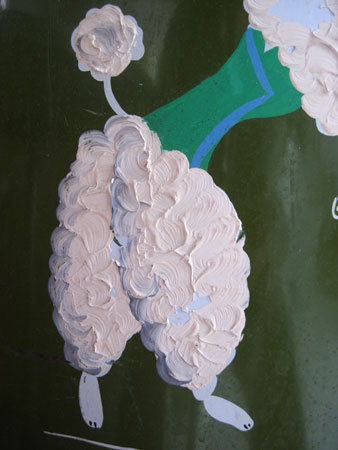 I'm not a big one for collecting poodles or flamingos or any other kind of animal artifact that became uber-ubiquitous in a former decade. When I see peoples' places stuffed with these kind of things I think that they might only be collecting to have a proper 1950's collection as opposed to just buying individual things because they love them. But Fifi was calling me so I drove my car around the block, pulled up in front of the sale and for five bucks, Fifi was mine in the space of one traffice light. She hopped in the front seat and matched her new surroundings well.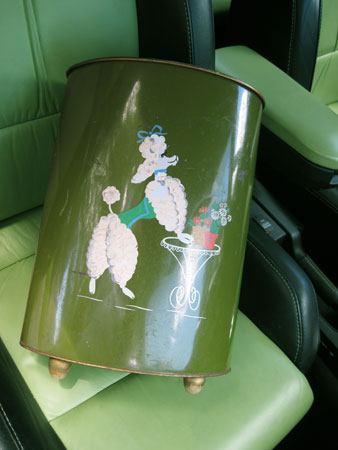 The car was a couple weeks past when it needed to be washed so as I drove home I picked up bits and pieces of things scattered around the car every time I came to a stop and fed Fifi til she was almost full. She looked so great with the two-tone green seats that I toyed with the idea of making her a permanent fixture up front. But I came to an abrupt stop when someone's car stalled in front of me and Fifi flew up full force, hitting me in the head and dumping garbage all over me. Not at all like the neat and petite little Fifi and her lobster claw paws delicately balanced next to her flower pots.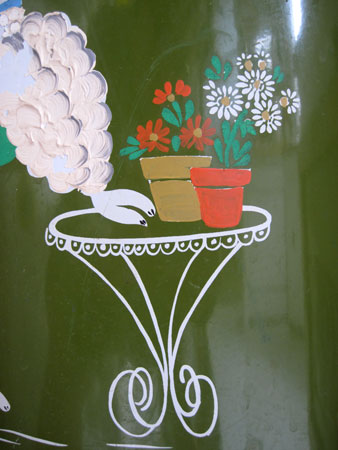 So I realize she needs to be an in-house pet and spent much of the day yesterday walking her from room to room to see where she fit best. I'm happy to report she's now very happy next to her same species magazine rack.