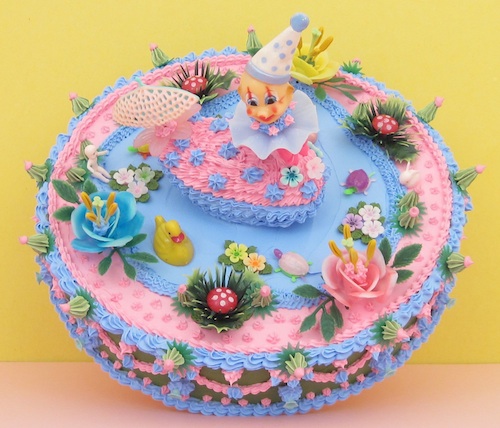 This whimsical "Swan Clown Floating in a Blue Pond" cake sculpture is decorated with blue, pink and green faux icing. Little plastic turtles (with moving parts!), ducks, mushrooms and roses create the fantasy garden that the Swan Clown presides over, with green icing leaves floating in the pond – topped with tiny lucite flowers – to create  lilypads. A tiny pink plastic baby is soaking his feet in the water while marveling at the beauty and magic of the big, wide world around him – and the mystery of the Swan Clown god. I created the Swan Clown from a vintage plastic swan body that I've completely covered with my faux icing mixture and his head is a quirky vintage clown head. He has a blue and pink vintage parasol for a tail.
This sculpture is constructed on a 2 x 10 inch dense styrofoam base and stands about 8 inches tall to the top of the swan's head. Part of the fun of owning a cake sculpture is finding a cool, retro cake stand to display it on, or using an heirloom stand that has been passed down through the family.
All my icing is created from high quality acrylic artist materials, from a formula I've developed over the last 30 years, and the colors are hand mixed by me and extremely colorfast. My cake sculptures are a time consuming process as I start by tracking down interesting vintage cake toppers, plastic toys, lucite and celluloid decorations, and anything else that I like that is washable. I then ice the sculptures (starting with a dense styrofoam base) by layering multiple layers of faux icing over several days, or weeks – and I make all the faux sugar roses, or other faux icing decorations, like medallions, in advance. The sculptures are washable with soapy water and a hand sprayer.