When Windup Kitty posted that cool 1920's Lithuanian Fish car, it sparked my curiosity about the drag coefficient of cars and fish.  A couple of little googs later, and this turned up.   Below the picture is copy from the piece I found from "GreenCarSite."  I find it strangely appealing.  I don't think it floats.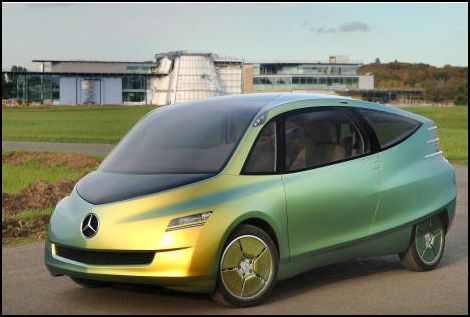 DaimlerChrysler has developed a new concept car with the view to look at new possibilities to reducing emissions. The Shape taken from a Boxfish due to its aerodynamic efficiencies. The concept proves that although the large box shape of the vehicle it was still able to achieve an extremely low drag coefficient of 0.19. To put this in comparison, a drag coefficient of 0.19 is about two thirds that of an average car.
The Bionic fish concept also learns from nature by using the Boxfish as a basis for its construction techniques making the vehicle one third the weight if used throughout the car while not substituting on occupant safely.
The Bionic fish is said to achieve 66mpg from is diesel engine. Mercedes don't ever expect to put the Bionic Fish into production but say some of its technology may start appearing on its production vehicle in years to come.
http://www.greencarsite.co.uk/CONCEPTCARS/Mercedes-BioFish.htm