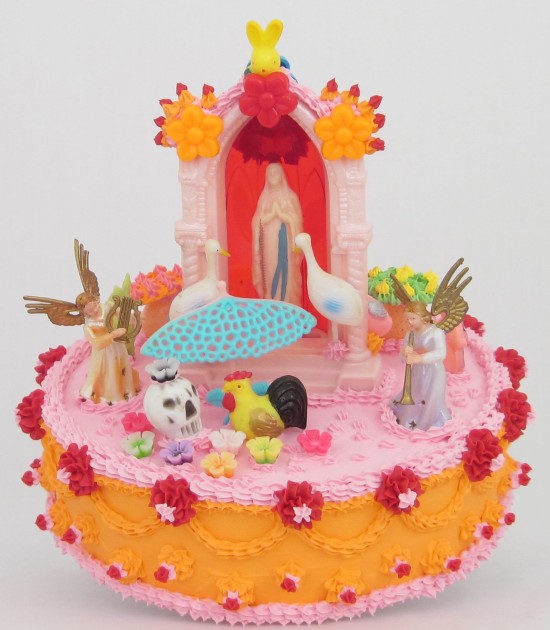 "Easter Bunny Communion Cake" is a delightful little fantasy world comprised of a plastic Madonna standing in a see-through red chapel (purchased from England) on one side, and a pink Easter Bunny on the other. I currently have this cake displayed on a motor on a countertop in my brick and mortar shop in Phoenix and it looks magical constantly turning so you can see all sides.
The Madonna is being visited by two storks as she gazes out over her domain of two angels playing music – and a rooster having communion with a skull in a little graveyard, protected from the elements by a pink and blue lacey plastic parasol. Tiny multi-colored lucite flowers have sprung up in the graveyard. Plastic flowers, a bunny head and ornate faux icing decorate the arch above her head. Light shines through the red plastic behind the Madonna giving her a radiant glow.
On the other side of the cake there is a mischevious pink Easter Bunny being kept company by several plastic chicks (two emerging from eggshells), two bunnies (one with a top hat and cane, one with a book), and speckled plastic eggs with 'communion wafers' on top of them. Plastic flowers and a colorful communion wafer decorate the arch above the chapel. There is a lot of symbolism in my cakes, but I like to leave them open to interpretation so that some mystery and self-interpretation is possible.
This cake sculpture is one-of-a-kind and was created on a 7 inch wide dense styrofoam base (but extends out about to about 8 inches with the ornate decoration), coated with a faux icing. It stands about 9 inches tall at the highest point.
All the icing is created from high quality acrylic artist materials, from a formula I've developed over the last 30 years, and the colors are hand mixed by me and extremely colorfast. My cake sculptures are a time consuming process as I start by tracking down interesting vintage cake toppers, plastic toys, lucite and celluloid decorations, and anything else that I like that is washable. I then ice the sculptures by layering multiple layers of faux icing over several days, or weeks – and I make all the faux sugar roses, or other faux icing decorations, like medallions, in advance.