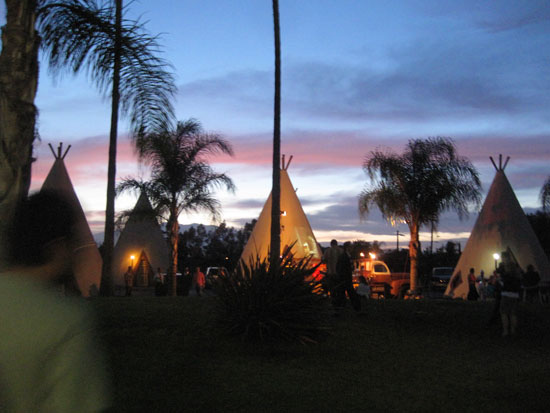 Last Saturday night my friend, Chris Nichols, threw a party at The Wigwam on Route 66 in San Bernadino, CA.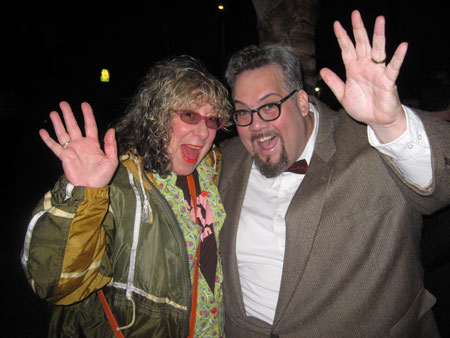 With no traffic it's still a good hour and 15 min. from Los Angeles and I would never make the trek there for anyone other than someone with a great reputation for throwing parties. Besides, Chris had just written a great piece about me in his Los Angeles Magazine blog, so Mark Blackwell and I hopped into the mustache van and headed to the tepees.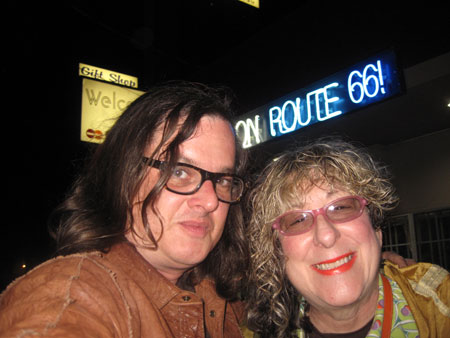 Here's a daytime shot of the wigwams: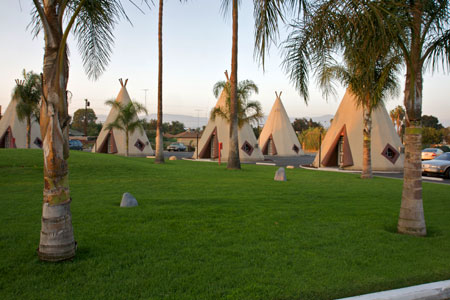 By the time we got there the sun was dropping fast.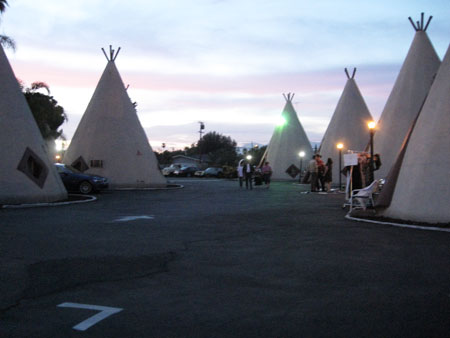 But it was still light enough to see they did an adequate job of restoring the 1949 original, the seventh and last of the Wigwam motels across the United States, when it was restored a few years back. Though I wish the sign didn't look so cheesy new.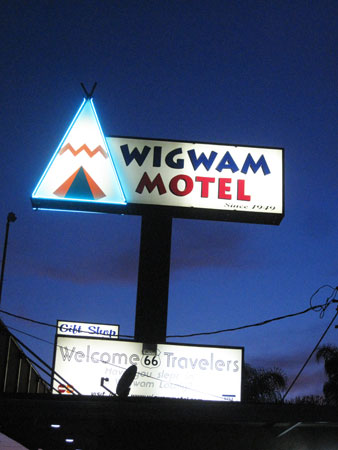 There's an appropriately kidney-shaped pool,…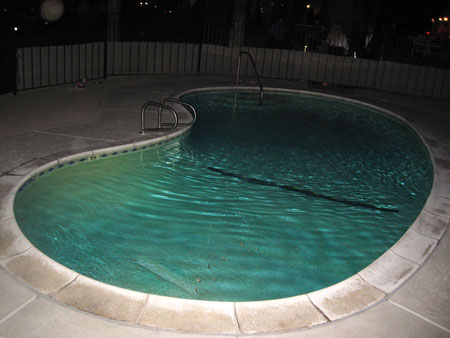 …a totem pole pointing the way in…,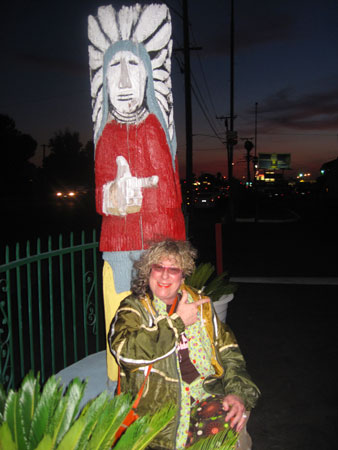 ….several Hawaiian themed fire extinguishers, though not sure what that has to do with Indians and teepees,…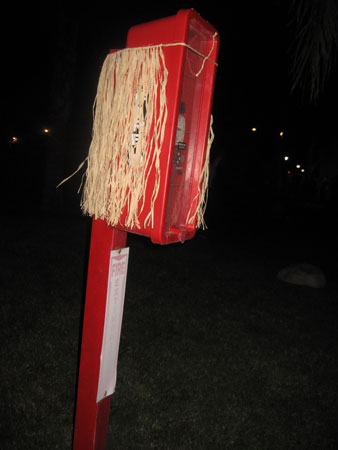 …and an excellent snack bar.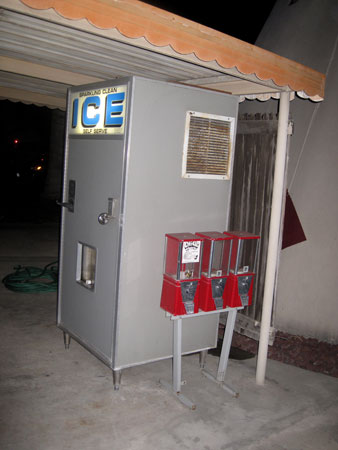 Fortunately we also had excellent barbecue prepared by Chef Christopher Martin.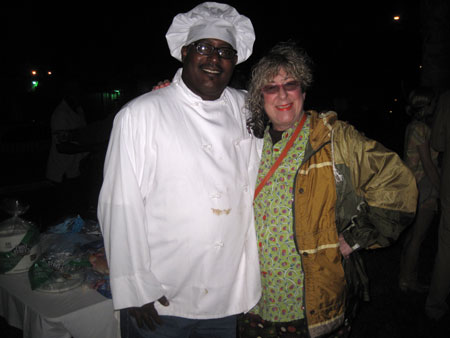 I love the entrance of the Wigwam rooms, plaster mounded to look like pulled-back teepee flaps.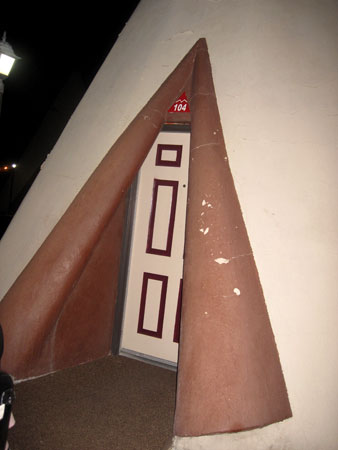 I poked my head into someone's teepee. I apologize in advance as none of the stuff strewn around is mine. The rooms are small and compact, just this…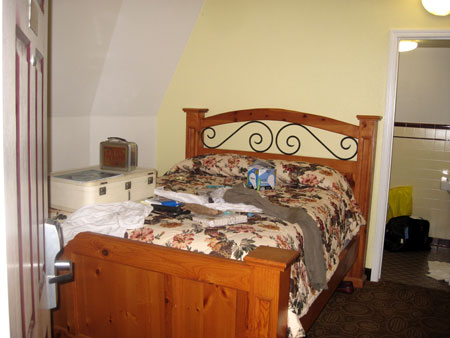 …and this, plus a little bathroom.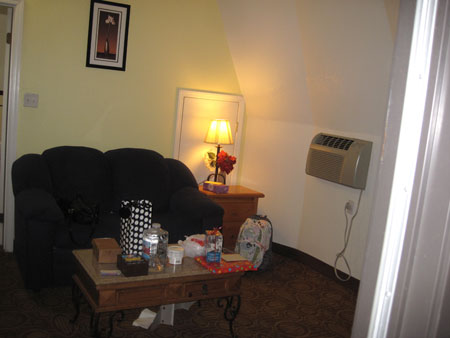 As far as rooms go, if I were going to stay in a teepee I would want to lie in bed and feel like I'm in one. Instead, the ceiling is so low I imagine it feels more like you're sleeping in an attic.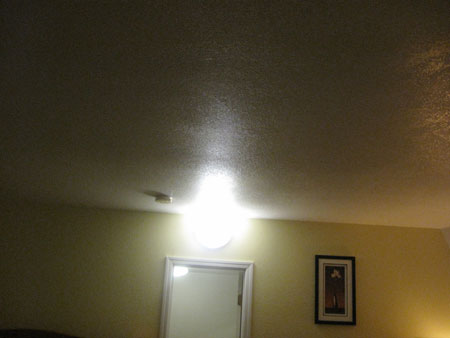 But the grounds around the teepees are perfect for a party.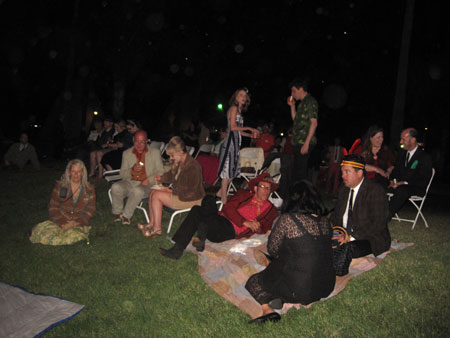 Most people dressed appropriately: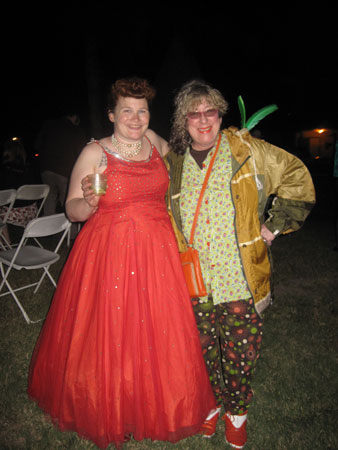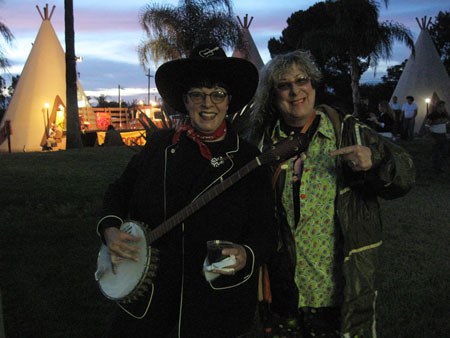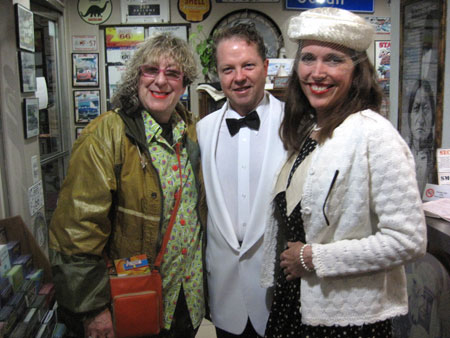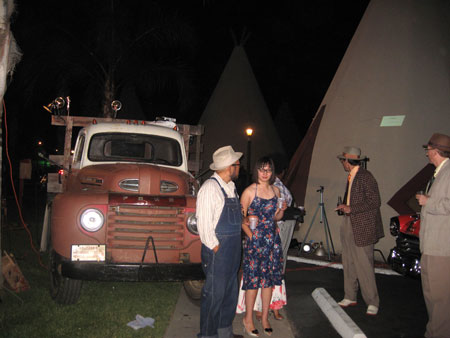 Notice this guy's vintage Sahara Hotel tie: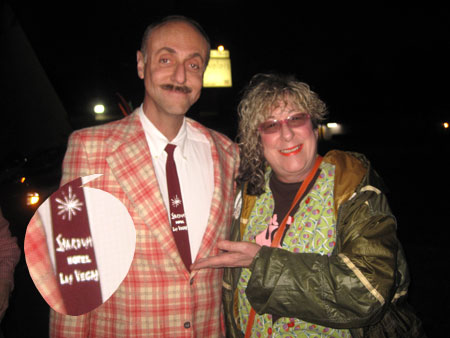 Here's Charles Phoenix and I before he changed into his head-to-toe authetic Indian headress: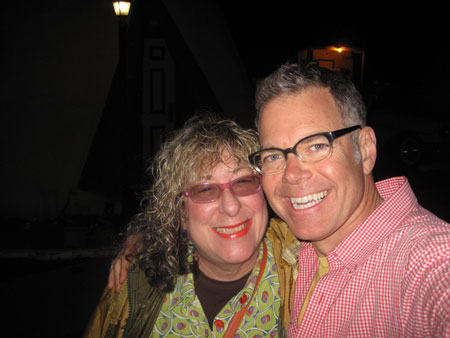 Many guests drove appropriate vehicles to the party too.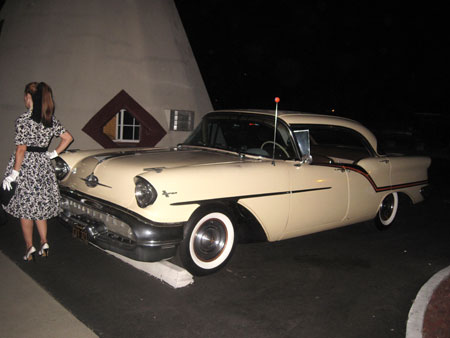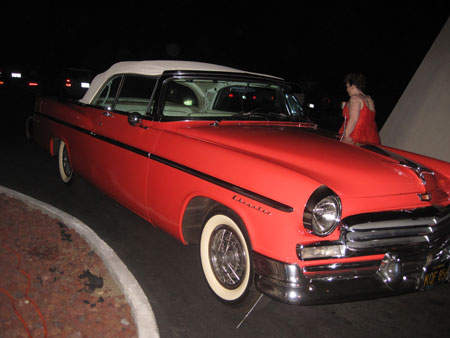 Check out the Chrysler's backend: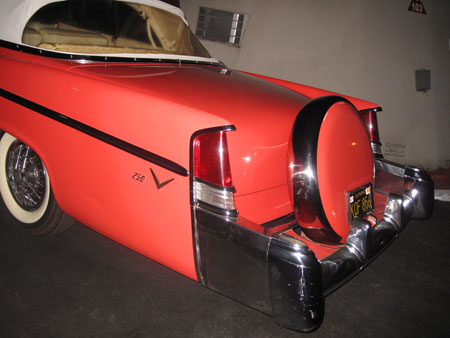 I definitely wouldn't mind this parked next to my teepee as an added rec room: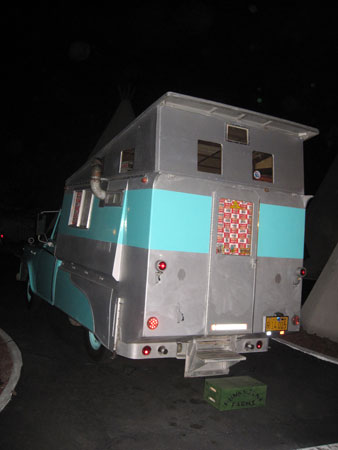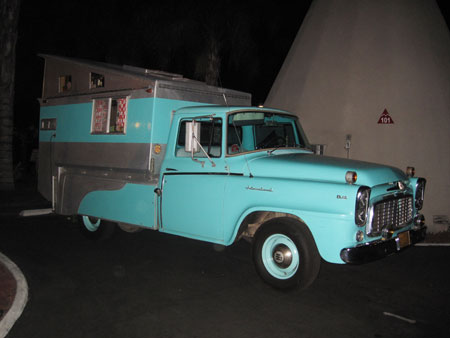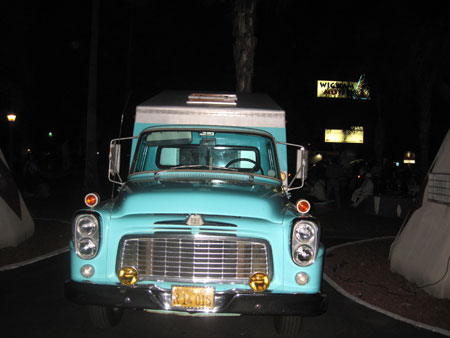 A peek inside: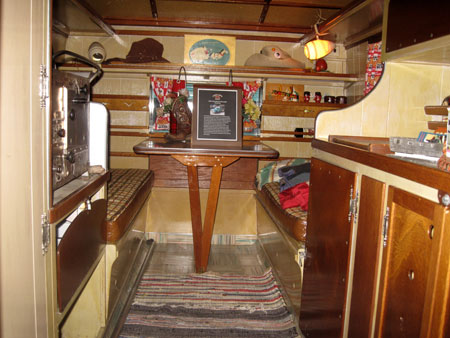 Complete with excellent curtains: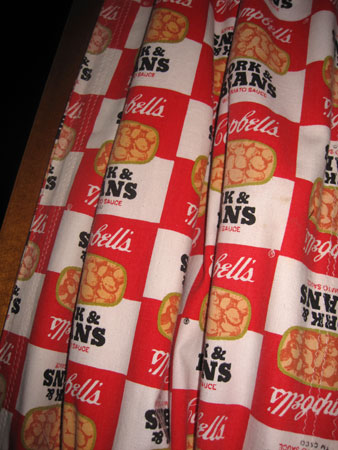 This was there too: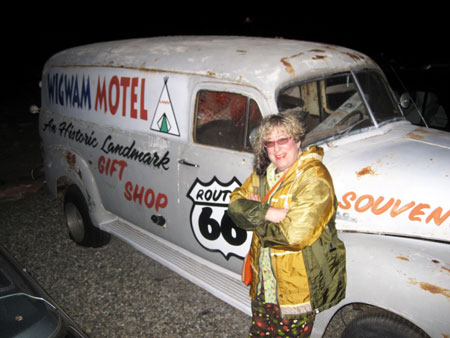 I would have driven my Studebaker were it not up on blocks and acting like a planter.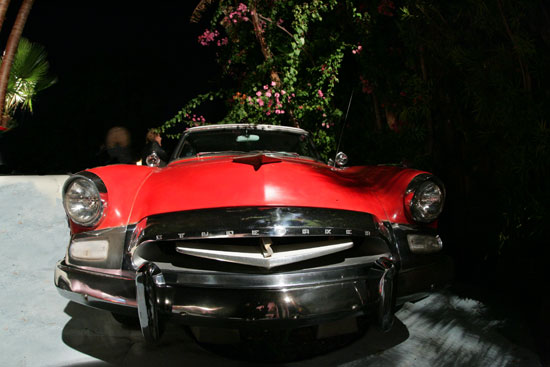 There was an entire evening's worth of entertainment but that's where I had to draw the line.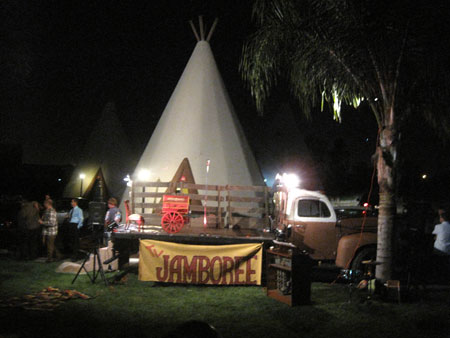 I know it's antisocial but I listen to music all week.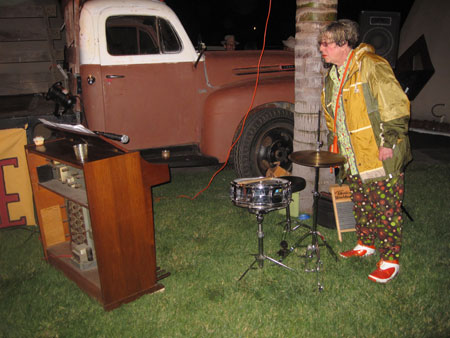 So as soon as the organ, accordians, harmonicas and kazoos began Mark and I jumped into the mustache van and headed back to LA. But not before a fantastic night was had by all at the Wigwam!