After years of living with a very unlivable moldy kitchen, my landlord finally agreed to fix things up. This is mostly owing to the fact that a beloved friend (who happens to be a mastermind genius woodworker) agreed to do the work for a small pittance (picture Stephen Hawking offering to do your math homework for free). It's a teeny, tiny kitchen, originally built in 1930, and boy does it need some love. Last night, I was feeling a bit down and needing some love myself. I've spent the past several weeks feeling sick and/or being very busy. Just not enough time for the useless fun stuff that makes me want to keep going. I even realized that I had missed out on an invitation to the new cd release party for Meshugga Beach Party. I was truly feeling very sad and lonely. So, I had to fix my mood with a few laughs. But how!?! Turns out all I had to do was creep into my gutted kitchen and observe the night construction crew. Perked me right up…
Yikes! Where are your safety glasses?!?!?!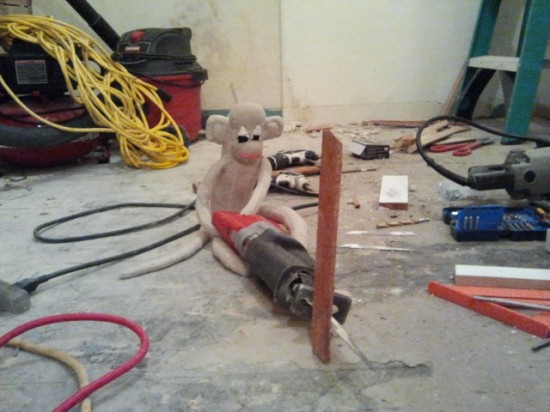 Oh, that's much better…careful on that ladder!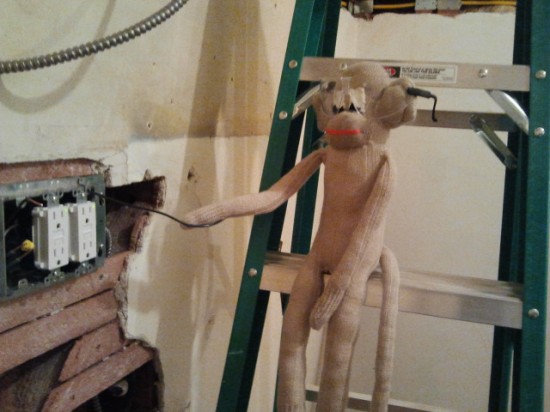 Yep, have a closer look…You don't want to miss anything….
Yep! That how you fix a hole in the floor! That champagne cork has been in that hole (yes you can look down and see dirt below) for at least 12 years….I'm going to be very sad to walk into the kitchen and not see what has simply become known as the "floor cork"…If it were my house, I'd leave it there…Looks like this monkey and I agree…I'd hire him any day….