Having never been in a situation that requires choices about the aesthetics of a kitchen (but still having many opinions), Sock Monkey was somewhat overwhelmed tonight when he was confronted with a couple of tile choices….Personally, I think it was hard for him, since sadly, there was nothing to be done to preserve the original tile from 1930 and he's kind of a stickler for preservation…I hear ya, Sock Monkey…My landlord has done his best to match the original color, which is wonderful, so Sock Monkey spent some time tonight trying to decide which one he thought was nicest…Don't tell him, but his deliberation was nothing short of recreation since though loves the house, he doesn't own it!
Hmmmmm…here's the wood cabinet color, 2 different tile samples and the original tile in his lap…Sock Monkey has a bit of thinking to do….What looks better?
This one?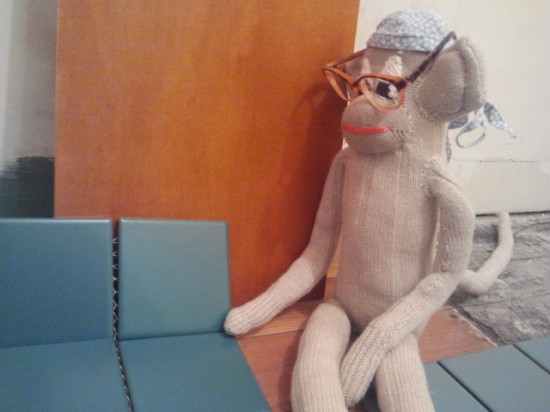 Or this one?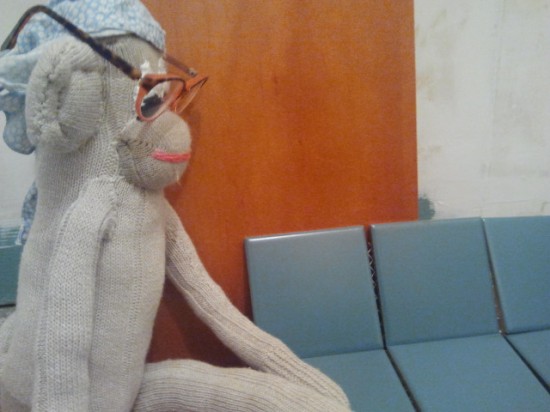 Sock Monkey just can't decide!!! Eeeny, Meeeny Miiiny, Mo isn't helping Sock Monkey! You simply can't keep choosing the original tile!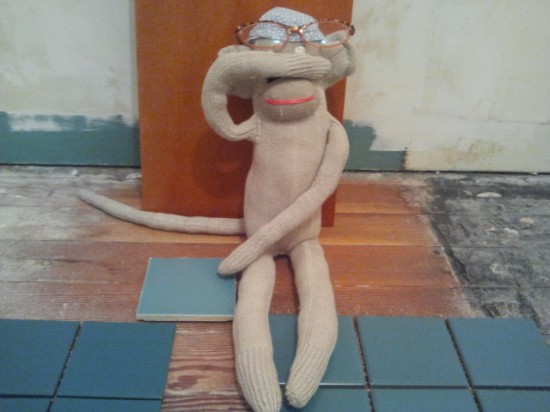 I know Sock Monkey, it's a lot to think about…But don't cry! It's not that big a deal! When you feel this distraught, you should call a friend for comfort and advice…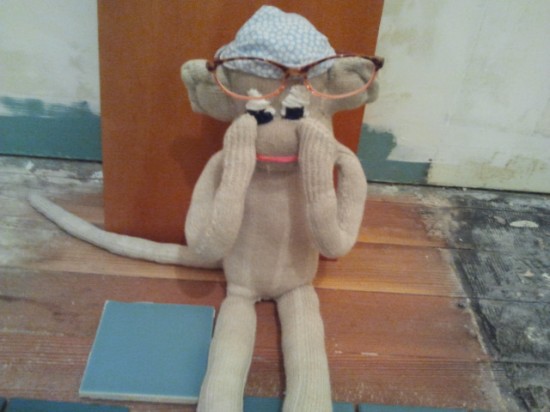 See, that's MUCH better! There's no better advisor than the wise and wondrous Pigmy Will…As usual, he knows exactly what to do: either the original tile or beautiful, glittery stars….YOu look like you feel better already, Sock Monkey!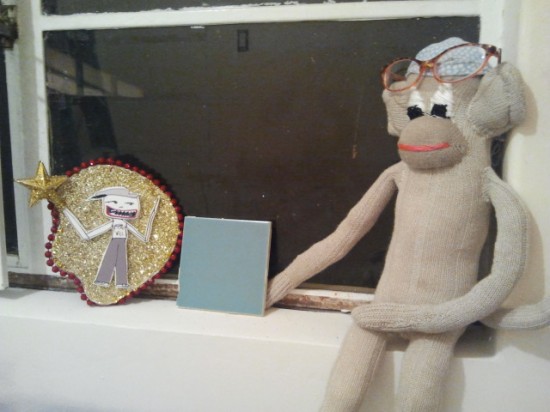 Yep! You DO feel better, don't you? I can tell! It doesn't matter that you can't have the original tile or beautiful, glittery stars, because you have something better…And that's a beloved friend who helps you when you're stuck and always gives you a raging case of Happy Tail!!!!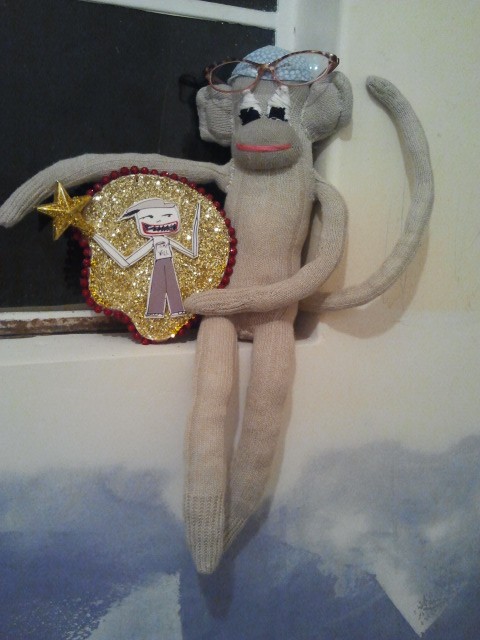 Thanks for the perspective and the happy tail, Oh sage, divine and illustrious Pigmy! You always make everything better….Phew, everything is definitely going to be OK!