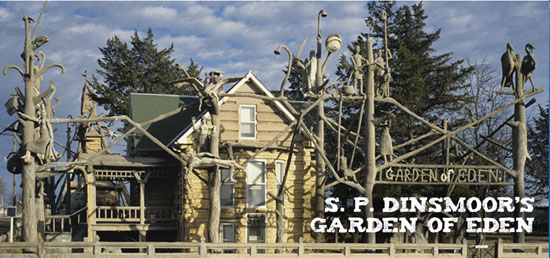 This is an Internationally know tourist site smack dab in the middle of Kansas.  Been there a couple times…..and am always amazed and freaked out at the same time.  I was reminded of it in today's paper,
The quirky Garden of Eden in Lucas, Kan., has been sold to the Wisconsin-based Kohler Foundation, which plans a massive restoration.
The ownership change was announced Friday by Garden of Eden Inc. That group bought artist S.P. Dinsmoor's 1906 concrete garden and limestone "log cabin" more than 20 years ago.
When the restoration is done, Kohler will transfer ownership to Friends of S.P. Dinsmoor's Garden of Eden, based in Lucas.
The attraction draws tourists from around the world to the north-central Kansas town.
My photos could not do it justice, so please look here: http://www.garden-of-eden-lucas-kansas.com/index