You've seen the pic of Alan King at my desk at home… now here's the grinning mug of the one and only Allen Funt that keeps me company at work: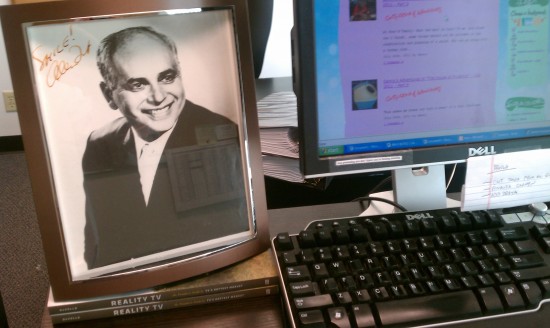 Funt, of course, was the creator of one of television's first hits, CANDID CAMERA, a show that not only (arguably) birthed the reality television genre, but mutated over the years into any number of other prank shows.  My favorite bit on CANDID CAMERA involved the young Woody Allen dictating a love note to his girlfriend by way of his new, unsuspecting secretary, but there are hundreds of other giggle-inducing bits from the show that linger in memory.
Right now, this image of the now-departed Funt sits atop a wee pedestal of copies of my new book on Reality TV, as seen in the detail below.  Some of us stand on the shoulders of the giants who came before us, others prop up their giants with copies of their how-to books, I guess.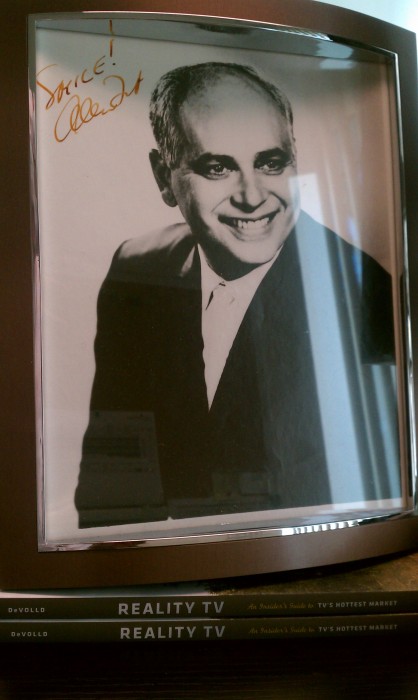 Comedian Dana Gould sums up the critical take on Reality TV with the simple assertion that "What you're watching is an amateur production of nothing."  Well, that may be true for the on-camera talent in some cases, but I choose to see the lack of polish in a lot of reality shows as part of their charm.  But then, I've always been a romantic when it comes to TV.
If any AWMoK-ers out there are curious about the behind-the-scenes workings of reality shows, I'll send a signed copy to the first three people who ask for them in the comment section of this post.  That way, they can save the $24.95 to apply to their next swap meet find.