What are the odds of losing two of the most influential songwriters of all time on the same day?  That's what happened yesterday. First, Jerry Lieber, whose "Hound Dog" got the Elvis-not-to-mention-Rock-'n-Roll train rolling, and then Nick Ashford, a songwriter whose influence on me was immeasurable. I never met Jerry, though I wrote  a bunch of songs with his son, Oliver, in the early 90's. But Nick I knew and loved. Not just as a songwriter who wrote my favorite song of all time but as one of nicest guys around. His eyes always sparkled, he was always smiling and soul oozed out of him as naturally as breath.
Along with his brilliant wife and collaborator, Valerie Simpson, Nick turned out the kind of songs that made my songwriting head spin. Can you say "Ain't No Mountain High Enough"?! How does a song get any better than that?? In any of the zillions of versions of it that exist? And that's just the tip of the hitberg.
When my musical, The Color Purple, opened on Broadway, Nick and Val were there. And when Chaka Kahn came in as Sofia a couple of years later they were there again. I don't know where Valerie was for this shot with me, my Color Purple collaborator, Brenda Russell, and Patti LaBelle, the singer who first started regularly doing my songs back in the day, but that big smile was typical of how Nick always walked around.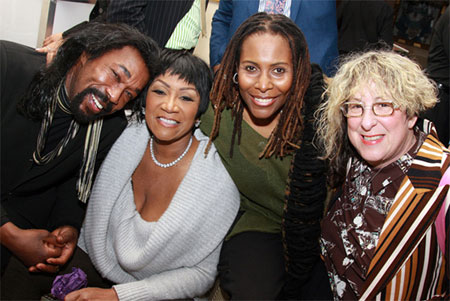 Nick and Val also came to the Broadway opening of Hot Feet, the Earth Wind & Fire musical I had seven songs in. Here we are with Maurice White, founder and lead singer of EWF and who gave me the biggest break of my career with "September" and all that followed, and LaChanze, who won a Tony for playing Celie in The Color Purple.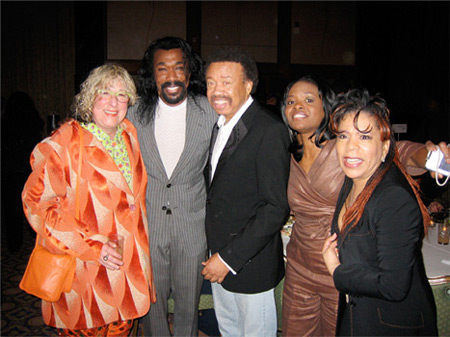 Nick and Val were among the most supportive songwriters ever. I can't even tell you how incredible it made me feel as a songwriter every time they told me how much they loved my music.
Which is amazing because the only time I ever got to work with them was on a really stinky song in a really stinky movie. In 1987, Scott Sanders, who later produced The Color Purple, managed Ashford & Simpson and asked me to write and produce a song for them. My collaborator, Danny Sembello's, mom got very sick right after we began and he had to bow out of the project. I was in way over my head without him. If you know bad movies and didn't know I did the song that everyone dances to in the infamous McDonalds scene,"Down To Earth", in the kitschingly horrendous Mac and Me, I know you're plotzing now. And you certainly can't imagine royalty like Ashford & Simpson gracing that mess either. So even more impressive that they remained so kind and supportive of me through the years. But I shouldn't be talking about bad songs when honoring such an iconic being as Nick Ashford. Everyone should be as blessed to have such a joyous soul in their life.
Just a few weeks ago another iconic songwriter and friend passed, Jerry Ragovoy. Not only did he write such gems as "Piece Of My Heart" and "Time Is On My Side", but he discovered an unknown songwriter named Allee Willis and produced her one and only album, Childstar, in 1974.
This hasn't been a very happy month for songwriters. Though if I think about the jam going on upstairs it makes me smile. Besides, these are the kind of guys that live forever. R.I.P. Jerry Leiber, Nick Ashford and Jerry Ragovoy. If ever there were Rock 'n Roll royalty this is it.