OK, the last time I was in LA, I clicked on the groupon sight (for the first time ever) while searching for a deal for my friend and I . Thanks to endless cyberspace harassment, I've been privy to an impressive barrage of "email alerts" for any crappy "deal" within a 10 million mile radius of Los Angeles. This, however takes the cake. And,ok, it might be why I never liked living LA when I did so many years ago….BUT it IS why I kind of love groupon now…..ya just gotta love this…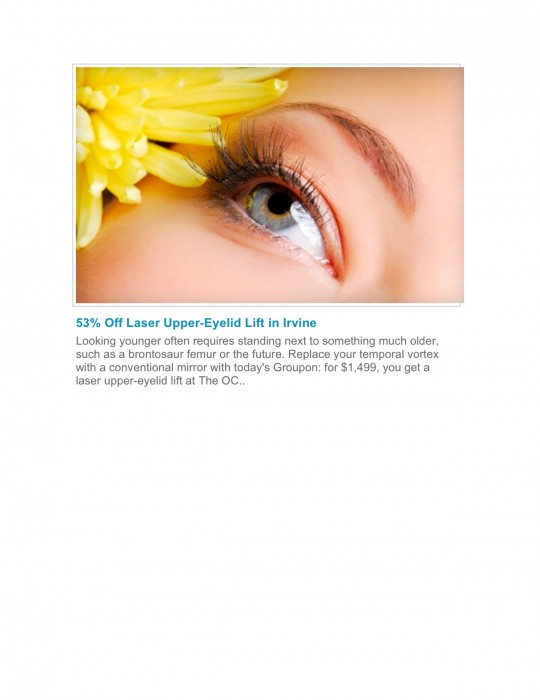 I get it. Trust me. I really do get it. Aging sucks. Witnessing your own physical deterioration and feeling the effects thereof is a complete bummer. I happened to do a hefty bit of aging overnight (with rapid decline to follow) and the results have not only been extremely unattractive but also not so much fun. Fo' Realz. But ya know, if ya ask me, surgery is worse. I'm not passing judgement here; I'm just not that way. But I can say that I've had some fairly barbaric things done to me in order to save my life and I can't imagine electing to throw in a few more for recreational purposes.
AND THEN, you throw a coupon at me….it does make you think twice! It's like getting an extra tube of toothpaste for free, right?!?!?! LIke a deal on day old bread or gasoline that's 10 cents cheaper if you drive an extra 6 miles. Just a little scary shit done to your face and at a reduced price!!! Who can pass up a deal!?!?!?! Such a dilemma. Or, well, not really. It's not my thing even though I admittedly and wisely avoid mirrors.
Frankly, I hope my animal friends and the people I love (who are many and you know who you are) remember the way that I loved them and (hopefully!) made them laugh, not my eyelids.  Of course, if they do someday reminisce about what closes over my eyeballs, I hope they represent those thin flaps of skin accurately: puffy, tired, creased by smiles, laughter,worry and sometimes sadness but not ever, even with the option, at a discount….Crap, I'm probably passing up something good here…when oh when will this go on sale again?????? Something tells me that Groupon is on top of it….