This is my vintage pottery collection, residing around the booth in our kitchen in Topanga Canyon.  (It's really hard to take photos, by the way, when you're shooting directly into the light, especially if you're a poor photographer, like myself.)  Sorry for the glare– without a flash, nothing showed up at all.  I've never listed these before, because I never really considered them kitsch, but after many months of being a contributor at AWMoK, I've learned from the Queen herself that the definition of kitsch is far more comprehensive than I would have initially imagined.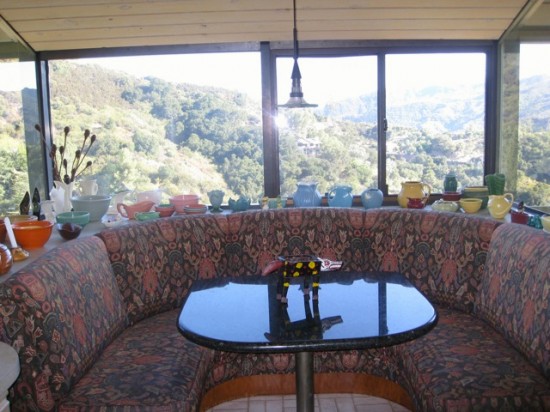 Here are some detailed shots, from left to right.  The bookends and candlestick holders are Roseville, the "Aladdin" teapot and most of the bowls are Bauer, the weird-shaped pair of brown vases are Van Briggle.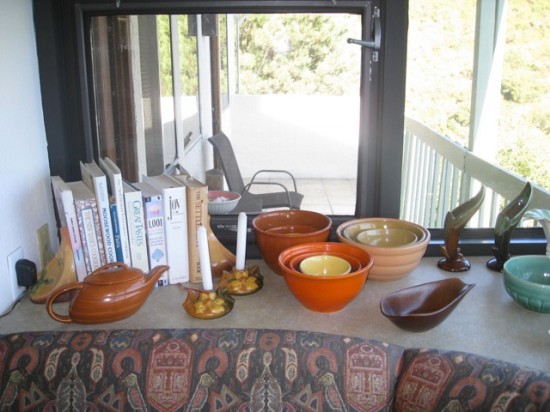 In the left corner are an assortment of odds and ends including white matte vases and more Bauer bowls.  The four little guys (salt & pepper shakers) sitting  in the white gravy boat have been seen here at AWMoK once before.  My favorite bowl is in the middle– you can't tell from the photo but it's a really unusual mint green color and when we repainted our wood deck, we used that color.
From left to right, a Roseville vase, a Van Briggle bowl, and an Art Deco piece that's supposed to hold two candles (the holders are built inside).  In front of that stand an onion and pickle salt and pepper couple (also seen at AWMoK before), and to the right a Red Wing vase, a Fiesta pitcher and a Weller vase.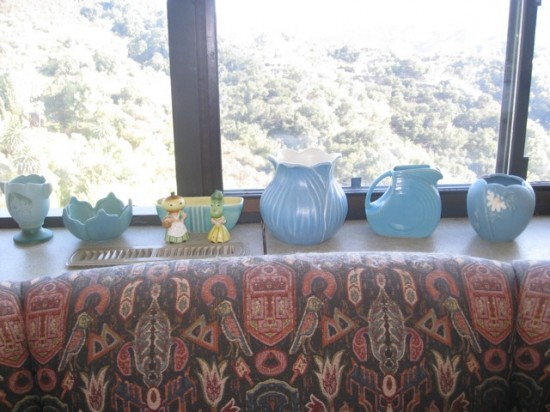 The right corner features a yellow milk pitcher (it has an inner section to place ice in), a Franciscan gravy pitcher, a green Pewabic vase  in the back on the left (Allee– they're based in Detroit– have you ever visited the factory, which I believe still exists?), and a squirrel and nut salt and pepper shaker.  The little guy on top of the maroon piece is an anthropomorphic eggplant (one half of a salt and pepper set.)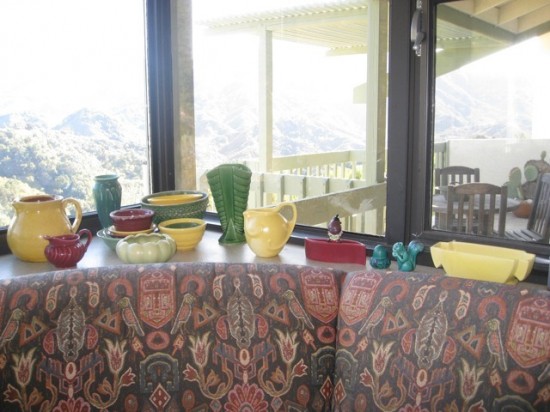 I should mention that about 75% of the pieces here were found at garage sales and I paid garage sale prices.  The remaining 25% were found at flea markets.  Finally, the figure below usually sits in the middle of the table, and holds coffee beans.  Neither my wife nor I drink coffee but we love the smell and our cat Maisie likes to bat the beans around the house.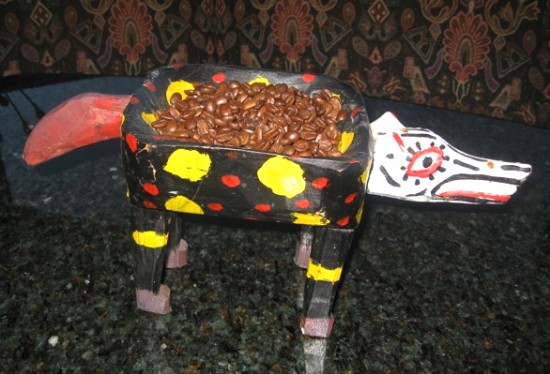 Since my camera lens favored the pottery, the view out our window wasn't properly highlighted and it should be since it definitely trumps the ceramics in terms of visual splendor.   So here are two shots of Topanga Canyon from the kitchen window–  the habitat of coyotes, bobcats, owls, rattlesnakes, quail, hummingbirds, hawks, crows, deer, rabbits, frogs and other critters.