I've blogged about Riverside, CA before. I hit it at least once a year because my favorite soul food restaurant in the state is there.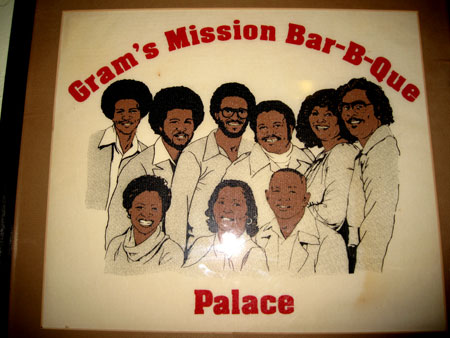 You can read more details about Gram's and see some incredible old vintage signs like this that are thankfully left standing in this post as well.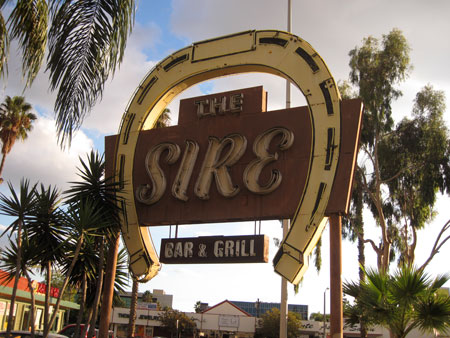 On a typical trip, I also try and hit all the thrift and secondhand shops that are further into town on Market Street once you hop off of the 60. But this was a very short trip, just to eat at Gram's and see The Larry Dunn Orchestra, he formerly of Earth, Wind & Fire and who played keyboards on "September" and "Boogie Wonderland" for me at my recent Allee Willis Soup to Nuts live show.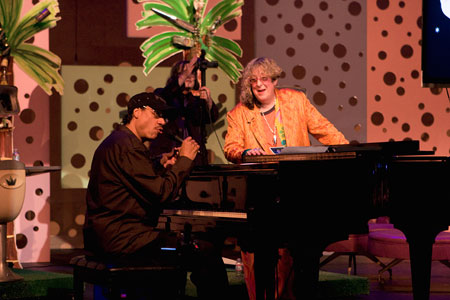 So on this trip I just took a closer look at Market Street in the heart of downtown Riverside. I don't know what this building was but the shimmering powder blue stone edifice is beyond gorgeous. I shudder to think what that construction fence around it means…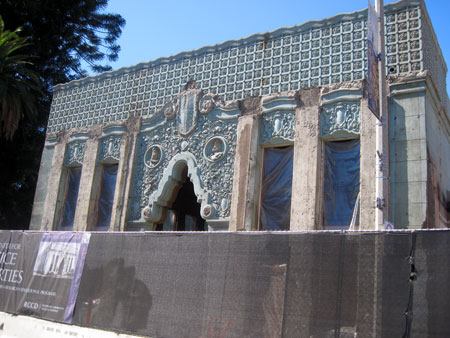 Here's an excellent use of Chrysler-Imperial-as-awning. Perhaps I should do something like this with my 1955 Desoto Fireflyte: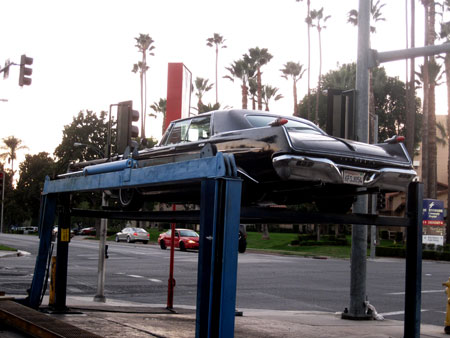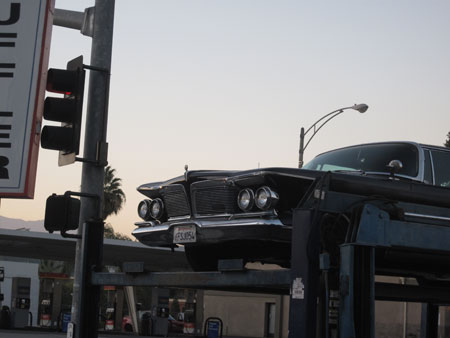 Despite being a health food store now, The De Anza Theater is a still knockout: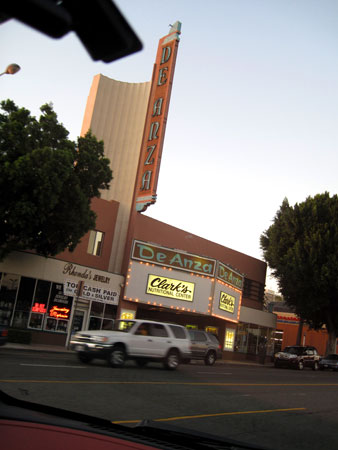 The Mission Inn, a hotel built in 1876 and where the Reagans were married, is Riverside's top historical landmark. But I'm much more interested in the topiary that tops the columns on the backside of the hotel. If you have any idea what this is let me know. They're all over the place.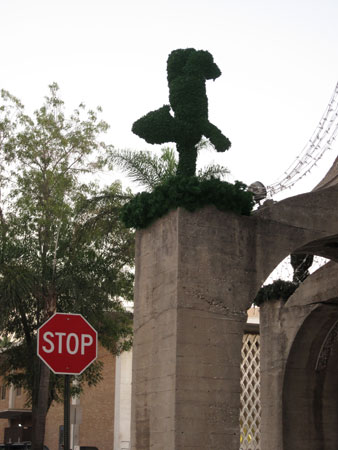 I'm guessing this one is a boxing pig: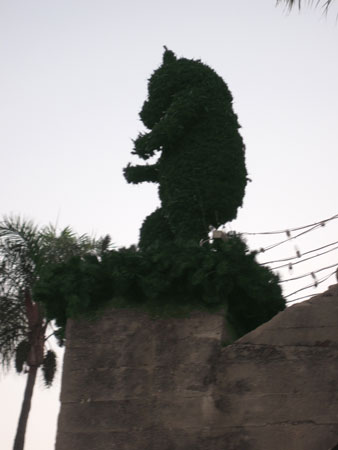 A little further out on Market, there's a little time-warp street that intersects it, right before the secondhand shops start.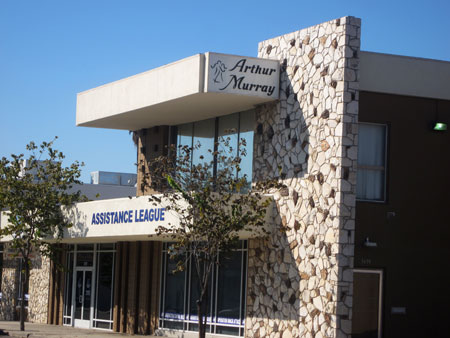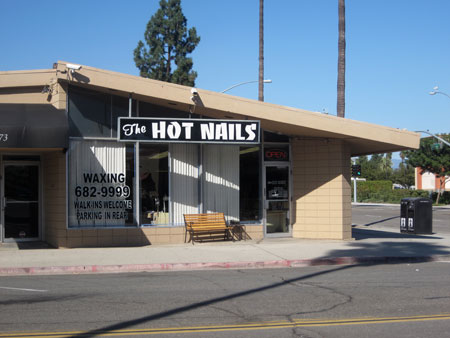 I know this foot establishment isn't vintage but I can never resist a name like this: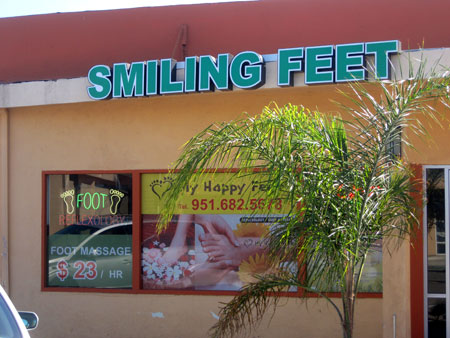 Leaving the street for a moment, I've never seen a Bereavement Center inside a thriftshop before but such is the case at the Goodwill at the top of the block: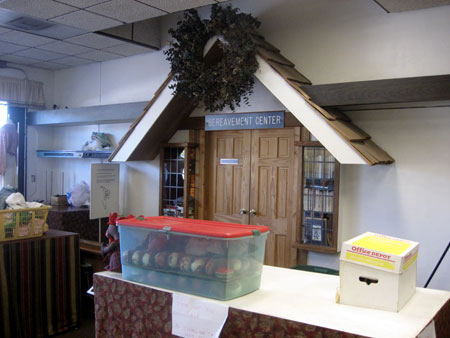 Just a hop down the 91 in Corona is this excellence in architecture and signage. Though I would imagine that any Greek might be mystified that a restaurant representing that heritage would feature roast beef and quesadillas.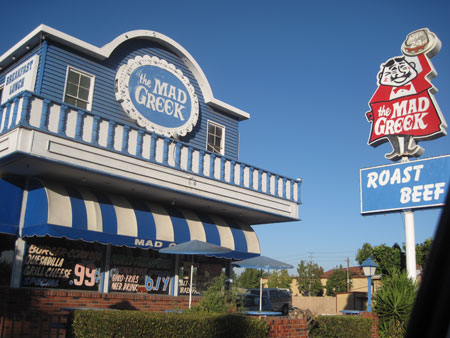 I always love a good trailer park…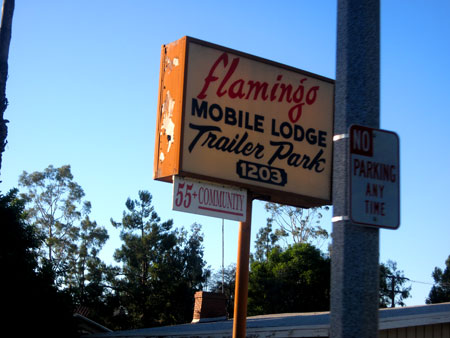 … especially one featuring a curved wall of cutout Atomic cement block.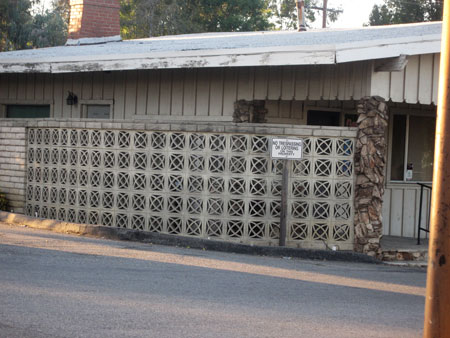 I love that two trains form the wings of this building. Too bad it's not a diner and is wasted on a driving school.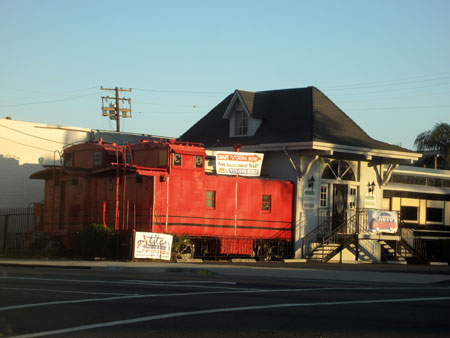 I also can never resist the charm of a nice porta-potty  in the front yeard. I love the elegant door on this one, as if that makes it more acceptable to be plopped where it is.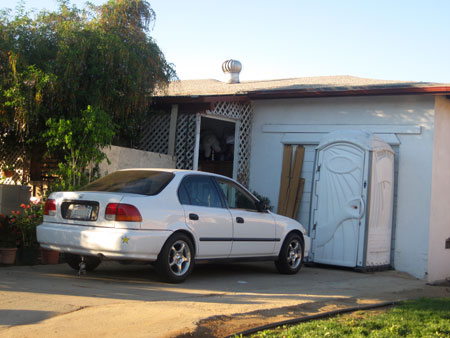 I could have used that facility at the point in the drive I was. Luckily I made it back to the hotel and up in the elevator before duty called.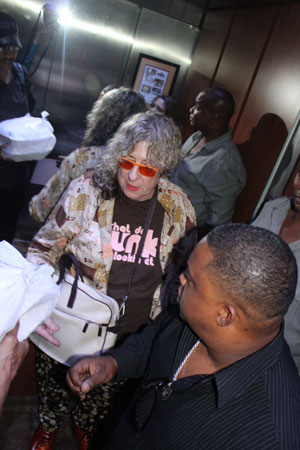 Be back soon, Riverside.