For many years, my partner (Spider) and I have been building birdhouses as a hobby. The challenge is to make them as kitschy as possible. The other challenge is that we don't use any glue, rather these birdhouses are all put together using nails, in some cases very tiny nails.
This first birdhouse is an old laundry shack. As you can see, we used a horseshoe over the door and on the side is a miniature washtub and washboard.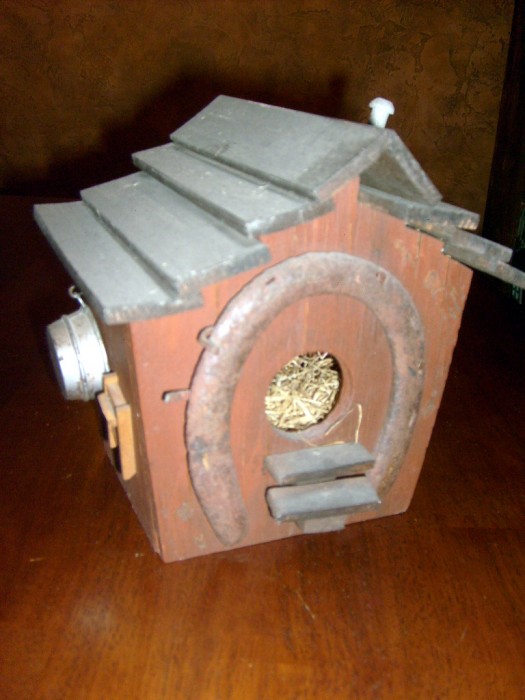 This is a boxcar birdhouse. The idea to build this one came to me in a dream, and I have never seen another boxcar birdhouse like it.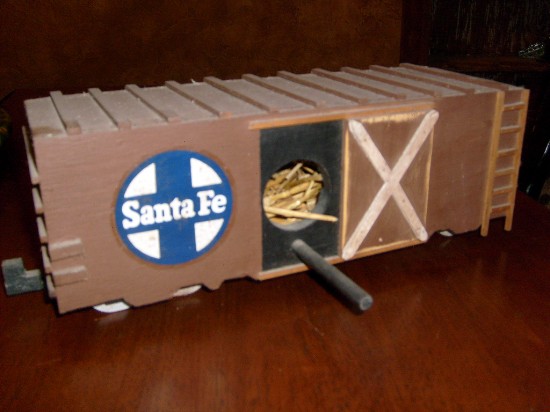 Spider hand-carved the schoolhouse steeple. As mentioned, we only use nails to build these birdhouses, and creating the flagpole and flag was a bitch. We had to use tiny, tiny nails.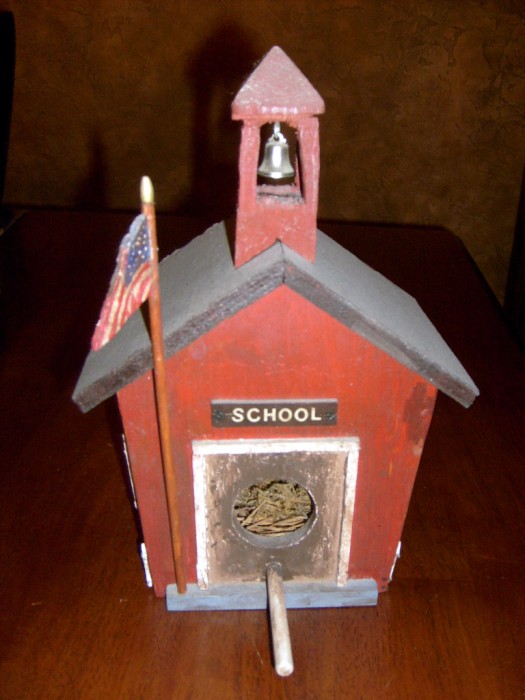 We built this log cabin birdhouse just like a real log cabin. That is, we cut dowel rods to size and stacked them one by one.  The front porch posts are from our real life mesquite tree.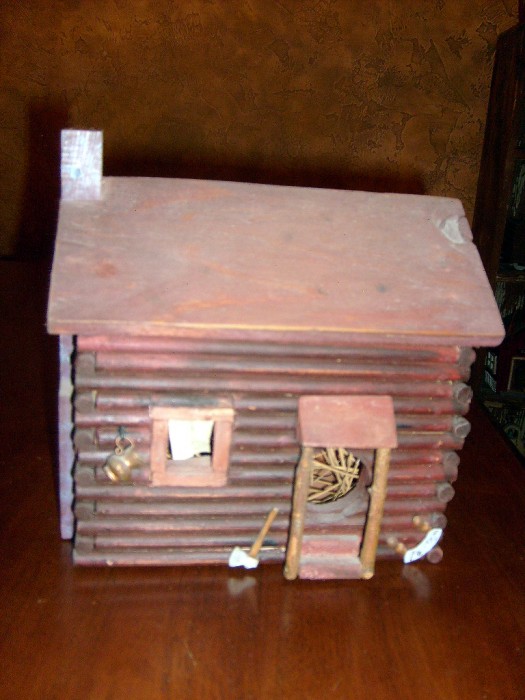 This dilapidated looking birdhouse was inspired by the real life shacks seen in Jerome, AZ, an old mining town built on the side of a mountain, where many of the old wooden buildings and houses are now falling apart and sliding down the slope.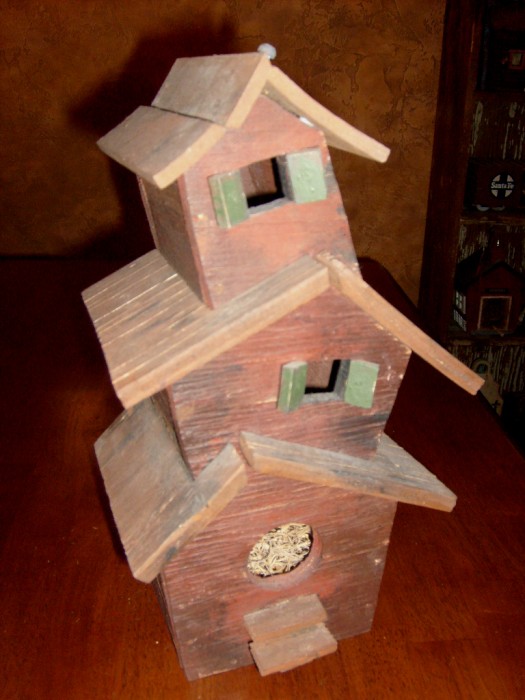 This mission birdhouse is the only birdhouse I built entirely by myself, thus it is special to me.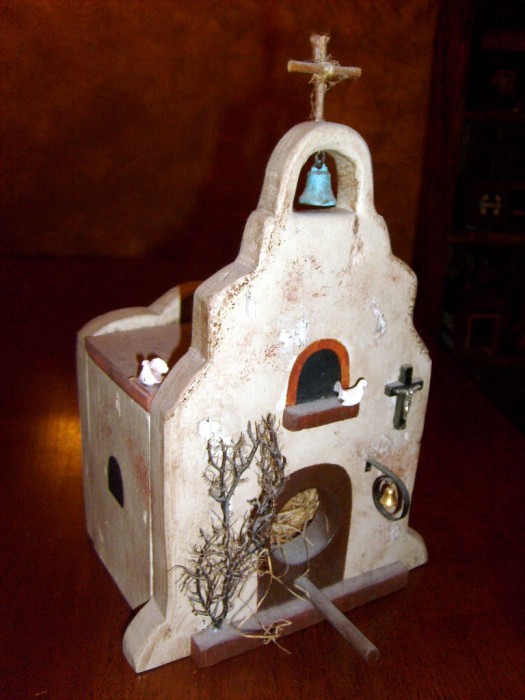 This is a pueblo birdhouse. The ladder is fashioned out of twigs from our mesquite tree and straw.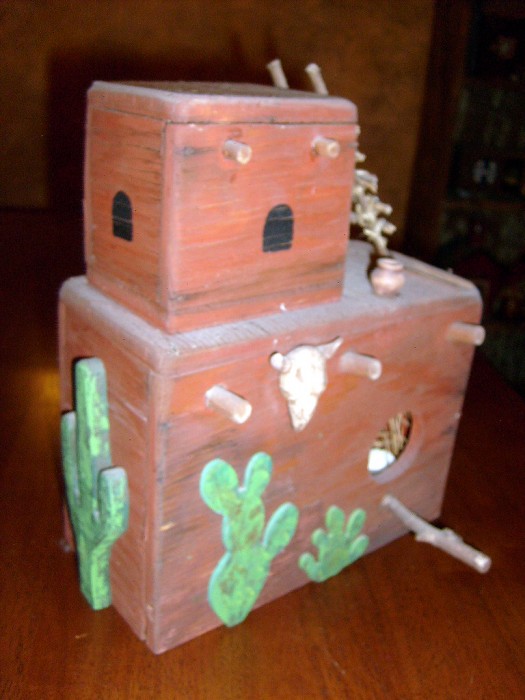 This double-decker garden birdhouse features its own tiny birdhouse (a birdhouse with a birdhouse). I do most of the painting, and as you can see, my goal is to make each birdhouse look weathered and distressed (even tho they are made out of new wood).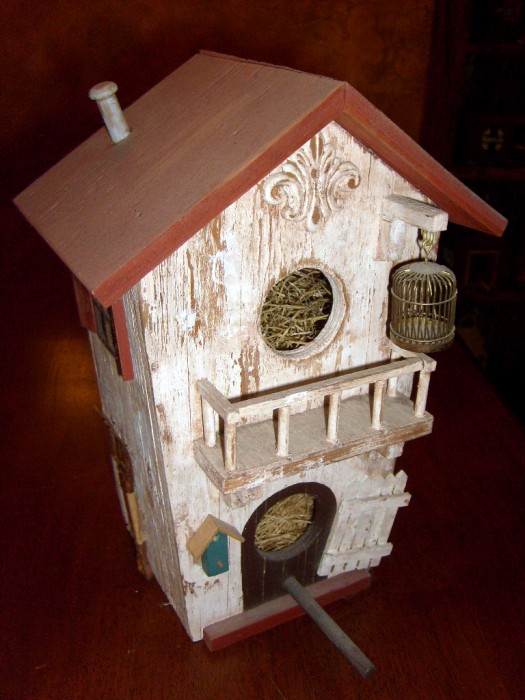 We decided to collage this birdhouse. Cutting out all of the intricate butterflies from a magazine was very time consuming, but it was worth it. I think this birdhouse is gorgeous. This birdhouse also features its own mini birdhouse.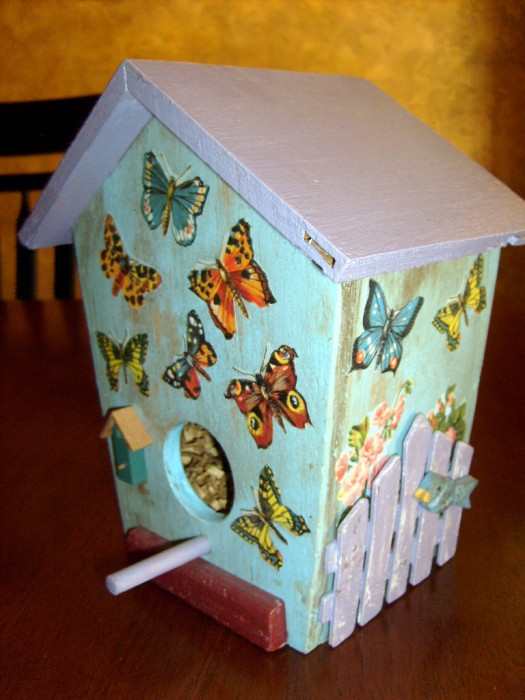 This barn birdhouse is one of my favorites.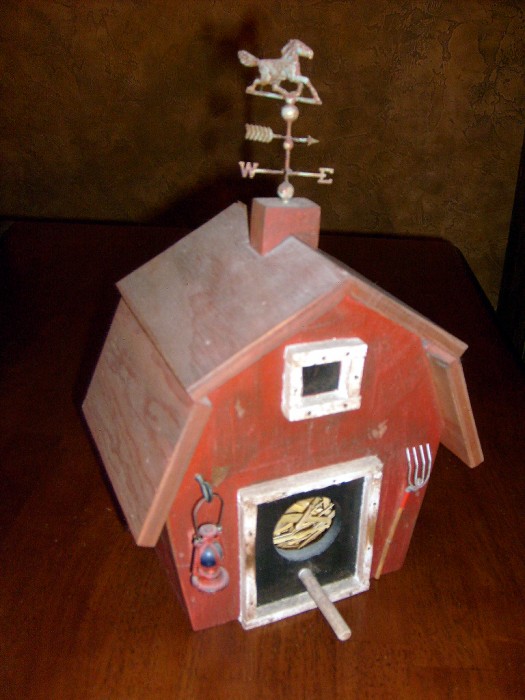 Last, but not least….All of our birdhouses begin as a rough drawing on paper, and as you can see by the rough sketch below, the next birdhouse we are planning to build will be a Allee Willis birdhouse! I just hope I get the lipstick color right!