So, this past month the magnificent Idelsohn Society for Musical Preservation has been hosting a truly remarkable event in San Francisco: Tikva Records, the world's first pop up jewish record store. I had the great privilege to attend one of their evening shows and have intended to go to a million more, but have since been down with the flu.

http://idelsohnsociety.com/
The good news is that I picked a completely incredible night to go (and yes, I did so on purpose). The incomparable Burton Sisters were performing together for the second time in 55 years and I wasn't about to miss that.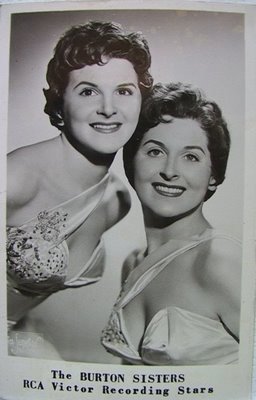 Aren't they gorgeous!?! Seriously, they look the same today. I have only one 45rpm single of theirs (but no gorgeous sleeve), which I should have brought with me to get autographed, but instead decided to leave by the front door (realized it when I was about an hour into traffic and still had an hour to go. I could'a cried). Here are a couple of their records: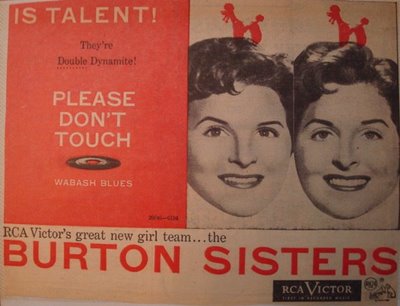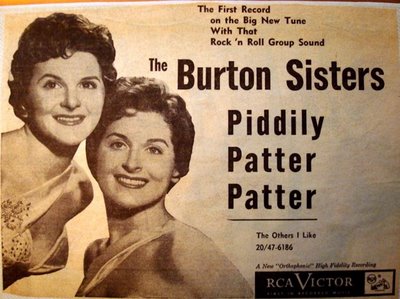 I was one of the first people to arrive, but me being me, once the house was packed, I was at the very back of the room. For some reason, plenty of tall people decided they needed to be up front for the performance (always annoying) but really I just wanted to hear anyway. That was the important thing to me. Luckily though, someone did do a good bit of filming and posted the following video on youtube: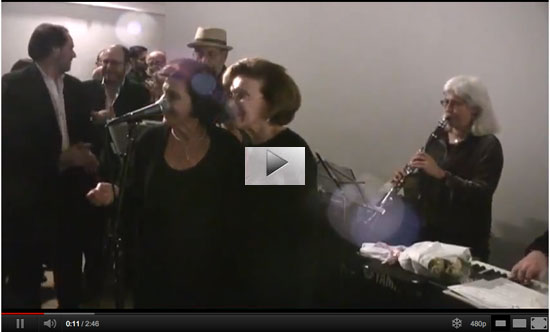 I'm elated that this is the song that was captured on film since I was probably 14 years old the last time I heard it. My grandfather, who had a difficult life yet always maintained a wicked sense of humor used to sing this song somewhat sarcastically and with giddy hostility, especially when he was pissed off (for example, stuck in traffic etc). The lyrics always changed according to the situation he was in (though the chorus remained the same), and I thought he had made up this song himself. When the lovely Burton Sisters started singing it, it took me a few seconds to place it and then I was just slack-jawed. I spent the rest of the evening choking back tears somewhat unsuccessfully :) It's as one of the founders of The Idelsohn Society, David Katznelson, said after the performance, "it's the kind of music that makes you miss people". Cue more tears. I swear, it was almost Niagra Falls. So I even surprised myself when I approached the magnificent Burton Sisters post-show and asked to have a photo taken with them. Not only were they exceedingly gracious, but they were just about as charming, kind and funny as anyone I've ever met. I was a little tongue tied and so just kept repeating what an honor it was to see them perform. They just kept hugging me and saying that they were thrilled that people were interested in what they did and are doing and most importantly that they wanted people to keep Yiddish alive. They were thrilled to be part of the preservation project. Wow, what a night. I won't forget it, that's for sure! And I will always have this horrible, blurry photo of myself, eyes closed, with these 2 amazing women in case I do :)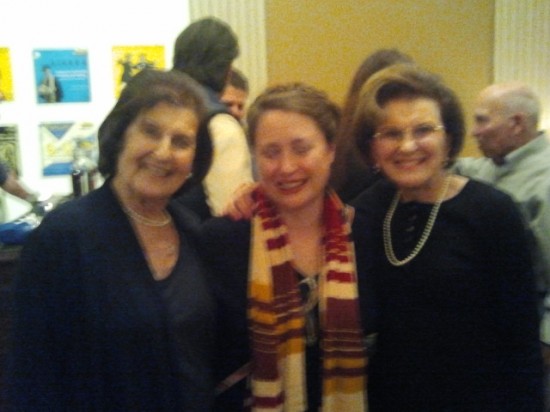 By the way, my knees are bent almost to a kneeling position (literally). The Burton Sisters are so petite and tiny, I'm pretty sure I could have held one on each arm, but thought it would be rude to ask! Would have made a great photo though! Happy Hanukkah and may you always have a little mazel!!!