Ask and ye shall receive!
I've been using this Moldarama dinosaur to hold my rings when I do the dishes ever since we got married (coming up on 10 years!)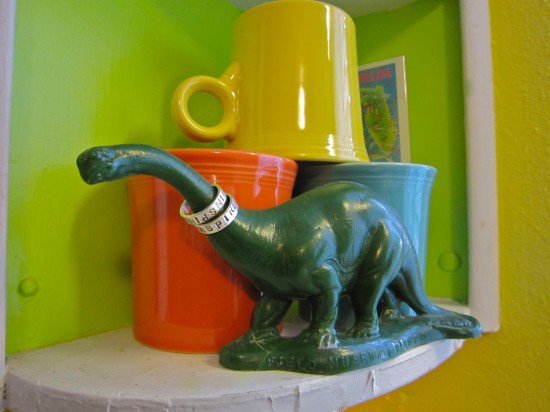 He's a wonderful alternative to the fancy crystal ring keepers I used to see when I worked in home furnishings retail. Crystal & me? Hardly! More like Melamine – or Fiestaware in this case :-)
I was so excited to get this dinosaur, as we made him from a Moldarama machine at the Field Museum in Chicago, and I had not seen one of these machines since a school field trip visit to a science musuem outside of Worcester MA back in the 1970's.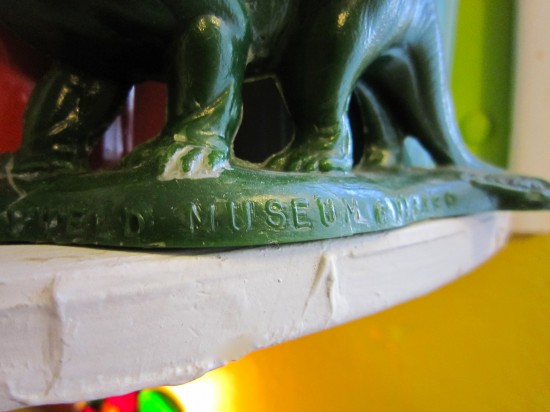 At that time I didn't have enough money to make a dinosaur of my own, and making this guy years later helped mend that sad hole in my personal history. Also it's a fond remembrance of the roadtrip I took with "Retro Roadhusband" less than a month before we got married- we drove all the way from the Delaware beaches to Chicago, and had a great time in the windy city!
Moldaramas are usually pretty pliable when you first make them, but since this guy is almost 10 he's a bit brittle and I was so sad when he hopped off his perch above the sink recently and his base cracked into pieces. I did manage to glue him together, but now I see he needs a bit of a "prehistoric pedicure" to get the extra glue out from between his dino-toes!