Original Stars! Original Hits! As Advertised on TV! I for one can never get enough of  K-tel records, and through my years of thrifting have amassed a decent collection of them. The other night a bunch of us bonded over these throwback compilations, so I pulled mine out of storage and began to listen, and today with the snow falling outside I decided to put on 1978's Disco Dynamite, as Allee had been intrigued by the Continuous Disco Music legend in a previous submission.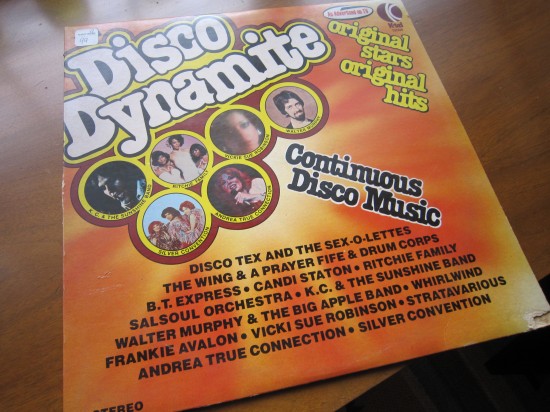 While I may be treading on my friend Rich Wilhelm's turf (he's committed to listening to all of his K-tel and Ronco records, critiquing each one and assigning a rating, but that's too much work for me) I felt it was only right to listen to this entire album – both sides – all the way through, if I was going to submit it to the Kitschenette. So here we go!
SIDE 1:
1. Get Up and Boogie…Silver Convention / Reminded me of growing up in the 1970s, and giggling at every mention of the VERB boogie, whereas us kids would only be familiar with the NOUN. With the exception of "Get up and…" and "That's Right!" the verb/noun boogie is the only other word in this entire song. BUT since the album promises Continous Disco Music (and has a whopping 8 tracks on each side, this song quickly segued into the next…saving valuable groove space!
2. More, More, More…Andrea True Connection / While I totally know this song from back in the day, it never occurred to me until this listen that this could be referring to making a homemade Adult Movie ("get the cameras rollin, get the action goin…") Alas since K-tel would often clip songs to fit more on their records, this version is missing the catchy poppin outro (resurrected years later by Lit as the hook in "Steal my Sunshine" – and the fact that I remember that but don't know the names of all of the presidents says something about my brain filing system!)
3. That's The Way (I Like It)…K.C & The Sunshine Band / Though this album was released in 1978 I am seeing on the back of it that this is a 1975 record. But as we know now, because of KC's appearance on PBS fund drives, it has since become an American Classic.
4. Nice 'N' Naasty…Salsoul Orchestra / Now this is one of those deep cuts that just doesn't make it for me…and it's one of the longest tracks on the record. Maybe the Honeybadger can use this for his theme song?
(I'm kinda cracking up now because as I listen to this album in the front of the house, "Retro Roadhusband" is actually writing/recording a song in the front of the house – talk about some dissonance! I wonder if there will be a groove he'll pick up by osmosis? ;-))
5. Do It ('Til You're Satisfied)…B.T. Express / Now I seriously remember this song – or at least the title w/ "whatever it is" but I swear it wasn't on the radio. I'm totally getting a flashback of being at my friend Tracy's house, maybe she had this record, or one of her older siblings? Again it seems to me that K-tel frontloads these records, then once you've got it on they saddle you with something like this.
6. Full Time Thing (Between Dusk & Dawn)…Whirlwind /Disco filler imho.
7. Young Hearts Run Free…Candi Staton / IT WAS ALL WORTHWHILE! I LOVE THIS SONG! One of my faves to croon along to. Love the 1970s feminist message set to a disco beat. Self-preservation is what's really going on today. Right On! Pardon me as I groove a bit.
8. The Best Disco in Town…Ritchie Family / I do remember this one from back in the day – its the place where hip people meet! I love the montage of songs within the song – that's one way to get people to listen to your song!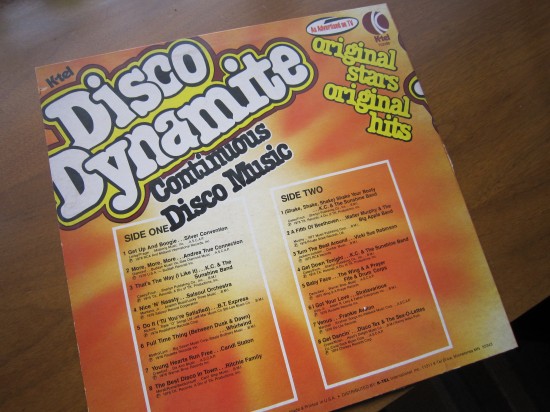 SIDE TWO
Tracks 1-4 repeat the front loading technique as seen on side 1 with (Shake)3 Shake Your Booty, A Fifth of Beethoven, Turn The Beat Around, Get Down Tonight, but then it gets wonderfully 1970s random with Track 5-8
5. Baby Face…The Wing & A Prayer Fife & Drum Corps  / Who doesn't love a disco version of that old chestnut "You've Got The Cutest Little Baby Face?" – This immediately reminded me of seeing Melissa "Little House" Gilbert on the Rich Little show (no one who didn't live through the 70s would remember something like that) but now that I think of it, I think she sang  a disco "If My Friends Could See Me Now" but I think both of those would make a great mashup!
6. I Got Your Love…Stratavarious – Various indeed! another justifiably hidden track.
7. Venus…Frankie Avalon / The intro of this makes it sound like it would've fit perfectly on the Love Boat, but I'm thinking that this 1976 disco version of his hit single was included to capitolize on his appearance in the movie Grease, as I totally remember seeing that in December 1978. It's also interesting to note he sounds very Manilow-like in places, even though this is his hit, not Barry's!
8. Get Dancin'…Disco Tex & The Sex-O-Lettes – Disco Tex has now become an obsession of our little K-tel clan, after we learned of his history as a Hollywood hairdresser to his current incarnation as the Reverend Monti Rock III. I also totally remember hearing this one at Tracy's house – and giggling over the name of the band. Seriously? I think this song, with Monti's ramblings above the dance beat, is a total precursor to much of the dance/rap music now. JayZ and Beyonce, you ain't got nothin on Disco Tex! Doot-dot-Doot-dot-Doot-dot-day, Get Dancin!
And that's the record in a nutshell- and in case anyone wants to Google the address for K-tel as listed on this album, it looks like There's some flex space for rent at 11311 K-Tel Drive in Minnetonka MN.