When I saw the purple clad cowboy family (bare midriff ? check. Purple cowboy hat? check. Unflattering doubleknit polyester slacks? check!) crowded around a stagecoach in the middle of a farm field I was curious. When I saw that the record album was entirely in french, I just had to buy this record album by La Famille Dessureault De S. Tite, at the Salvation Army store in Centredale RI this past weekend: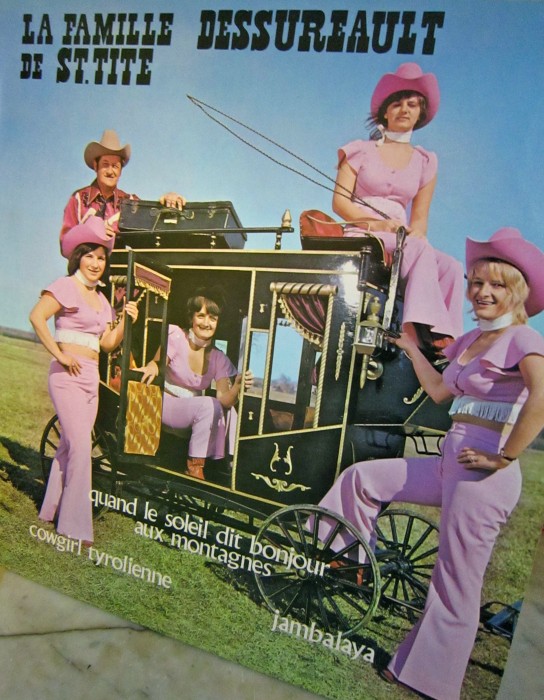 Now I haven't taken french in ages, but I'm thinking the title means something like "when the sun says hello to the mountains"  and from a quick Google search it looks like this family was from Quebec.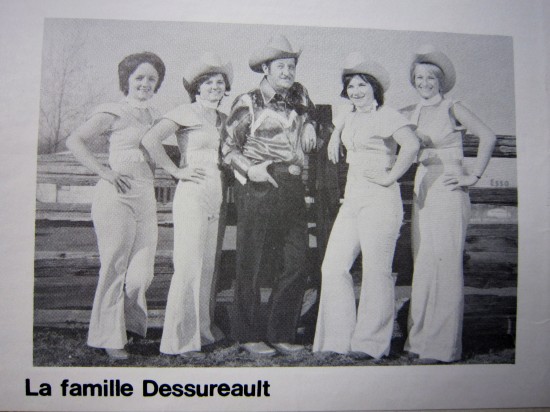 And I think the Google translation sums them up better than I could:
The few existing courses deserve our interest even more. Beatlettes of the too-brief career to the Bangles and Go-Frets other more recent years, the contribution of these musicians has contributed to the diversity of the soundscape. The Sisters remain and Dessureault, ten years after the end of the band, an orchestra to the course the most impressive: thirty-year career without a personnel change, there's something to be proud!
(http://www.disquesmerite.com/HTM/fiche.asp?NumArtiste=247)
I want to be a Beatlette! It appears that the patriarch, Clement, died in 1976 and this family band became a strictly sister act.
Of course I had to listen to the music, and it actually isn't that bad- though since they sing all in french I can't tell if they're singing about the wide open plains, thoug there is a song called Cowgirl Tyrolienne, as well as a cover of that universal hit The Beer Barrel Polka. Reminding me that I want to learn how to polka, of course.
A fun find for sure!