I rarely do this anymore, but a few months ago I went past an old thrift and decided to stop and check out their Lps just for the heck of it. I am always trying to get rid of stuff, not bring more in these days, but still love to look. When I got there, there was another woman flipping through Lps too. We politely acknowledged each other and I started on the other end of the sales rack. She already had a nice pile of "keep-ems" stacked up and when I glanced at them, this was at the top.
I thought it looked pretty cool and I told her that it's exactly the sort of thing I look for too. She mentioned that she was a music teacher and that she was bummed that there was no record for this cover, but she wanted the cover anyway. She let me have a look at it and I about passed out.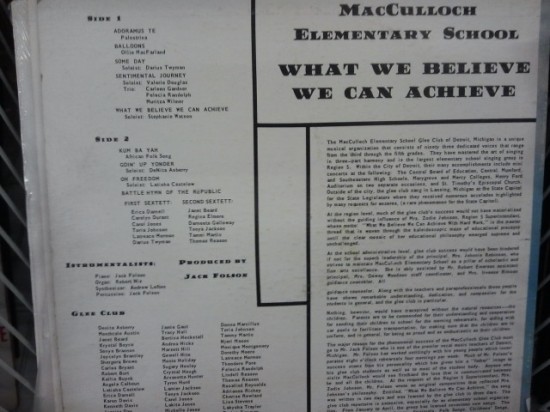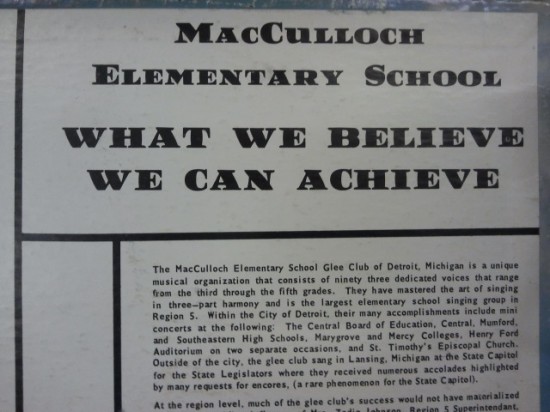 When I realized it was from Detroit, I went through my bag and counted out every last bit of dough I had: $11 and some change. I offered to buy it off her right there, but she refused. I even explained about the significance it would have to the Queen of Kitsch and did a hefty bit of pleading. I offered to write her a check for more. She wouldn't budge. At least she let me photograph it. I went through all the Lps after that to make sure the missing record hadn't been tossed somewhere else but never found it. I also gave her my number and info about the awmok in case she ever changed her mind about selling it. Sorry, divine QoK, I tried. Sorry for the choppy multiple pictures too. I wanted to get all the liner notes and had only the camera on my phone to work with….