That's what's on the sticker advertising this phone so that's what i'll title this post. Yes it's a pretty cool looking analog phone and that's only part of the reason it came home with me from the Atomic Pop Shop.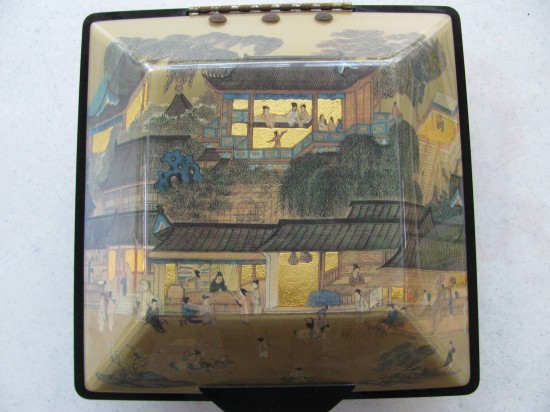 This is the lid with an Oriental motif to it.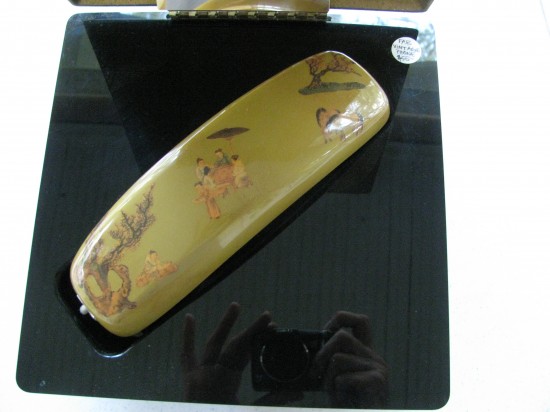 Here's what the receiver looks like in it's highly reflective base(that's the porch ceiling being reflected along with my hands and camera). I've had this phone in the house for a few months now and it looks like it'll be going into service soon. Yes, it does work, i checked it out on Sunday, for when the power does go out. August and September are always such fun times in South Louisiana, the oppressive heat and humidity, the chance of a hurricane, etc., which is the case as i type. Supplies get laid in, ice gets made, arrangements are made with the designated evacuee, phones are checked, batteries are bought, the hurricane tracking chart is pulled out and tracking starts, the Weather channel is on for longer periods of time as the storm approaches, i still need to get everything off the screened in front porch and a place found for all that stuff. And that's just part of it all. The whole incident will be photodocumented and videod as was Gustav in 2008. Let's just hope the trees and limbs don't start falling near the house, there are concerns about that. More as things seem to happen………………..