….or Saturday night between the mounds. A couple weeks ago i decided to throw the bicycle in the car, drive down to Boo's house and park(she lives across Stanford from the LSU lakes and campus), ride onto campus and maybe try and sell some socks, purple and gold of course, LSU colors. At least that was the plan, hook up with my nephew Will and sell his krewe socks and see where it goes from there. Now, let me explain to you about Gameday. Gameday is any Saturday that LSU has a home football game. The entire campus(and it's pretty big) fills with something close to 100,000 people to fill Tiger Stadium and watch LSU play football. Gameday is huge across the South, there's lotsa folks that like their football and it just turns into a big party, no matter if it's Baton Rouge, Tuscaloosa, Athens, Starkville or Oxford, tho Gameday in Baton Rouge is pretty much acknowledged to be the top of the mountain. There's food being cooked, copius amounts of alcohol being consumed and folks all dressed out in purple and gold and any number of variations thereon. I ride onto campus and it's jam packed, almost to the point where walking folks are moving faster than me on the bicycle. I'm near Tiger Stadium and the Indian Mounds when i see this sign that stops me in my tracks laughing, "i have to take a picture of this"…..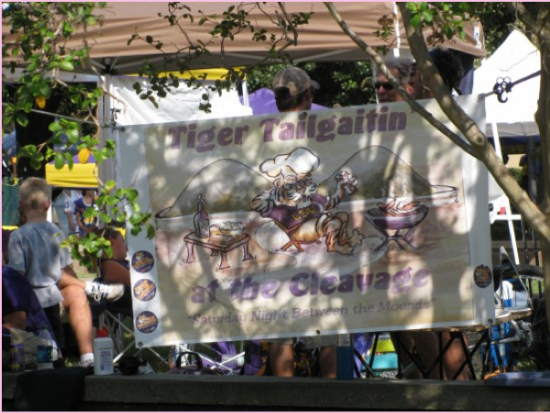 Tiger Tailgatin' at the Cleavage. Saturday Night Between the Mounds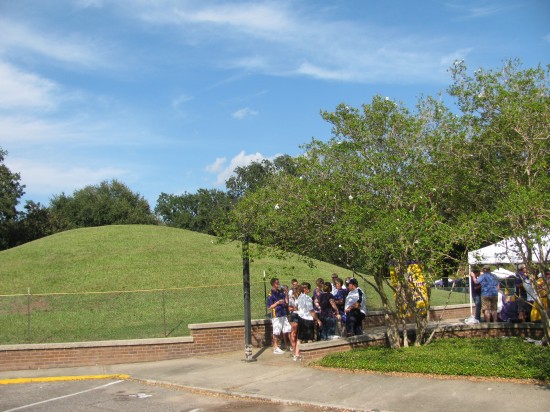 One of the mounds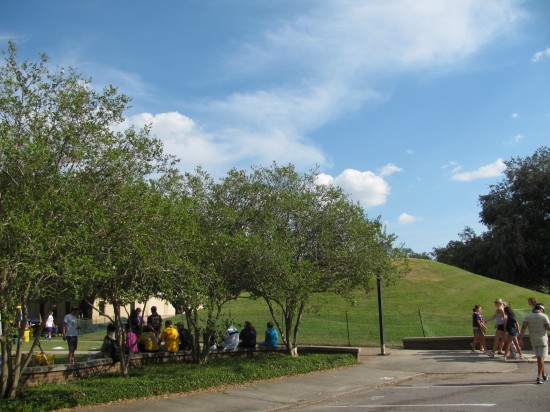 The other mound.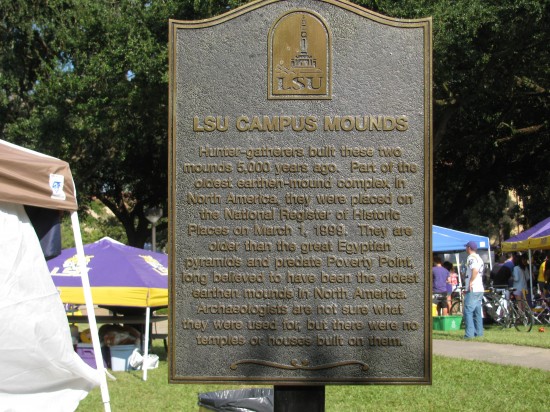 The history of the mounds. These are right up on the small bluff that runs thru campus. You have to remember that Baton Rouge is the first high ground one comes to when coming up the Mississippi River, it's all coastal flood plane below us(hello global warming, coastal erosion and one day, beachfront property in BR). The folks tailgating here were just one of many groups and they picked a good place. It's right up the hill from Tiger Stadium. Tiger Band(see previous Mardi Gras 2012 post for them in action) marches from the Music Building across campus down the hill into the stadium playing. It's a big thing to see that. I jumped in the second line with them one time and followed them almost into the Assembly Center right across the street from the stadium that evening. Today i follow a couple of folks on bikes down the hill past both the Stadium and Assembly Center which had a live band out front. But what i hear is a sound system blasting Keith Frank and the Soileau Zydeco Band. It's coming from the WWL out of New Orleans tent and i'll be doggone if that's not former New Orleans Saints great, quarterback Bobby Hebert. I gotta go meet Bobby.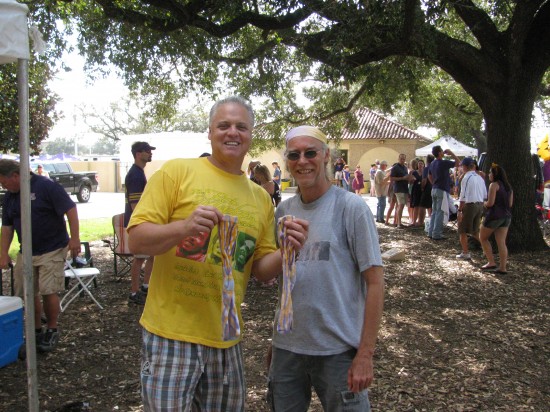 Since i never could hook up with my nephew(they were late), i ended up giving Bobby a pair of those very cool purple and gold socks. All he had that was gold to wear that was clean that day was his Bob Marley t-shirt, to which i replied man i almost wore my Bob Marley shirt out here but didn't, we would have been the Bobbsie Twins. Never did sell any socks, i was having too good a time riding around checking out the action. Security was heavy also and i didn't want to run afoul of LSU. Next time i'll make up and hand out cards and hope my boy Will and his krewe get to gameday earlier…….