WHAT a MUG SHOT!!!  $20 Kitschy Nose Job or INSTANT Emergency Halloween  Costume!  Don't get caught dead without one!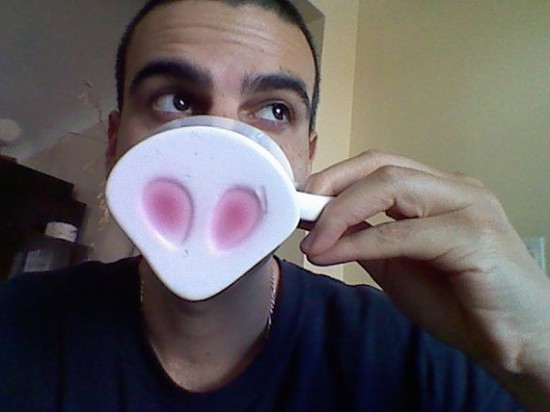 Have you always wanted a nose job, but couldn't afford one?  Well, look no further, instant nose job upon arrival for $20!  It may be the envy of the nose you once had!
Looking for a Halloween costume, but too busy having your coffee?  Look no further, here's one for $20 and keep on drinking!  Keep this around for an INSTANT Emergency Halloween Costume for those unexpected Halloween invites or for answering the door on Halloween Night!
Have some fun with this instant oinker paradise mug today and pig out in style anytime! Be an instant hit at any animal themed Halloween party or OINK your way into one!
Get all this and more for the price of one mug!
Order this mug, I mean instant kitsch nose job or Halloween outfit  at HoarderRehab seller's "alter ego" shop VintageToGoetsy at:
https://www.etsy.com/listing/107858644/pig-cup-set-pig-coffee-tea-mug-pig
Get your new mug with this mug!  Don't fight the feeling!