Sock Monkey needs to officially and publicly thank one of his best long time friends for putting him up during his entire New York stay! Without his generous offering of a gorgeous guest room in a plush deluxe apartment, Sock Monkey would have been sleeping under a bridge in Central Park. He's done it before, but this was miles better! The best thing about it though, was that he got to see his friend all the time! Nothing better than waking up and having coffee with someone you love! And that somebody is the mathemagician, musician, writer, and bad ass Columbia professor Robert Phillips, or as we call him, BOB (all capitals). BOB has been a friend for 15 years, a former (and most likely future) bandmate, and coconspirator on many useless but excellent projects. He is the kind of friend that will show up to the hospital with B movies and watch with you even though you are sort of dying and throwing up from laughing. Sock Monkey is so blessed to know him. Here is Sock Monkey enjoying a breakfast jam session with BOB. Note the rapid and skillful left hand acrobatics! (the gorgeous print in the background is by the mind bogglingly brilliant artist Stephen Hendee).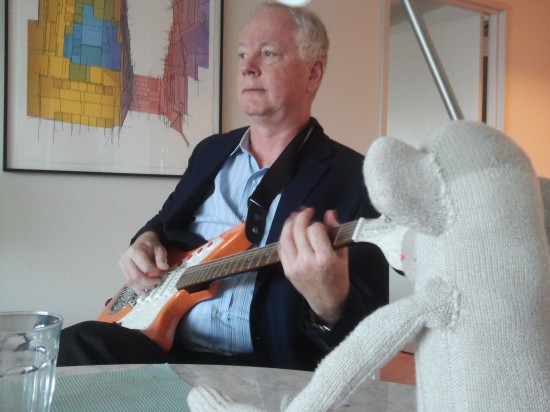 A HUGE reason why Sock Monkey had such a great time in NY is because BOB sure knows his way around! BOB being BOB, has friends pretty much everywhere he and Sock Monkey went. After BOB was finished professoring the day away at Columbia, he and Sock Monkey would hit the town and eat at incredible restaurants, meet new people, walk the high line, explore the galleries in Chelsea and go hear music at places like Cake Shop. BOB even took Sock Monkey on a walking tour past a place he has always wanted to visit. Here is Sock Monkey at the LULU GUINNESS shop on Bleeker Street. Sock MOnkey is a fan and BOB and his magnificent wife Doria have even surprised me, Sock Monkey's handler with bags from there. They are too special to use very often and Sock Monkey is not allowed to touch them. They have a special shelf and they are carefully wrapped and preserved like crown jewels. I have even saved the bags and tissue they arrived in.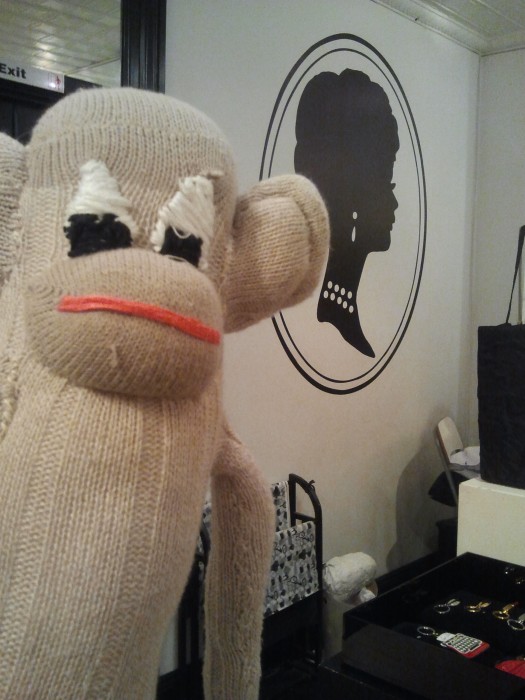 Her handbags are pretty fun…what a cool thing to see them all!!! Sock MOnkey would have tried one on to see if they might be better lips for him, but he was too afraid to touch them! They were a bit too big anyway….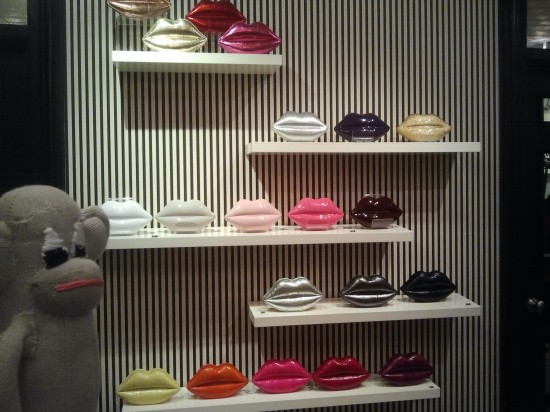 BUT, Since this post started out referring to the DE-LUXE apartment the sky, where Sock Monkey and I were made SO welcome, I would love to take a moment to share what Sock Monkey was so privileged to see while he was staying with his incredible host. What with all there is to see in NY, it still remains true that the best things in life really are right in front of you wherever you may be. In this case, it happened to be the sky. The view from Sock MOnkey's window was so incredible, he was happy to spend plenty of time gazing out peacefully while I, his handler, took to the streets below…
Even on a cloudy day, the Hudson is so nice…and of course, there is beautiful Hoboken on the other side…Can't leave out Hoboken!!! ;D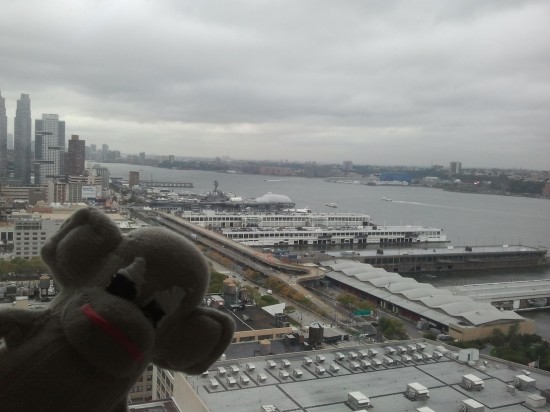 Sometimes there were fantastic cloud formations…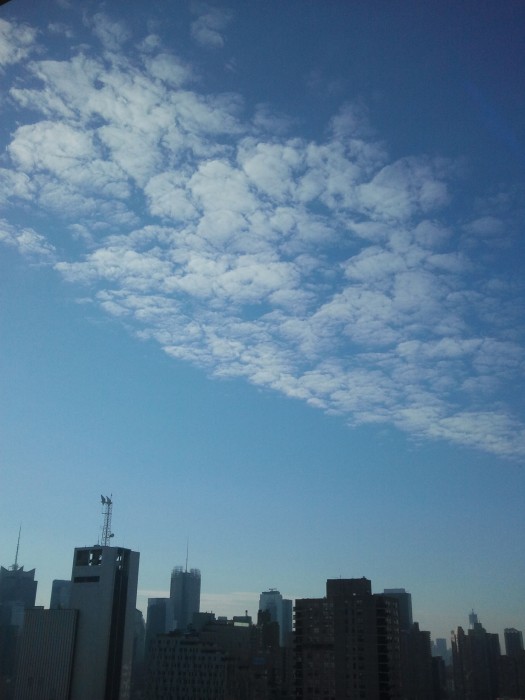 And every day, around 5 pm, Sock Monkey's room was transformed into an Edward Hopper painting. He especially loved that.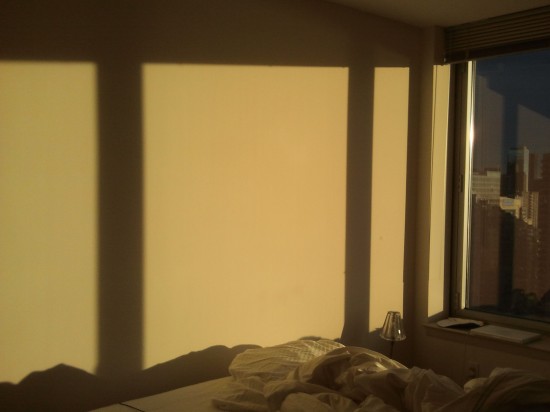 If only Sock Monkey's camera could have truly captured the quality of the light and the shadows cast everywhere…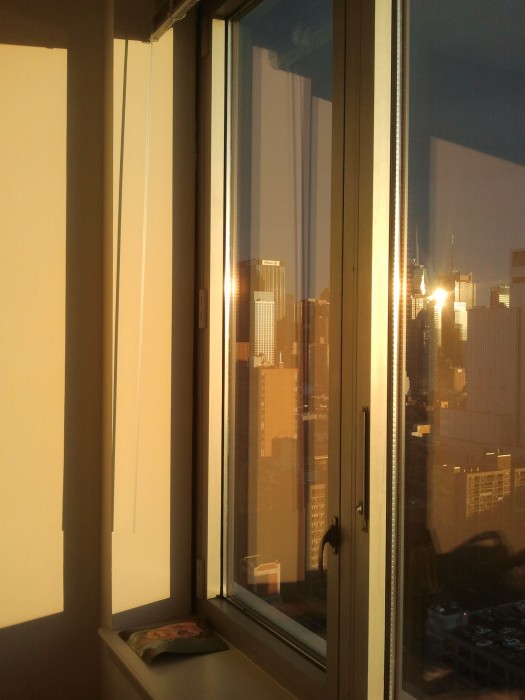 Nature, just doing what she does, can drum up things we can't even begin to create…On one particular evening, the sunset was so spectacular, that BOB and Sock Monkey delayed going out to find food so they could watch it. It started out like this, which was incredible, but it gets even better…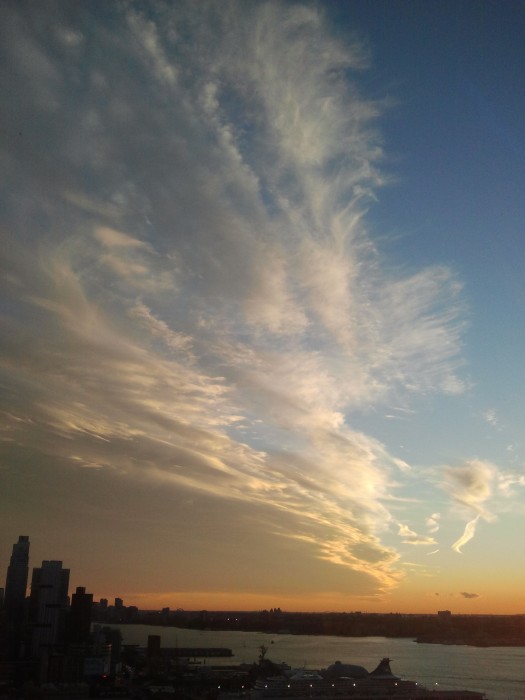 because here is what happened next…It's too bad my camera couldn't even come close to capturing the extent of this experience. It was so remarkable and I don't use that word often. Sock Monkey joked that it looked like unicorns should be flying around up there or something. Yep, definitely unicorn weather…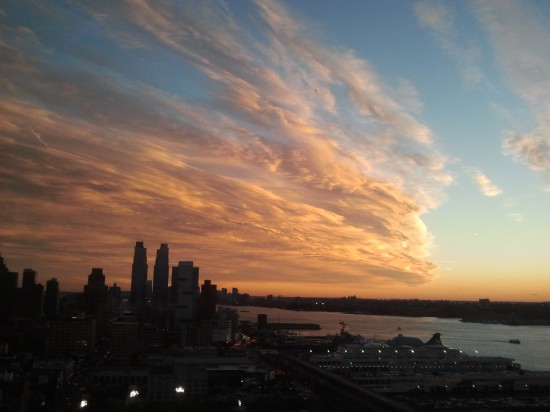 And when the sun finally set, the sky became a sea of brightly colored stars, each of which had their own story…Sometimes Sock Monkey would just sit and look out at the world while listening to a good record…what a treat…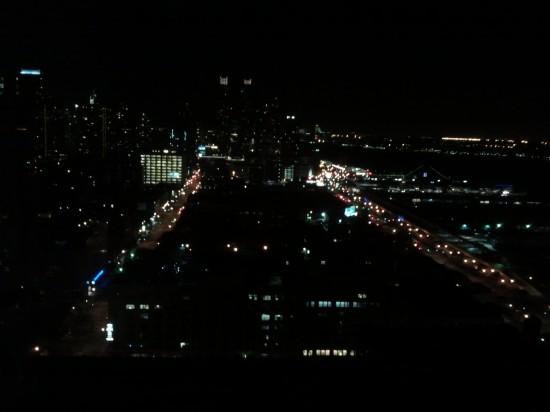 Sock MOnkey has never stayed in such a beautiful place. And he and I, his handler, were treated like royalty. It is an experience that made our hearts and out minds grow bigger and for that, we owe it all to our good friend and New York tour guide extraordinaire, BOB! So thanks BOB, and for goodness sake, would you and Doria join the AWMOK, already!!!???!?!?!?! We need you, as does the world.