On Sock Monkey's recent trip to Los Angeles, he decided to take a couple of hours and drive downtown to the festive but touristy Olvera Street. He hadn't been there in YEARS, so had to go back to satisfy his curiosity and get in touch with his latin roots. Yeah, it was pretty touristy, but there are still some stores that sell traditional linens,blankets, serapes and clothing. He started his walk near the Pico House,which was built by Pio Pico. He was the last governor to serve during the mexican rule of California. At the time of it's concepcion, Pico House was a VERY fancy if not ostentatious hotel. Sock MOnkey remembers that tidbit thanks to his 7th grade teacher, Senora Swift. Teachers are the BEST!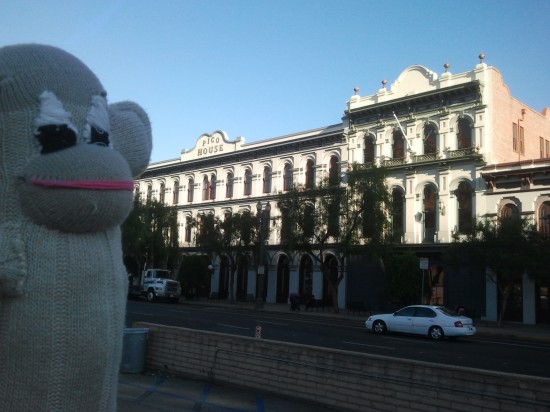 Sock Monkey's first stop was a shop that sells traditional linens. I guess a lot of them do, but this was the only one that had a super fancy cape with chickens, sombreros and horse shoes on it. I don't know if this is technically called a serape or poncho. Sock Monkey will have to ask his abuela. He had to take pictures quickly. Apparently, the people of Olvera Street no te gusta photographias…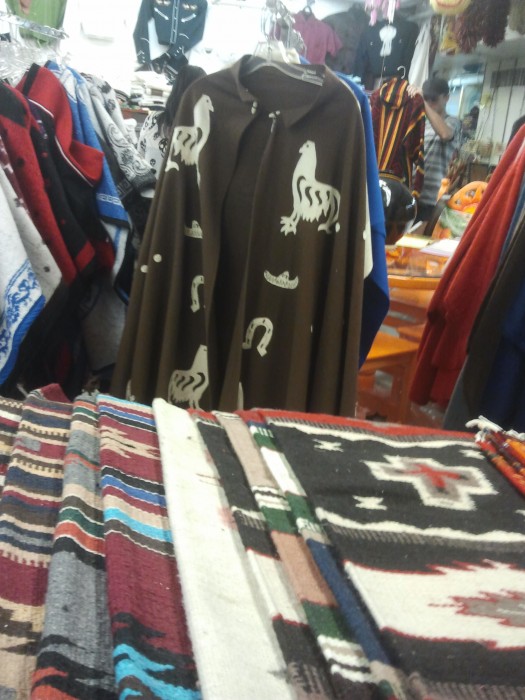 The next shop was much friendlier and Sock Monkey was THRILLED to see some of his favorite things, particularly large plaster banks in various shapes and sizes. I, Sock Monkey's handler, used to have a phenomenal bank in the shape of a monkey hanging ten on a surf board. His name was Nim Chimpsky (after his cousin) and he was so adored. There is STRONG evidence that an old roommate pilfered Nim as he was rather large and not the thing to go missing on his own. His absence is still palpable. But, thanks to a quick internet search, you can see a VERY PRECISE Nim look-a-like here :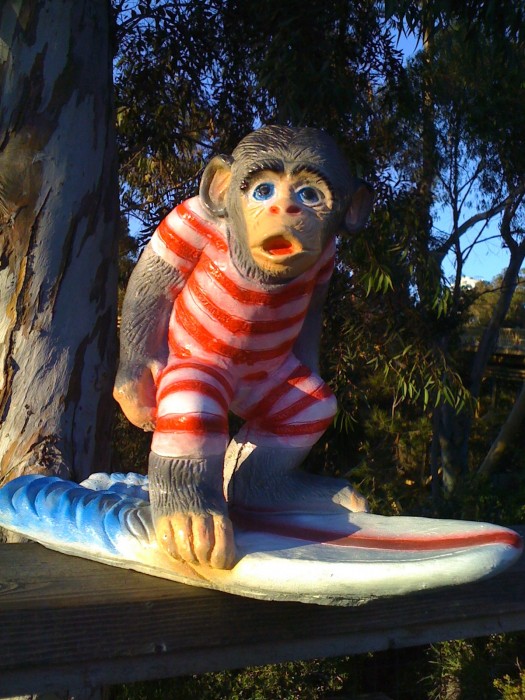 While we never found another Nim, we DID find a very proud and somewhat arrogant gallo.I guess you can be that haughty when you are so good looking. Sock Monkey asked to pose with him and El Gallo del Oro obliged. He was very much a gentleman.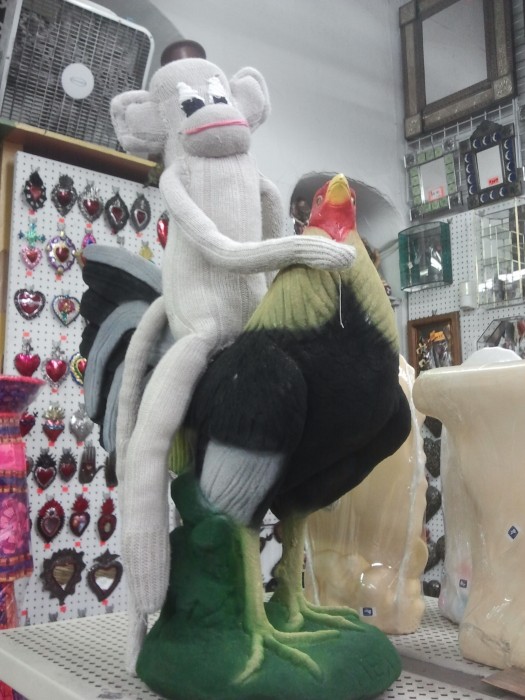 Los amigos.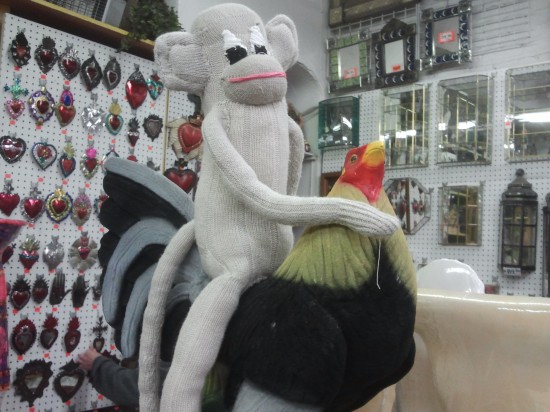 Sock Monkey was a little tired. It showed. He forgot to clip his raggedy thread pulls. I hear ya, my brother. I always look like that too. Next, he decide to try on some hats. No, this one is too small…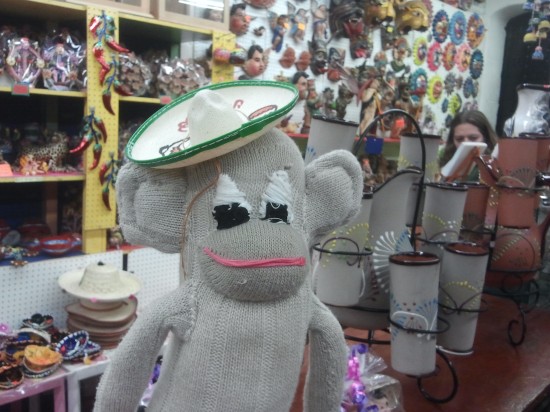 But this one is just right! And very fancy too! I approve!!!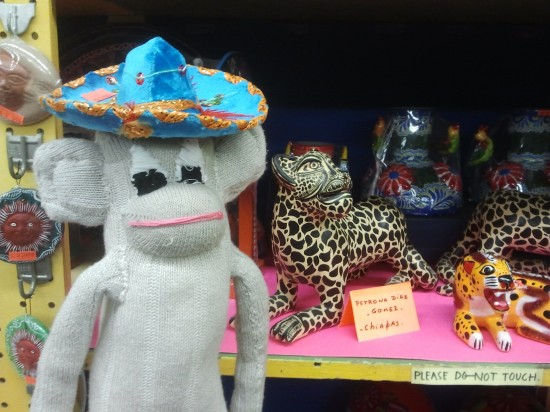 But it's still not as cool as having  fire on your head. On Olvera Street, you can find Jesus',Marys, Josephs and various saints in every shape, size and color. This variation has a lit birthday candle sticking out of his head and he costs $895! You saw it here.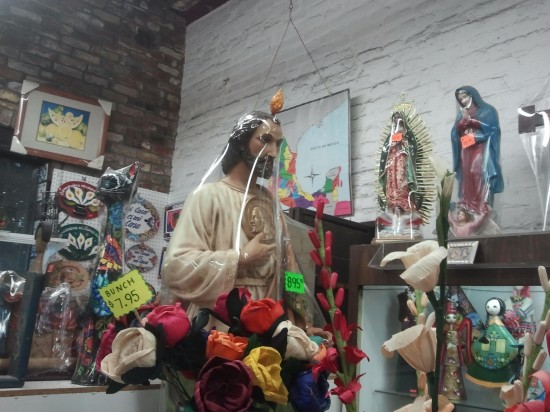 But nothing compares to beautiful paper flowers. These were always Sock Monkey's favorite thing. He was soooooooo glad to see that they were still being made! They look straight out of munchkin land! When I was a kid, I used to wear these wherever and whenever possible. They also make wonderful decorations.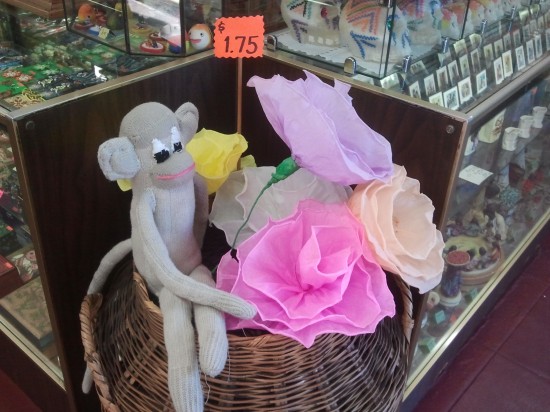 Of course, before we left, he had to get a photo with Zapato. According to the sign, you are not supposed to go climbing around on him…oops! Oh well, viva Sock MOnkey!