The Missouri Ozarks are steeped with history and rich with character.  With each visit I find a tug to stay. I can't tell if it's because of the stories I might find to write about, or the fact that I have hillbilly genes that I will never escape no matter how uppity I try to act.  Part of my family came from here (the Missouri Ozarks) to Nebraska when the Native Americans were still roaming the plains, and I  would be proud to be a descendant of Sky Chief, the last Chief of the Republican Branch of the Pawnee.  Who knows.  I think any guy that has the same name as a premium gasoline is an automatic legend.  http://www.ebay.com/itm/Texaco-Sign-Sky-Chief-Gasoline-Station-Advertising-Tin-Metal-Pump-Ad-Made-in-USA-/360773894118
No one ever told me there was a town named Sleeper, Missouri.  I stumbled upon it today.  The town itself was not remarkable, in that it was like Gertrude Stein's Oakland:  there was no there there.  But the Methodist Church stands proudly over Interstate 44, as if to say, "Come, in This Desert Place, Rest Awhile."   It does beg the question why the book "The Highs and Lows of Meth" was written where this part of Missouri was cited as "the kitchen chemistry capital of the United States."  In fact, in the mid-2000's, there was roughly one meth lab for every 2,000 Missouri residents.  Okay I'm joking, it's all good now, and been cleaned up.  Now they're back to white lightening.  It's fun!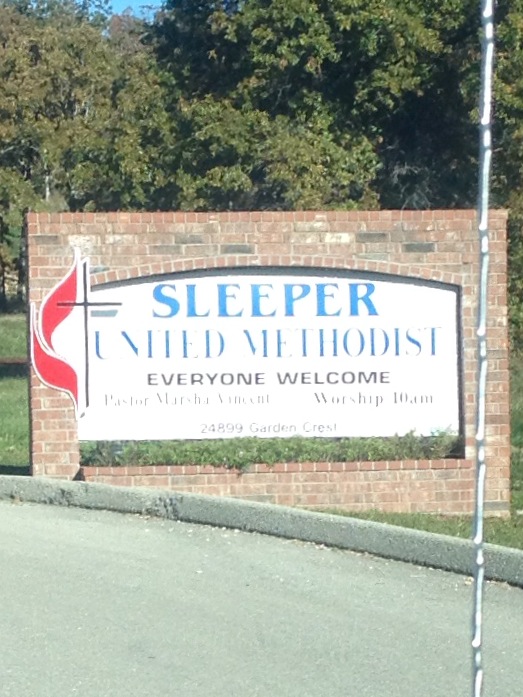 This place called Sleeper, Missouri, is very close to Marshfield, Missouri, and a group of small towns which is the setting of a play named "Book of Days" by a Mr. Lanford Wilson, which I truly enjoy.  I always think about the play as I drive through this area.    I was in this show, and played Len Hoch (rhymes with Coke,)  the Cheese Factory Manager from the small town in Missouri in which it was set.  Community Theater is terrible therapy by the way, don't do it unless you are willing to enter and exist in a vapid suckhole.  Maybe it's funner in the Ozarks.  Things are just different there!