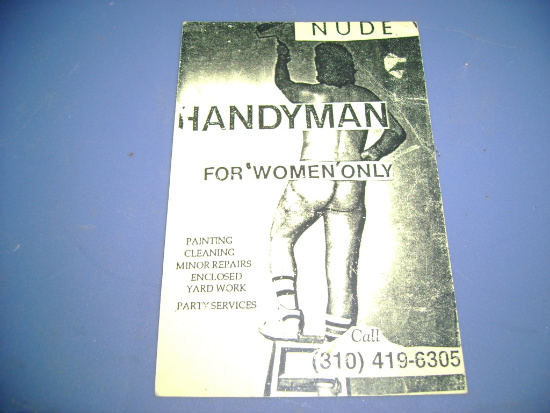 I just dug this out of the old memory box in my garage. I found it about 10 years ago at an ATM in Santa Monica (there was a stack of them just waiting there for us lucky ladies). Sadly, I tend to be pretty handy myself, so I never had cause to call up this sexy beast. And though he tops my fairly long list of people I never want to see naked, it's clear that he knows what a woman wants: a mullet, 1970′s high school coach sweat socks pulled up to the knees, a shameless flaunting of mid 1980′s reebok high tops and nothing else. OOOOOOH YEAH…………Yummy!!!!!!!!!!!!!!!!!!!!
The only thing that disappoints is his request for "enclosed" yard work. Coward.
Categories:
Certifikitsch Winners
,
Crafts
,
Ephemera
,
Nudity
,
Romantic
,
Submissions
Allee Willis Museum of Kitsch
8 Responses to "Nude Handyman"
Leave a Reply
You must be logged in to post a comment.
| | | |
| --- | --- | --- |
| Share this page. | | Subscribe to the blog. |
| | | |
Protected under a Creative Commons license