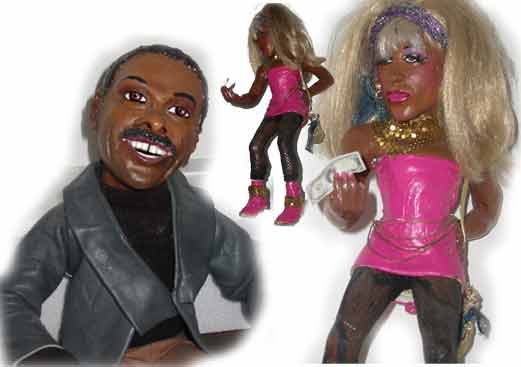 Chivalry is not dead! Eddie Murphy opens his heart and his car to give rides home to TS sex workers who work the late shift in Hollywood! Wearing high, high heels can really hurt a girl's feet by the end of the night, so Eddie's heartfelt effort to support the working woman was deeply appreciated!
This Eddie Murphy and Tranny Hooker doll were created as part of a series of dolls who do sex work and their clients (in this case, their knights in shining armor) by artist /author Norma Jean Almodovar. The Eddie character was originally placed in a red Barbie Doll mustang convertible with Candye the 'Ho standing outside waiting to get a ride home from Eddie, with Hollywood Blvd in the background. They are part of a traveling exhibit.
Candye is 14″ tall(in her heels) and Eddie is 12″
Who is next to parody? Eliot Spitzer and David Vitter? Yup! Coming Soon!