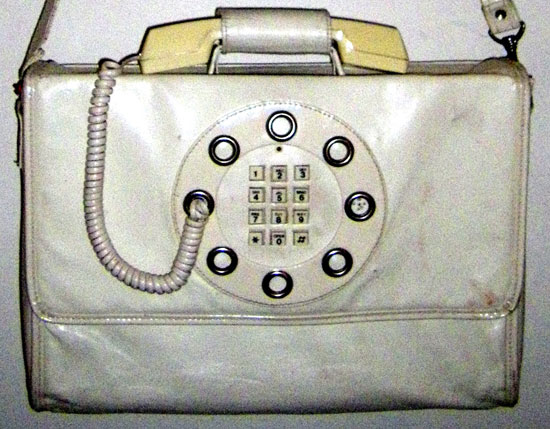 I bought this purse at a yard sale down the street from my house about 15 years ago for $2.00 along with a buttload of Desert Rose dishes for my Mom (her holiday pattern). The first time I carried it out was on Halloween when I went as White Christie Love > "Stop or I'll Shoot Sucka!" Everyone wanted to talk on it, you can plug it in and it works. It dials in tone and pulse modes. The receiver pops out of the Velcro handle and voila you can walk and talk as far as the connecting cord allows with your steno pad conveniently tucked inside; magnetic buttons hold the flap down real nice. There is no manufacturer label inside just one that says MADE IN CHINA, duh.
A few weeks later I was thumbing through W Magazine where in the beginning blurbs there was a bit about the upcoming Sotheby's NY Fashion Auction where on the block was to be "among other things, an Andy Warhol Paper Soup Can Dress and a 1970's White Vinyl Telephone Purse!" I immediately called Sotheby's to ask about the purse. I described mine and they confirmed it was most likely the exact same item. I then asked what the opening bid would be > $500.00. I asked the date of the auction and said goodbye. A few days after the auction I called to ask what the purse had sold for > $2,500.00. I practically crapped my pants.
It has since become accessory to almost every costume/occasion imaginable. This girl has been party to in-numerous cases of Maxwell Smart/Agent 99 shenanigans and espionage. Control made her sign a confidentiality agreement so don't even ask, she's not talkin'. KAOS tried to knock it off; had to get a UN sanction to halt production.
I have to be in the right mood to carry it because it gets so much attention. I would love to figure out how to convert it to a cellular signal; then it would truly be the must-have bag for the girl or guy on-the-go who needs to stay in touch. I hope you enjoy her as much as me and my friends do. She's a real beauty and a heckuvalottafun!