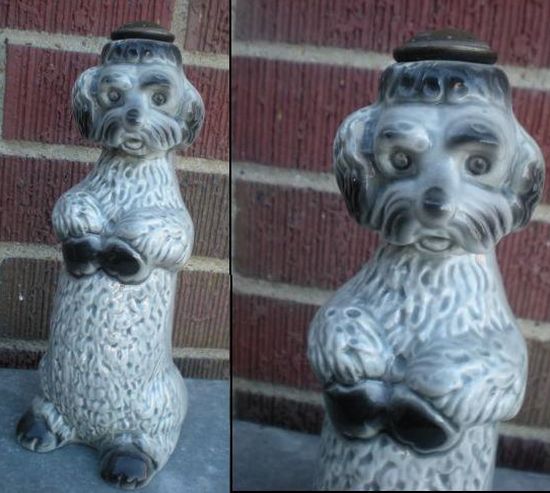 Once upon a time, not so very long ago, folks doing laundry engaged in a practice known as "sprinkling." For the unenlightened, "Sprinkling" is dripping some water onto your wrinkly object, thus making them a little easier to iron. Then you let it set a bit, and iron it while still damp. My grandmother did it, and my mother taught me how… though I've really only ever used the process on particularly stubborn wrinkles.
Since people were sprinkling away, there was a need for sprinklers. Of course, people got tired of boring old fit-in-the-top-of-a-coke-bottle sprinklers, and the figural-sprinkler market was born. Sprinklers were produced in many shapes and sizes.
I had the incredible good luck to find this poodle-shaped laundry sprinkler at a estate sale. It is definitely one of my prized possessions. He has his original sprinkle-top lid. He's pretty heavy, especially when full of water, so I assume a lot of these got dropped and broken. His sprinkle-days are done and he sits safe on a shelf now.