Sorta sexy, kinda kitschy, it's the Miss Chiquita Banana doll from 1944! Here she is in all her glory as a cut-and-sew, make-it-yourself, uncut cloth pattern (prior to 1964, this is how cloth dolls were available commercially). This pattern was originally offered as a Kellogg's Corn Flakes premium, cost was 10 cents and a boxtop. When fully assembled, our Chiquita stands 10 inches tall.
Her inspiration? The spicy Brazilian bombshell Carmen Miranda.
There's something about a topless cutie with nice legs, that catches the eye. Some gals get all the attention…
All right, Mr. DeMille, she's ready for her closeup. (Actually looks pretty good for 65. Also, she doesn't have the Norma Desmond creep factor).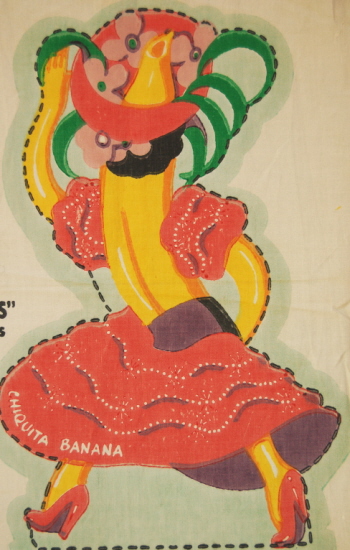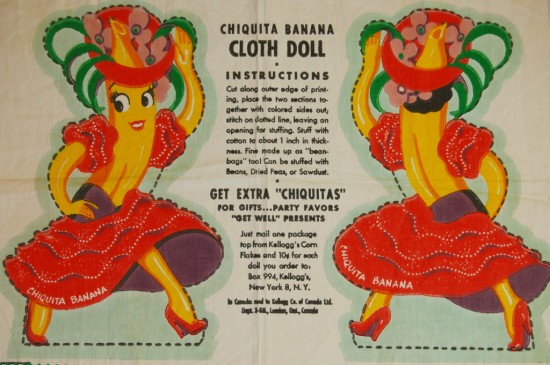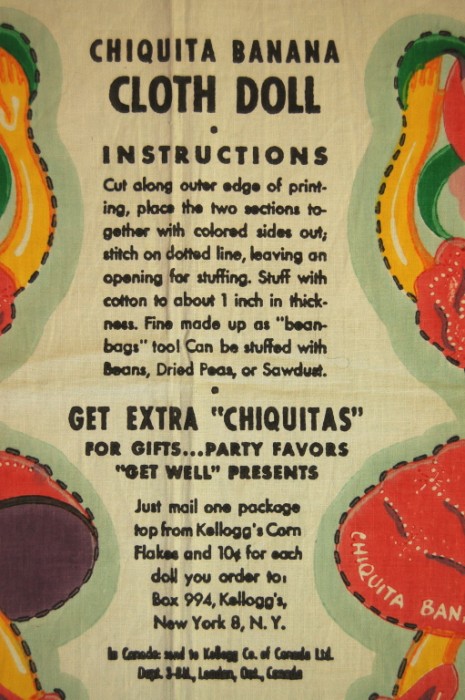 Here's the original Chiquita Banana jingle:

I'm Chiquita banana and I've come to say
Bananas have to ripen in a certain way
When they are fleck'd with brown and have a golden hue Bananas taste the best and are best for you
You can put them in a salad
You can put them in a pie-aye
Any way you want to eat them
It's impossible to beat them
But, bananas like the climate of the very, very tropical equator
So you should never put bananas in the refrigerator.