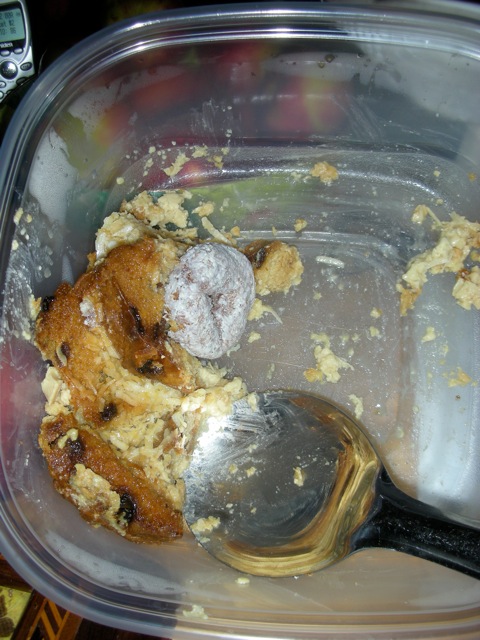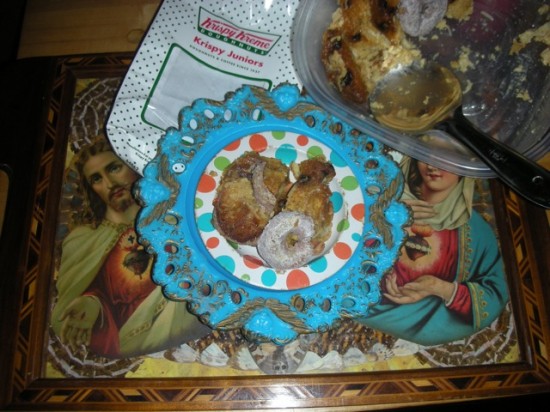 So my neighbor asked me to bring dessert for 8 in an hour … I threw together this recipe:
half loaf of Publix Panetonne Christmas bread, roughly cubed
8 small Krispy Kreme "juniors" sugared donuts, sliced horizontally into clamshells
8 whole eggs, beaten
pint or so heavy whipping cream
organic vanilla extract
chopped tangerine peel
shredded coconut
dried cherries, chopped
cup of light brown sugar
grated nutmeg
stick of butter, cut into bits
big splash of Grand Marnier
baked in casserole at 350¬∞ until custard forms (about an hour) … served on cupid plates on Jesus butterfly wing trays.
Everyone liked it, then fell into a sugar coma.
I found out later that Paula Deen has a recipe for Krispy Kreme Bread Pudding, too.
Hers contains:
2 dozen Krispy Kreme donuts [the big ones, with the yellow vaseline filling]
1 (14-ounce) can sweetened condensed milk(not evaporated)
2 (4.5-ounce) cans fruit cocktail (undrained)
2 eggs, beaten
1 (9-ounce) box raisins
1 pinch salt
1 or 2 teaspoons ground cinnamon
Butter Rum Sauce
IMO she left out a half pound of crispy bacon.
Happy Holidaze!
Julie