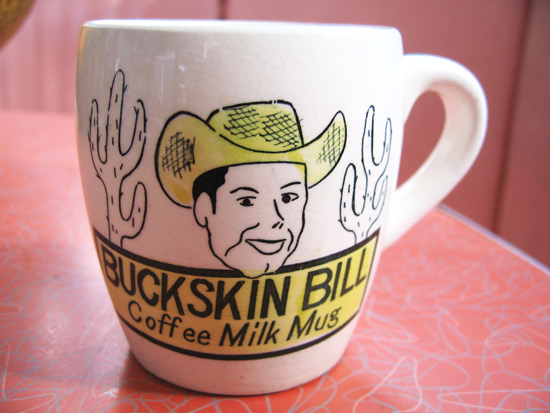 I don't know much about Buckskin Bill other than his last name was Black and he had a TV show in Baton Rouge, Louisiana that began every episode with the greeting "Chickama Scouts!".  He was famous for saying things like "Remember, you're never completely dressed until you put on a smile.". For whatever else he did, Buckskin Bill certainly knew how to make a good-looking coffee mug, this particular one manufactured by Esco in Japan.
I drink my coffee so light I was elated to find this "coffee milk" mug that I thought finally honored my choice of coffee hues, cranking the brown down so low it's almost white. I can't tell you how many meetings I've gone to where assistants ask if I'd like coffee and how I like it made. It doesn't matter how many beige walls, tan pillows or cream colored file folders I point at to give reference, the coffee always comes back looking like watery deep brown shoe polish.  So I live with my coffee deprived of its proper lightness and had high hopes when I found this mug that I thought justified my preference.
But alas, upon closer inspection I realized that Buckskin Bill's intention was to create a mug for EITHER coffee OR milk as opposed to promoting a blend of the two. But I'll take the mug any way I can get it, preferring to honor my interpretation of it in hopes that someone else may join me in a cup of milk, or in my case half and half, with a little coffee.