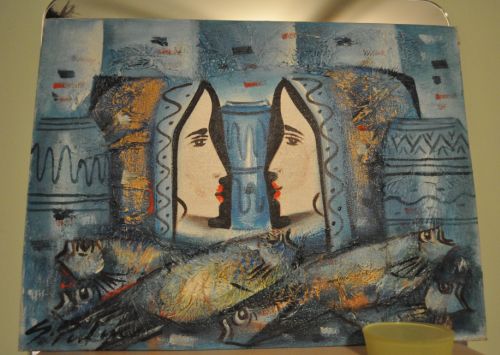 I saw this painting at a flea market over the summer. The fellow saw me admiring it and told me his friend brought it back from "Thailand or Indonesia", he couldn't remember. He had it marked at $10, and noting my lack of money, offered it for $5. I eventually bought it for $3 bucks… felt a little guilty about it.
I like it.. heads and pots on a pile of fish. It's painted on canvas stretched over a thin plywood of some sort. The fish and the scarves of the ladies are 3-D, they are painted over some sort of wadded-up tissue paper that is stuck to the board. I can't make out the signature, can you? S. Something.
Is this kitsch? I'm not sure. A painting of a pile of fish seems kinda kitschy, maybe it's just bizarre. I don't know but I'm glad I bought it.