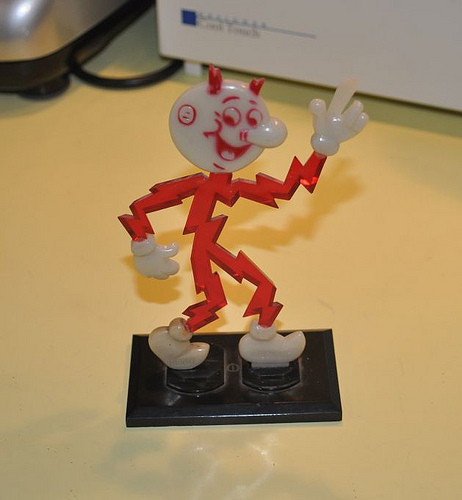 Reddy Kilowatt was a popular advertising mascot, encouraging consumers to live a better life the modern, electric way. I have to wonder, though, if the images of Reddy happily popping out of an outlet to say "hello!" encouraged the electrocution of many a modern tot? I know I'd want to look inside the outlet if a happy little cartoon character lived in there.
When I was but a young kitsch-kid, my wise parents bought me a VHS tape of old commercials from the 50s and 60s. Weirdo that I was, I became addicted to the vintage-commercials tape and watched it over and over until it wore out. A couple of the commercials featured Reddy Kilowatt and instantly I was a fan.
One day at yard sale, I excitedly collected a Reddy Kilowatt figure. He was in many pieces in a box of assorted junk. I managed to dig through this gigantic box of filthy random detritus and retrieved Reddy's body, head, both his hands, and one foot. His stand, and his other foot, however, were MIA. The price wasn't more than 50 cents.
With no base, he couldn't stand up. I stuck him in flowerpots and used him as a Christmas tree ornament, and finally I posted his picture online. An online acquaintance contacted me and said, "Hey, I have a Reddy with one foot and no base, do you want it?" Of course, I jumped at the chance to have a complete Reddy. He had been hanging on to his Reddy-parts for years, hoping to find a Reddy with no base. I had been searching for the base for years with no success. The package arrived in the mail and Reddy was whole again in less than a minute!
Of course, now I have a one-footed-no-head-no-arms-no-base Reddy to figure out what to do with, but at least this little guy is in one piece again!
Also, his white parts glow in the dark for added kitsch value. If you look around the internet you can find a lot of commercials of Reddy singing happy songs encouraging electric use for everything from brother's model train set to mom's waffle iron.