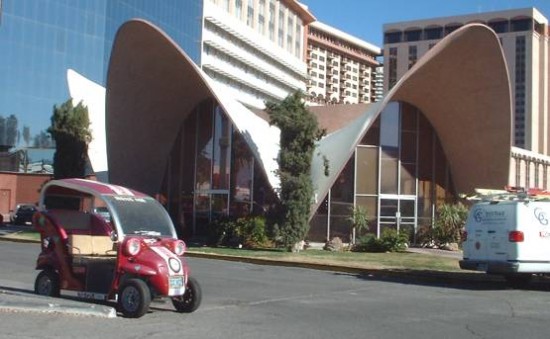 Love the lines on the building and especially the happy little micro car. LaConcha Motel, just south of the Riviera Hotel Casino on the Las Vegas Strip. I took this photo in 2005, about a week before it was partially leveled.
Below is an actual LaConcha Motel post card dated 1974. Since then, the Riviera Hotel expanded, the landscaping was replaced, and the "78 Lincoln Continental is gone. The old Las Vegas strip & downtown is so different than today.

I Googled "LaConcha" for more info. The following text is from a web site praising the architecture and its' presence on the strip since 1961.
"La Concha is an historic concrete shell motel from the Golden Era of Las Vegas. It has been a part of the old Las Vegas Strip at 2955 Las Vegas Boulevard South, Las Vegas Nevada 89109-1930 since 1961.
The two-story motel structure and pool have ALREADY been demolished, but the exquisite front cast concrete conch shell lobby are still standing… for now… The La Concha Motel lobby building will soon be demolished to make way for a condominium development.
La Concha Motel was designed by African American architect Paul Revere Williams, Hollywood's "Architect to the Stars." He designed over 3,000 buildings, including the LAX International Airport Theme Building, a space age symbol of Los Angeles."
Bravo!