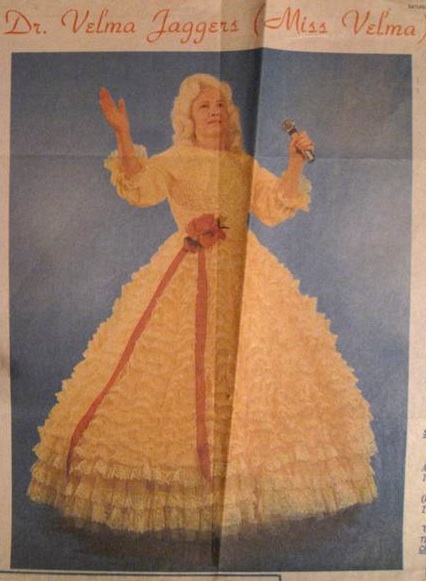 It's not often one clips and saves newspaper ads, but my wife felt this one was a keeper and now years later, I'm so glad she did. This is a full-page color ad from The Los Angeles Times, dated December 17th, 1994. It's a promotion for "The Tree of Life," created by Dr. Velma Jaggers ('Ya think she's an MD or can one get a PhD in Religious Charlatanism?) , or as her evangelistic followers call her, "Miss Velma."
This event took place at the Universal World Church near Beverly and Alvarado in Los Angeles. One of my biggest regrets is that I never visited it to see Miss Velma with my own eyes, but I suspect she's much like the Aimee Semple McPherson character that Geraldine Page so expertly portrayed in one of my favorite movies, DAY OF THE LOCUST.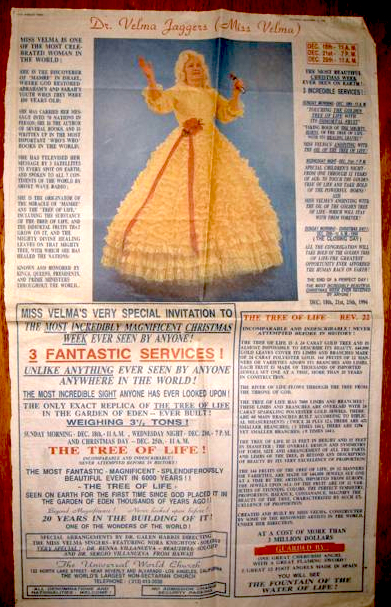 The Tree of Life is (and I quote) "a 24 carat gold tree and is almost impossible to describe its beauty. 144,000 gold leaves cover its limbs and branches made of 24 carat polyester gold. 144 fruits of 12 manners or varieties adorn its branches and limbs. Each fruit is made of thousands of imported jewels set one at a time, more than 20 years in construction. The River of Life flows through the tree from the Throne of God." The copy goes on to say that there are 60 main branches built according to "biblical measurements" and that the tree is "beyond any description of beauty by its very excellence of proportion!" I'm including one more close-up photo below so those who want to, can read all the hyperbolic copy.