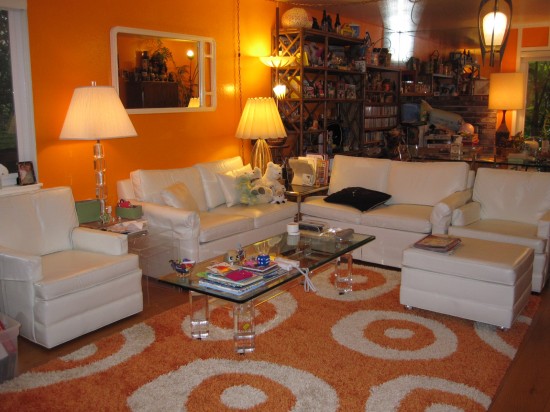 My grandparents, being proper New York Jews, started wintering in Florida in the early 1970s. By 1973, they decided to set down some roots and bought a condo on the intercoastal in West Palm Beach. They furnished the place with an eye towards the current trends in Florida at the time – lots of white naugahyde, chrome and clear acrylic. We being a family of well behaved (ok, extremely well monitored) children, the furniture survived intact through the years.
Late last year, my grandmother, now a 94 year old widow, decided that she would no longer shlep south for the winter, choosing to stay close to family in NY. As I have coveted this furniture since I was a child, I asked, aka begged, her to let me have the furniture. So, it got packed up and arrived at my door in California at the beginning of January. At the top is the main living room set. With such insanely white furniture, we decided to offset and add to the Florida feel with the orange walls and shag rug. The sofa (a sleeper w/a twin bed on each half), the armchairs, ottoman, the glass top acrylic coffee table, the acrylic lamps, nesting acrylic tables, chrome corner table and the groovy mirror on the wall all came from my grandparent's apartment.
Below is the dining table, a glass top on a chrome base, and six chrome chairs with acrylic backs and white naugahyde cushions. You can't really tell very well, but there's a five foot long acrylic table in front of the window behind the dining set. The cork lamp which appears to be floating is on this table along with several other knickknacks and other smaller random acrylic stuff.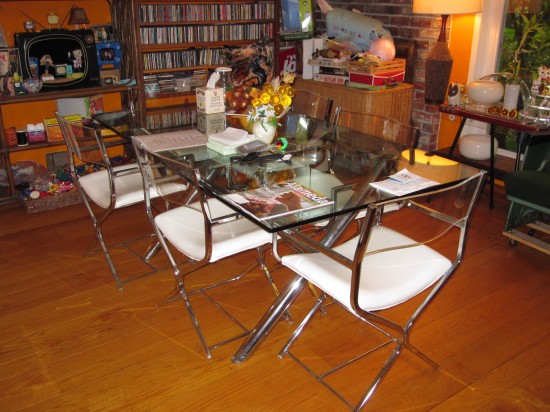 Here's one of the acrylic lamps with integral table, and the three nesting tables.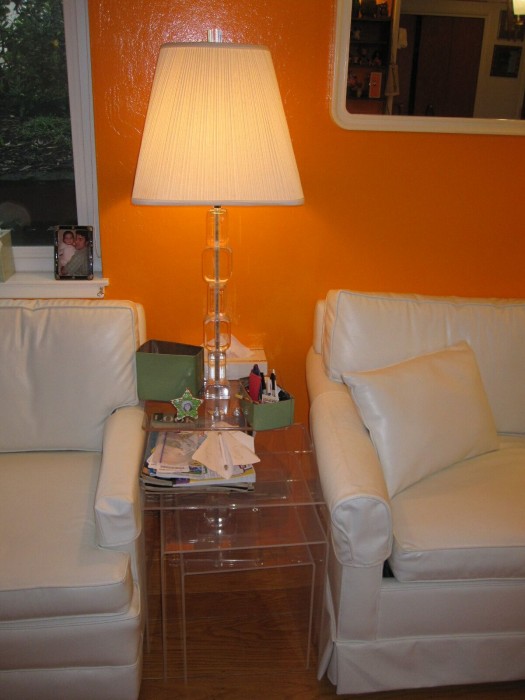 Here's the other acrylic lamp, on one of a pair of chrome tables with glass tops. Note the acrylic magazine rack. I know, it's hard to see this stuff; it's like an acrylic "where's waldo"
A lone acrylic chair with white naugahyde cushions. Note the edge of an acrylic side table on the left.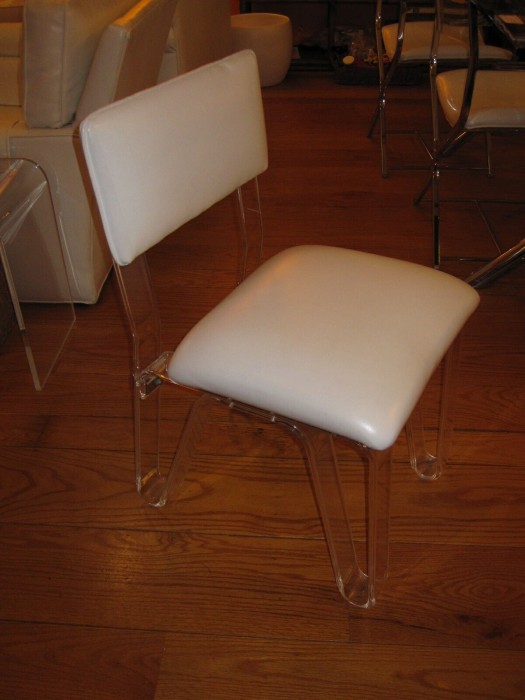 Finally, a set of six chrome and acrylic folding chairs. There's a white naugahyde-top folding card table that goes along with these, perfect for that game of bridge or canasta.