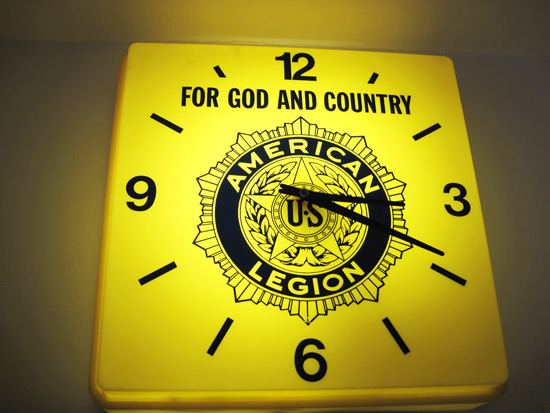 This has sat over my refrigerator for at least 15 years after being rescued from a no longer existent unbelievably insane junk store nestled deep in the Adirondack Mountains in Old Forge, New York where I used to make a pilgrimage every summer with a group of friends. I wasn't into swimming, fishing, hiking, canoeing or any of the other outdoor things that most people who go to the Adirondacks do. There were no roads going to the house we stayed at but I faithfully schlepped a couple miles via canoe across the lake a few times per trip to pilfer through the literally thousands of items that cluttered the shelves at the joint, Antiques & Articles, and would spend whole days poring over every single shelf, drawer or box in the place. The shopkeeper, about 100 years old, wasn't sure exactly where this clock came from but he thought it was from some American Legion Hall in the vicinity.
I don't really know what American Legion is all about but I love all the artifacts they turn out – salt 'n pepper shakers, combs, shirts, paperweights, string paintings, pie plates, you name it, if it could have a name and a logo stamped, painted or stitched on, there was an American Legion version of it.
This baby is a hefty 20″ x 14″ x 4″ and tic tocs like the day it became a Legionnaire.