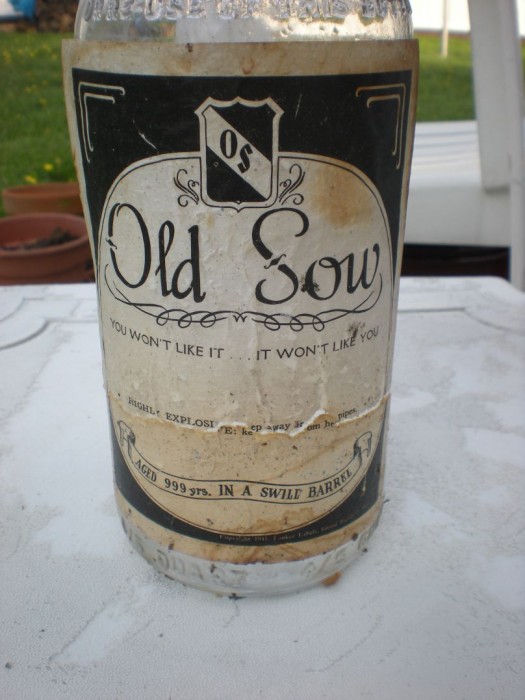 I bought one of those crocheted poodles on a bottle a while ago, pink with rhinestone eyes. I'll submit a pic of that later, but what was funnier was the bottle the poodle was crocheted onto.
I brought it home and the poodle was stitched onto the bottle without being able to remove it for drinking. Well, I didn't like that, and plus I wanted to see what was inside to make sure it wasn't something illegal and/or dangerous… and I had some bottles that were just begging to be covered with a pink rhinestone-eyed crocheted poodle. So I carefully removed the poodle and transferred it to one of my own bottles.
The bottle inside the poodle was a real hoot!
Old Sow: You won't like it, it won't like you.
HIGHLY EXPLOSIVE! Keep away from hot pipes!
Aged 999 yrs. in a swill barrel.
YES, it has liquid in it. No, I haven't opened it. I'm kind of scared to open it. It's about 1/4 full. I don't know what to do with it. The bottle says "not for sale or re-use"… knowing the area where I bought it, I wouldn't be surprised if it were full of moonshine.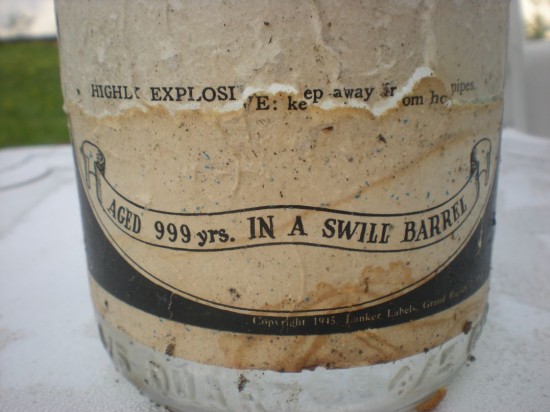 Copyright 1945 Lanker Labels – Grand Rapids.
I really don't know if it's some kind of fakey label you could put on a bottle or if it was some actual product and/or liquor. I looked for info on the internet but I could find none.
Actually, the "HIGHLY EXPLOSIVE" part was the only thing I could read through the loops of the crocheted poodle, so I momentarily freaked out thinking some granny had crocheted the poodle onto something really dangerous!