http://www.youtube.com/watch?v=bVbbiQqoKhY
As a huge Marilyn Monroe fan, I have to submit my second piece of marilyn kitsch….
This is a scene from Irving Berlin's "There's No Business Like Show Business". A somewhat unknown and forgettable film from 1954
Im going to include some quotes about the number, and the costume Marilyn wore….
QUOTE – The film's liveliest production number was a torrid version of "Heat Wave" performed by Marilyn and a bevy of male dancers. Considered controversial at the time, the number featured Marilyn in a flamenco skirt slit all the way up the front.
CM SQUARED – I personally think its one of the best scenes in this sleepy musical!
QUOTE – The bumps and grinds that were part of the choreography revealed the black leotard-bottom underneath her costume, and outraged some observers who were not accustomed to this sort of unblushing display. Reviewers added to the controversy by singling out the number as vulgar or crude.
CM SQUARED – It makes me laugh that this was seen as vulgar. Im so glad I wasn't alive in those days. What would I have done?!
QUOTE – Bosley Crowther of The New York Times stated that Marilyn's "wriggling and squirming . . . are embarrassing to behold."
Time magazine intoned that Marilyn "bumps and grinds as expressively as the law will allow."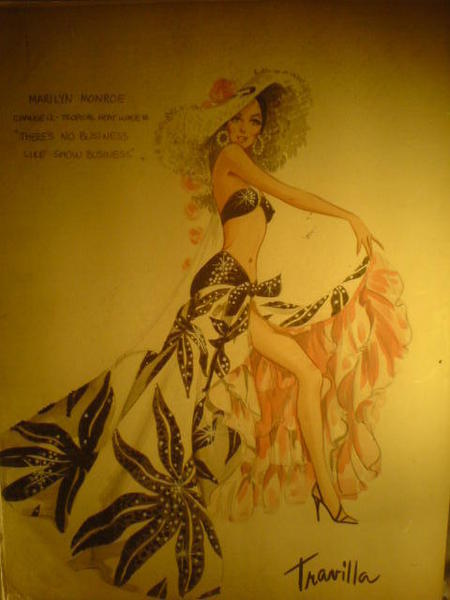 CM SQUARED – Look at this amazing original sketch of the costume. Travilla dressed Marilyn in so many fabulous outfits!
QUOTE – Then came the release of "There's No Business Like Showbusiness." She was criticized for vulgarity'Äîindeed, how her pelvic-centered "Heat Wave" musical number escaped the censors is astonishing.
CM SQUARED – I think her dancing is on point! She doesn't miss a beat, and check out how long the shots are!
QUOTE – DiMaggio, who felt that her costumes were too revealing and not suitable for a wife of his to flaunt herself in. He particularly detested the 'ÄòHeatwave' costume and refused point blank to pose for photos with her whilst she was wearing it.
CM SQUARED – He sured missed out!