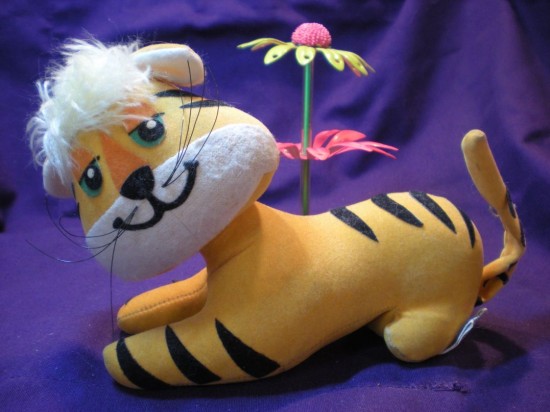 Dream Pets were made by Dakin from the late 1950s until the early 1970s, with I think the most heavy production coming in the late 60s – early 70s. They all have sweet, dreamy looks and have a lot of personality. This tiger looks pretty relaxed. I'm crazy about them, but they are kind of hard to find.
I have a few more somewhere, including a really cool giraffe, but they're boxed up at the moment. If I find him, I'll post him.
Beware though, these were reproduced in the early 200os, it's pretty easy to tell the difference if you're familiar with them, but if not, they look nearly identical. Actually, I'm not complaining, because they did a really good job with the reproductions… I love these and don't mind too terribly much if it's old or if it's new.